Horvat's term will focus on technology, mental health, and access to justice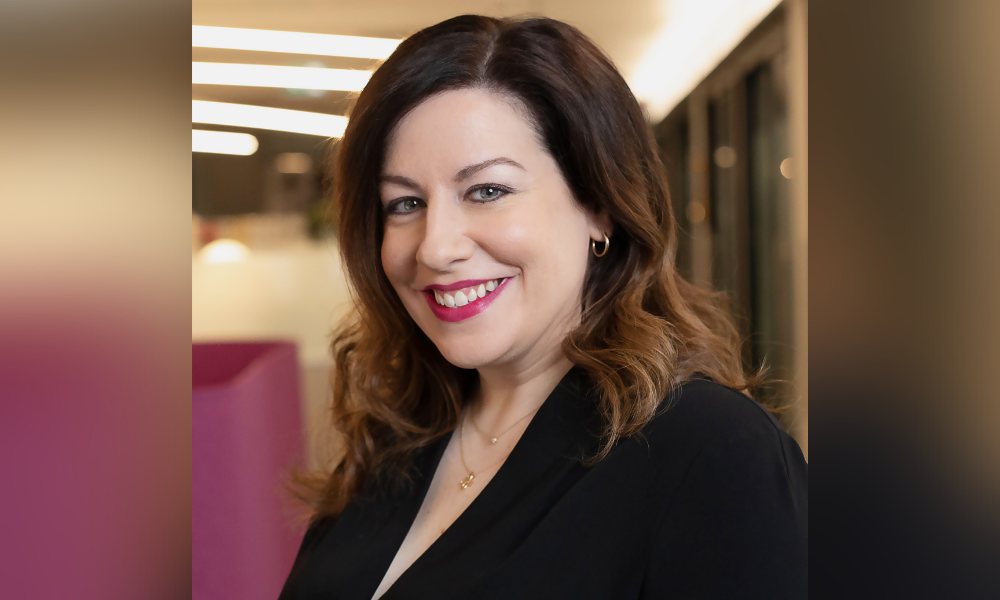 Jacqueline Horvat assumed her duties as the new Law Society of Ontario Treasurer on June 28. However, the litigation lawyer and founding partner at Spark LLP never finished her undergraduate degree before attending law school.
"I did two years in mathematics and statistics and was studying pure math," Horvat says.
Because Horvat excelled at solving calculus problems, her professor advised her to take the LSAT. She says she did "quite" well and was accepted into the University of Windsor law school.
Before attending law school, Horvat knew no one with a legal background and says television shows and movies featuring lawyers and legal issues attracted her to the legal profession.
"I don't come from a family of lawyers, and I don't come from an upbringing where lawyers surrounded me," she says.
Because of her science background, Horvat assumed she would eventually work in patents and intellectual property law and followed that trajectory until her articling term.
"While articling, I realized I didn't want to sit behind a desk and draft applications all day. So, I asked to be on some litigation cases," she says.
Horvat says she worked with a senior partner at Strosberg Sasso Sutts LLP, former LSO treasurer and mentor Harvey Strosberg, on a case and joined his firm to continue her articles on class actions and commercial litigation.
William Sasso, a senior partner at Strosberg Sasso, was also Horvat's mentor for 10 years, and she says Strosberg and Sasso promoted her in the legal profession and the LSO.
Horvat ran for bencher nine years into her legal career. It was always a goal, but she says she did not expect to run for the elections at the start of her career but was motivated by Strosberg.
"The former treasurer said, 'we've got a lot of old people at the law society, and we don't have enough women, and you should run.' I took that as a green light to run earlier rather than later in my career."
Before Horvat's role as treasurer, she was elected as a bencher in 2011, 2015, and 2019. She also served her third term as the LSO's technology task force chair and the treasurer's women in law advisory group.
In her new role as treasurer, Horvat will mediate polarizing conversations at Convocation and says she looks forward to working more closely with all her bencher colleagues whom she sees as individual directors.
"Our debates can get a bit heated, and it's my job to bring the room's temperature down when that happens."
Horvat has had many accomplishments as an LSO bencher but says working on the articling task force early in her bencher career, where she was part of a team reviewing articling and entry requirements for licensees, was significant.
"I split with the majority and ended up writing a minority report, and that was a pretty defining moment because I gained a ton of confidence during that process. It made a better lawyer and bencher."
Horvat is equally proud of her role as LSO's technology task force chair. She led two different committees due to an election and convinced both groups that creating a regulatory sandbox for innovative technological legal services was beneficial for licensees.
"The election delayed implementing the sandbox. However, with both groups being on board, I gained great confidence in the concept, and I see that as my greatest accomplishment."
The pandemic significantly impacted the legal industry's shift in using technology, and Horvat says she is focused on how technology will impact the profession in the future and its positive effects.
"I'm extremely honoured to be elected into this position by my bencher colleagues, and I'm looking forward to the next year and what we can do with the law society."
She says her tenure would continue the tremendous job of former treasurer Teresa Donnelly in addressing mental health in the profession and promoting the LSO's resources for member well-being.
The LSO would also significantly focus on providing access to justice, Horvat says.
"Given the Rogers outage, we need to be cognizant that we're not all on the equal playing field. There are clients, litigants, and people trying to access legal resources and the courts who don't have internet or Wi-Fi access, and we have to make sure that no one is left behind and continue collaborating with the justice sector to make sure that happens."
During her tenure as treasurer, she says the LSO will continue to work on the five-year pilot project on Access to Innovation (A2I), and more information will be available next year.
Horvat says implementing the mandatory minimum compensation for articling students passed in the spring would continue in 2023.
She says the LSO would also be figuring out the next steps on the Family Law Services Providers License, which was supposed to allow paralegals to provide family law services but was opposed by several law associations in February.
Enforcing a mandatory succession planning requirement for licensees in private practice is also an important project, and Horvat says a consultation to obtain feedback from licensees, especially sole practitioners and small firms is open until November 30.
She says the survey for phase two of the member well-being study, which helps to determine the mental state of lawyers and paralegals in Ontario and across Canada, is also underway. Furthermore, the LSO will hold access to justice week from October 24 to 28 and is celebrating its 225 anniversary this year.
The next bencher election is in April 2023, and Horvat says increasing voter engagement is crucial and urges everyone to vote.
"I look forward to the next year and I'm excited about my position. But we do have an election in the middle of it. So, I encourage every licensee out there to vote."