Lawrence will lead the firm's DEI initiatives and transition to office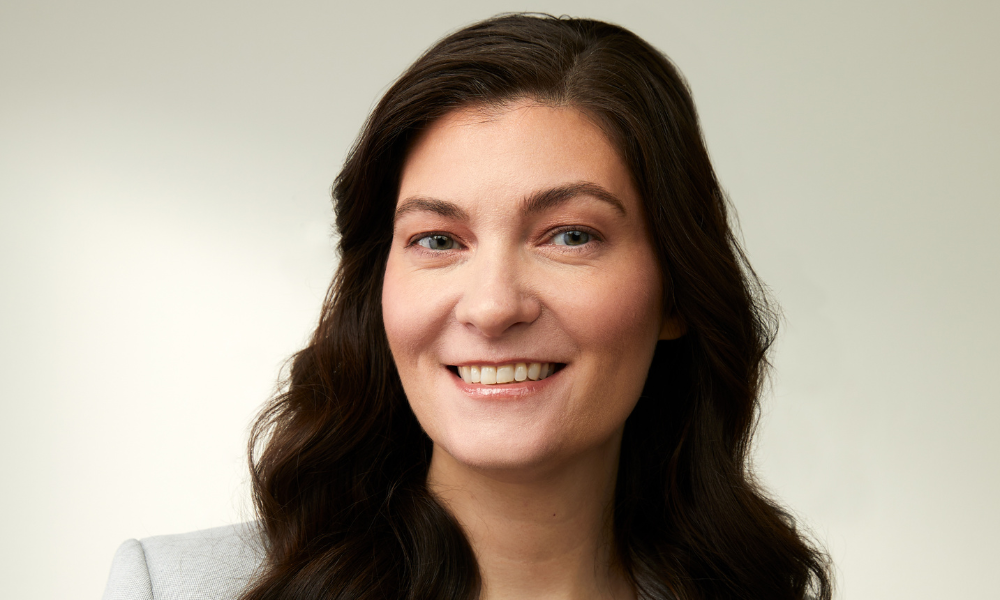 Commercial litigator and administrative law expert Emily Lawrence has been named the new managing partner of litigation boutique Paliare Roland Rosenberg Rothstein. Lawrence will lead the firm's transition back to the office after a long period of working remotely and develop new ways to maintain culture while giving employees the flexibility to work from home.
"We have settled into a hybrid work arrangement with a view that in-person discussions and interactions are significant for our culture, mentoring our junior lawyers, and the collaboration that comes with being in person. However, we want to be flexible for people because everyone has realized that you can do this job from almost anywhere with an internet connection," Lawrence says.
Transparency on diversity, equity and inclusion is a driving force for Paliare Roland, and she says the firm would focus on hearing the concerns of marginalized employees who have felt safer working from home than in the office.
"We have an active inclusion committee that focuses on inclusion over everything else so that people feel like they have a voice and a place to raise issues and where they can address complaints or concerns."
In the last five years, Lawrence says the firm's management has committed to DEI initiatives beyond "talking the talk" but by providing resources and time, acknowledging the stories of marginalized people, and working to create a more inclusive environment.
"We've engaged in a significant amount of anti-racism and anti-oppression training. So not simply unconscious bias training, but grappling with power structures," Lawrence says. "We've been engaging in training on anti-indigenous racism and LGBTQ and trans rights."
Lawrence succeeds Robert Centa, who held the position since 2015 and was appointed as a superior court judge in May. She has substantial expertise in professional regulation, pension litigation, employment and labour law, constitutional litigation, civil disputes, and privacy matters.
In addition, Lawrence has appeared as counsel before numerous administrative law tribunals and is co-author of a book on administrative law practice with Justice Lorne Sossin.
She has been practising law for 17 years and says it is impressive that her colleagues and the generation of lawyers who graduated after the 2000s are taking on leadership positions as court judges or within their firms.
"There's a ton of interesting initiative and change in this generation of lawyers, and there are many opportunities to reconsider and recreate how law firms are run."
Lawrence graduated from Osgoode Hall law school in 2005 and has spent her entire career at Paliare Roland. However, she says she did not expect to be a practicing lawyer when she went to law school.
"I was interested in international human rights and politics and expected to use my legal degree internationally rather than domestically. When I got into law school and realized how interesting and varied the options were for lawyers, I started to focus on deciding to stay in Canada and work in private practice."
Lawrence says Paliare Roland was instrumental in crafting her legal path because of the firm's variety of practice areas. "I liked that the firm gives students the ability to dip their toes in all areas of law to develop particular interests, and those interests landed in particular on professional regulation and pension because I like calling evidence."
Lawrence is proud of the firm's 20-year legacy and solid commitment to being excellent advocates and focusing on giving exceptional legal services, which she says will continue.
Giving back to the community through pro bono and charitable initiatives and maintaining its diverse practice mix is one of Paliare Roland's fundamental values, and Lawrence says those values drew her to the firm 18 years ago and anticipate that the firm will not change.
"I hope it will be more of the same as in the last 20 years because I'm so proud of what we have developed."
Finding a trusted and respected community of colleagues is crucial to a lawyer's career, and Lawrence says she was lucky early in her career to connect with an amazing group of advocates, both in legal skills and how well they support each other.
"No one in my family is a lawyer, and many people are not professionals, so developing a professional persona that felt authentic was something I focused on in my early practice."
She says she was privileged to have great support and mentorship in her legal career and that younger professionals should seek champions and mentors interested in their career development.
Lawrence says mentors like Linda Rothstein, recipient of the 2021 Advocates' Society Medal and Meghan Shortreed, chair of the Law Society of Ontario Professional Regulation Committee, helped her find her way as a lawyer.
"Meghan Shortreed was my formal mentor at the firm when I was an associate, and she helped me navigate many of the challenges that associates face as they make their way to partnership."
Lawrence had her children when she was an associate and says balancing family obligations with a young family was trying. However, Rothstein has four kids, so they often discussed professional and personal development.
She says Justice Rob Centa was also a primary mentor before joining the bench. "He balanced a civil litigation practice with a public law practice in a way that I found very admirable."
Lawrence served as the head of the firm's student program, and she says Centa mentored her through running the program and when she joined the firm's executive committee.
"He mentored me as a member of the executive committee and in understanding firm dynamics, financials and leadership in a way full of grace, respect and acumen," she says. "When he was appointed to the bench, he encouraged me that I could take on the role and fill his shoes. I don't know if I would have felt competent to do that without his support."
Having tremendous mentors, Lawrence says mentoring and championing younger lawyers has brought her the most career satisfaction.
"Bringing up junior colleagues in cases, in firm leadership positions, and professional development and shining the spotlight on junior colleagues allows the whole team to shine."
As managing partner, she says she enjoys looking to the future to assess where the legal market will be and how to best help the firm partners, associates, and staff in a way that most serves their personal interests and professional aspirations.