Gold will moderate the TLA's women in law program on authenticity and leadership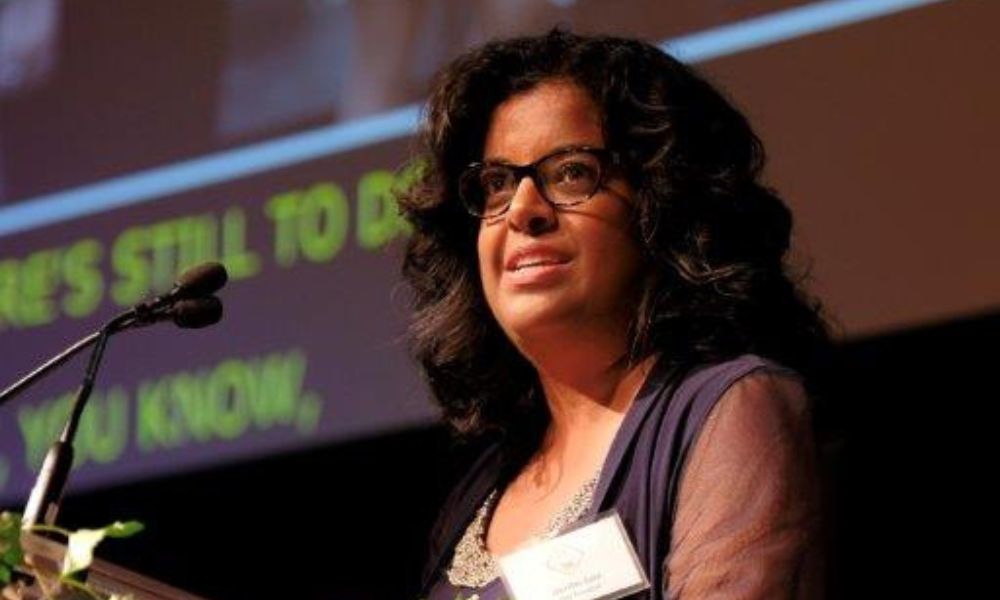 A leader is more of a guide than a dictator because leadership is about service and less about power, Jennifer Gold, the Women's Law Association of Ontario president and partner at Wood Gold LLP, says.
"Becoming an authentic leader is bringing yourself to the role and not trying to become someone else or what you think a leader should be."
Gold sometimes feels frustrated with the concrete ceiling for women of colour. However, she feels very optimistic because she hears the word gender parity more in today's discourse. "More women are at the leadership level, and law firms take diversity, equity and inclusion more seriously," she says.
"People are talking about gender parity in the leadership of organizations. Whether it's on a board or convocation of the law society, the profession realizes the need for gender parity in these organizations and the need to create pathways for women to advance."
Gold will moderate on "Leading with Purpose - The Authentic Leader" in the Toronto Lawyers Association 5th annual Women in Law program on May 12. She says the TLA and other legal associations must provide support and resources and ensure coaching opportunities for women as they enter more leadership roles.
Navigating authentic leadership is with deliberate practice and feedback, and Gold says she integrates empathy, gratitude, generosity, and taming her triggers into her daily leadership practice.
Aspiring leaders should not enter leadership roles thinking there is not much learning needed, Gold says. "Once you enter that leadership role, it's the beginning of your education in that position."
She says self-awareness, understanding how to support yourself in different situations, dealing with conflict, and consciously communicating are crucial for good leadership.
She says that leaders must recognize when they are triggered and take the time to cool off and not necessarily avoid the problem. For instance, if a complaint triggers a leader, it is crucial to create time and space to reflect on the issue and not have any knee-jerk reactions.
"I've had various experiences in my career where I've failed at this, and I've made mistakes, but if you're committed to the learning journey and doing better, that's important."
A safe workplace culture among leadership and the team is how organizations can excel because they get diverse opinions. Gold says that leaders in the profession must learn to work with different people, learn about inclusion and systemic barriers in their workplace, and unlearn implicit bias.
She says that leaders who want an inclusive organization must deal with their unconscious bias and demonstrate with whom they interact and give attention.
"We all have it. We were all raised in some manner or the other and come from some culture where we learned things that may need to be unlearned."
Gold says that creating time for team members, whether casual interaction or a coffee or lunch, is vital to developing a good relationship. "Obtaining feedback from team members and taking that feedback seriously, reflecting on it, and constantly improving is part of what builds the relationship with your team."
"Even when you work with a very diverse team, sometimes people are afraid to speak up, so it's crucial to create a workplace culture where all different people feel comfortable voicing their opinions or speaking with you without reprisal or negativity."
Being a leader is also authentically recognizing your strengths and weaknesses and creating a great workplace or organization with those strengths, Gold says.
Leaders must self-reflect and leave their comfort zone by having open, honest, brave conversations, acknowledging what they do not know about people and other cultures, and asking questions to educate themselves, she says.
"One of my strengths is that I can build relationships with people who are different from me, and that's because I'm very down to earth as a person and have a great sense of humour. That's my superpower."
Gold says prioritizing EDI ensures that different people have an equal place at the table. "You need to look around your boardroom or senior management and see who's at the table. If everyone is the same, you need to mix that up to benefit the organization and the workplace."
She says leaders must be persistent and tenacious to people unwilling to move forward and change the workplace culture by bringing in external educators. "That's more helpful than an organization trying to do it and puts less pressure on leaders."
Some leaders are conflict-averse and do not want to engage in difficult conversations or decide issues that make them uncomfortable. However, Gold says if ideally, they have done the work in knowing their team, building the relationships and trust, engaging in some of these conversations can be honest and from wanting the best for the team and the person.
She says people of colour or other equity-seeking groups often do not receive feedback about what they could do to improve. "Perhaps the leadership is too afraid to have the conversation or to be accused of being overly negative because of the person's race or gender or whatever it is. But if you can give feedback effectively and set goals and targets, you're helping that person succeed in the organization."