The firm formalized the Aird & Berlis Diversity & Inclusion (ABDI) Educational Curriculum in 2021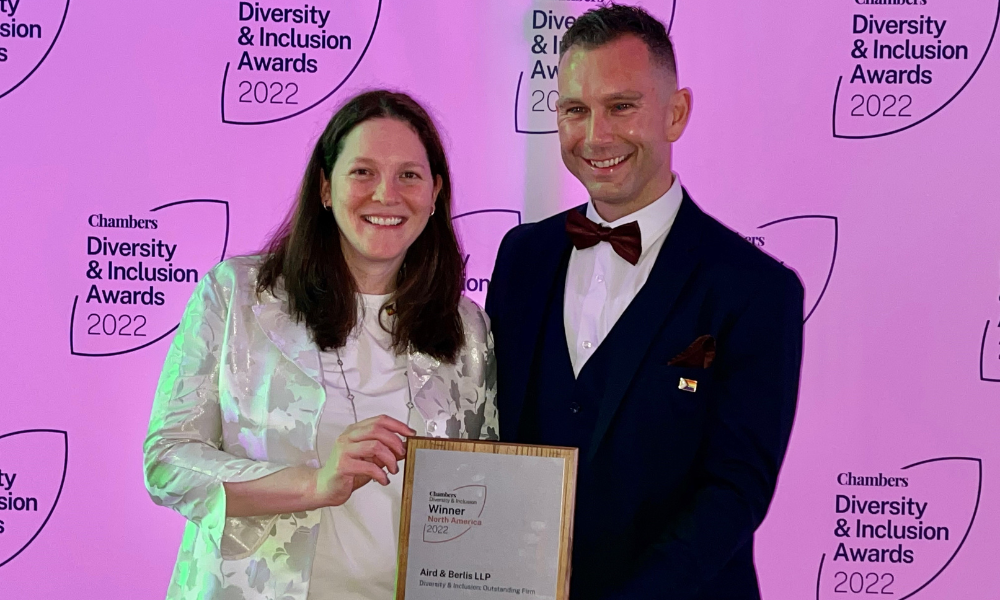 Aird & Berlis LLP was named the outstanding Canadian firm of the year at the 2022 Chambers Diversity & Inclusion Awards for advancing diversity and inclusion in the workplace and the legal profession. Chambers Global ranks lawyers and law firms in over 200 jurisdictions worldwide and honoured the Aird & Berlis 2021 DEI measures on breadth, commitment, impact, advancement, and originality.
Andrea Skinner, Partner at Aird & Berlis Municipal & Land Use Planning Group and chair of the Diversity and Inclusion Committee, says the firm expanded internal engagement and professional development objectives by formalizing the Aird & Berlis Diversity & Inclusion (ABDI) Educational Curriculum in 2021.
The ABDI curriculum aims to infuse D&I values and principles throughout the firm through an enhanced education and training program complemented by year-round internal and external programming, Skinner says.
"We facilitate firm-wide training on unconscious bias, anti-oppression, inclusive language, relational tensions and allyship, in order to instill a deeper understanding around the importance of D&I. These training sessions are mandatory for all lawyers and staff with leadership roles, recruitment responsibilities and managers, as we recognize that top-down support is a key part of maintaining an inclusive firm culture."
Skinner says the firm supports and encourages employees with different lived experiences and as members of historically underrepresented groups to contribute to its D&I programming, which gives people a platform to share their stories and make meaningful connections with their co-workers and peers while bringing education and awareness to critical social issues.
"The legal community is acknowledging where we can improve in this regard. I'm confident that the longer-term benefits will be rewarding to the industry and improve the practice of law in Ontario and beyond," she says.
As part of Aird & Berlis 2021 Black History Month initiative, the firm organized an interview with Dr. Hadiya Roderique, a former employment/human rights lawyer and author of the 2017 Globe and Mail article "Black on Bay Street." Skinner says Roderique and former firm lawyer David Mba had an in-depth conversation regarding Black inclusion in the legal sector and ways to foster positive changes.
The firm hosted an interview with transgender lawyer and employee Angela Swan and her daughter Ellen Swan who followed her footsteps as a lawyer. Skinner says she moderated the conversation on Swan's decision to live as a transgender woman in 2008 and her transition journey.
"This video interview highlights their incredible journey while also sharing perspectives on transgender inclusion in the Canadian legal community. We continue to work with Angela to promote representation of transgender people in all professions, especially in the legal sector."
Following the anti-Asian sentiment that grew from the COVID-19 pandemic, Skinner says Asian-Canadian Aird & Berlis lawyers Hansen Wong and Lynn Tay wanted to bring awareness to the historic legislative and judicial discrimination faced by Asian-Canadians.
"Tay sat down with academic speakers from the Asian community to present on the historic legislative and judicial discrimination faced by Asian-Canadians and how the impact of this discrimination continues to be felt today," she says. "The topic of allyship was of paramount importance."
Skinner says Kimberly Thomas, the firm's affiliated independent counsel and citizen of the Seneca Nation, Bear Clan, hosted an interview with business leaders from the Indigenous community to recognize National Indigenous Peoples Day.
They discussed supporting Indigenous communities, unique employment considerations for Indigenous businesses and challenges they must overcome to stay positioned for success.
She says the session aimed to shine a light on the community's successes during a time when the narrative around Indigenous issues in Canada focused on the tragic history and ongoing impact of residential schools. The firm also organized a virtual storytelling program with Indigenous storyteller Dr. Margaret A. Brigham on the National Day for Truth and Reconciliation.
Skinner says employee response has been outstanding, and attendance at the recurring education sessions and special events has been exceptionally well received. In addition, she says the firm gathers objective data from firm members as part of its annual D&I survey to develop further and enhance the DEI program.
"Particular highlights have been learning about the lived experiences of individuals in our firm, enjoying music from firm members' ancestral homelands, foods, and bringing the firm together as a community."
The DEI planning subcommittees are particularly valuable because they include firm members with lived experiences related to the initiatives they and their allies are planning, Skinner says. For example, Pride programs are organized by members of the LGBTQ2+ community; members of the Asian-Canadian community organize Asian Heritage Month, and members of the Black community organize Black History Month.
The firm also maintains a dialogue with external sources, including community partners such as Women's College Hospital, the BlackNorth Initiative and Pride at Work Canada, to assess DEI progress, Skinner says.
The climate for diversity and inclusion on an organizational level continues to evolve, and she says Aird & Berlis has not completed its journey to create lasting and effective changes within the workplace.
The firm will continue to evolve the ABDI Curriculum and other aspects of the DEI program, and Skinner says they are in the final stages of planning the Firm Member Resource Groups (FMRGs), which will launch in the fall.
"FMRG members will have the opportunity to connect in firm-supported safe spaces that encourage dialogue related to the members' jobs, homes and personal experiences."