Industry leaders examine EDI strategies that create a strong, diverse talent pipeline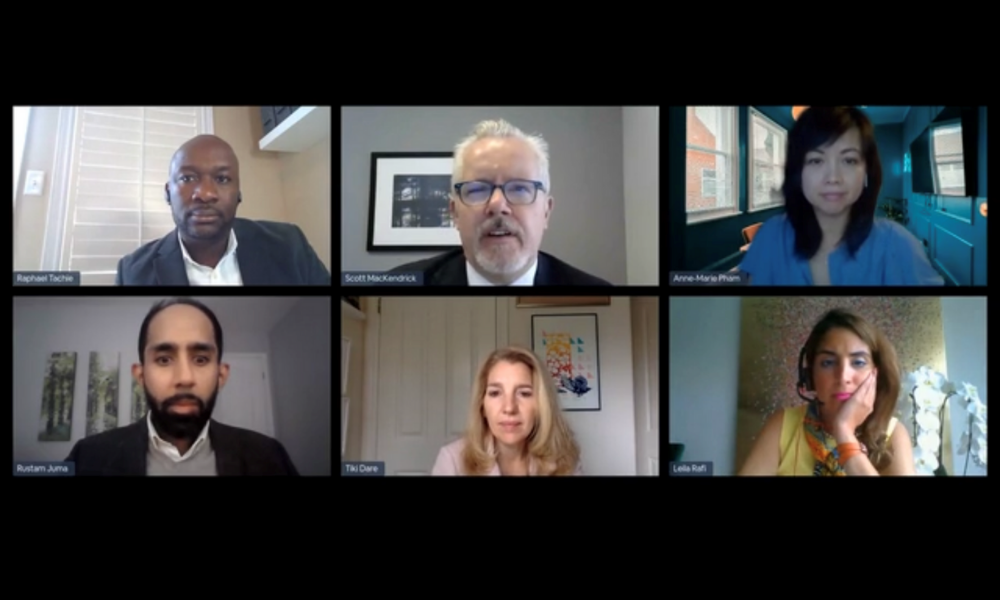 As companies and organizations assess their corporate culture and commit to developing diverse and inclusive practices, industry leaders discussed how to successfully implement EDI strategies from the introductory phase to the implementation phase in the From Thought to Action Diversity and Inclusion webinar, sponsored by Bereskin & Parr LLP.
Moderated by Scott Mackendrick, partner at Bereskin & Parr and chair of the firm's diversity and inclusion committee, the panel explored building a clear action plan for diverse and inclusive culture within a company or organization and examined EDI strategies that improve employee engagement while building a robust, diverse talent pipeline.
Anne-Marie Pham, executive director at the Canadian Centre for Diversity and Inclusion, said the CCDI often hears the impact of exclusion on mental health well-being from employers and employees. The lack of equal opportunities for advancement makes them leave the organization.
"Sometimes we see the revolving door syndrome because maybe the organization is trying to hire for diversity, but they haven't created the ecosystem to help people stay."
A vital element to developing an authentic D&I strategy is inclusive leadership that sets the tone from the top because when leaders do not support inclusive efforts and hold people accountable, D&I initiatives become unsustainable and fall apart, Pham said.
President of the Canadian Association of Black Lawyers (CABL) and senior counsel estates and trusts at TD Canada Trust Raphael Tachie said putting in place long-term and tailed initiatives that benefit marginalized communities and make employees feel seen and safe is at the core of diversity and inclusion.
Tachie said he did a pilot test to identify the gaps in his leadership and recognized that he had a gap as a cis abled man. That perspective allowed him to set a goal to attend events and learning sessions organized by the disabled and differently abled community at TD to change his language and perception.
"Authenticity and sustainability go together. If you're genuinely committed to what you're doing, if you're working from a place of, this is a meaningful change I want to make in the world, then your efforts will always be sustainable because that belief will sustain the required work," said Tachie.
Referring to a 2015 study that found that firms in the first quartile of gender diversity were 15% more likely to benefit financially than the industry median, while firms in the first quartile of racial and ethnic diversity were 35% more likely to benefit financially above their industry median, Rustam Juma, general counsel and corporate secretary at Eckler and founder of the National GC network, said companies need to recognize diversity and inclusion as a business imperative for success
Developing an effective D&I strategy requires small incremental changes and is not something that needs to be displayed in huge matters off the get-go, Juma said. "Equality, Diversity, inclusion has to penetrate the culture of an organization. It has to be something that the employees feel and believe to be true."
Leila Rafi, a partner in the capital markets and M&A group at McMillan LLP, said companies should avoid thinking of corporate governance as just checking a box or having a certain number of priorities and forgetting about it.
Rafi said McMillan has made significant efforts to execute its diverse training and recruitment aspirations. For example, lawyers participate in the recruitment of law students, and they must take some mandatory sessions of unconscious bias.
"The results of those are sometimes surprising because you may not realize you hold all these biases and judgments and so, we've tried to become a lot more aware of those things when we do recruitment."
Tiki Dare, vice president and associate general counsel at Oracle and president of the International Trademark Association, said diverse recruiting and partnering practices inspire company innovation and develop innovative strategies that build company revenue.
"When we hire and bring in and nurture talent, we want to make sure that talent is very diverse because that supports our innovation goal."
Companies can also act on D&I by using more inclusive language. For example, when creating a new hiring requisition, Dare said Oracle goes through a process to ensure that the language and focus are D&I friendly to actively attract diverse candidates.
Because privileged individuals sometimes can't rely on their workplace experience to understand how unjust the workplace can be, doing the right thing isn't natural for most leaders; Juma said partnering with organizations well-informed on the landscape of diversity and inclusion is critical.
Having the objectivity of a third party, someone who is new and has no previous history of an organization can be highly beneficial because they can ask very simple questions that can open unique aspects not considered in the past, Pham said.
"I have been in so many conversations with different organizations where it only took one question for them to realize they are super homogeneous."
Companies need to consider the life experiences of marginalized communities and bring in members from the communities they are trying to reflect to close the country's substantial racial wealth gap instead of hiring a "white shoe consulting firm," Tachie says.
Panel speakers also emphasized the importance of company metrics and tracking data to identify gaps in leadership and recruitment. It's more than writing things down and having policies and checklists. They said there needs to be data that reflects the progress of the organization. For example, Rafi says McMillan now tracks progress for EDI, which is something the firm never did before.
The speakers said that employee resource and advisory groups are crucial for a successfully diverse and inclusive workplace. Rafi created a first-generation affinity group for individuals who were the first of their family to be raised or born in Canada at McMillan after she tried joining other affinity groups but could not identify with any. She said for D&I efforts to be sustainable; companies must recognize their obligation to participate, commit resources and budgets to make D&I commitments viable and know that there's always room for improvement.