Listening to firm members key to creating accountability: panelists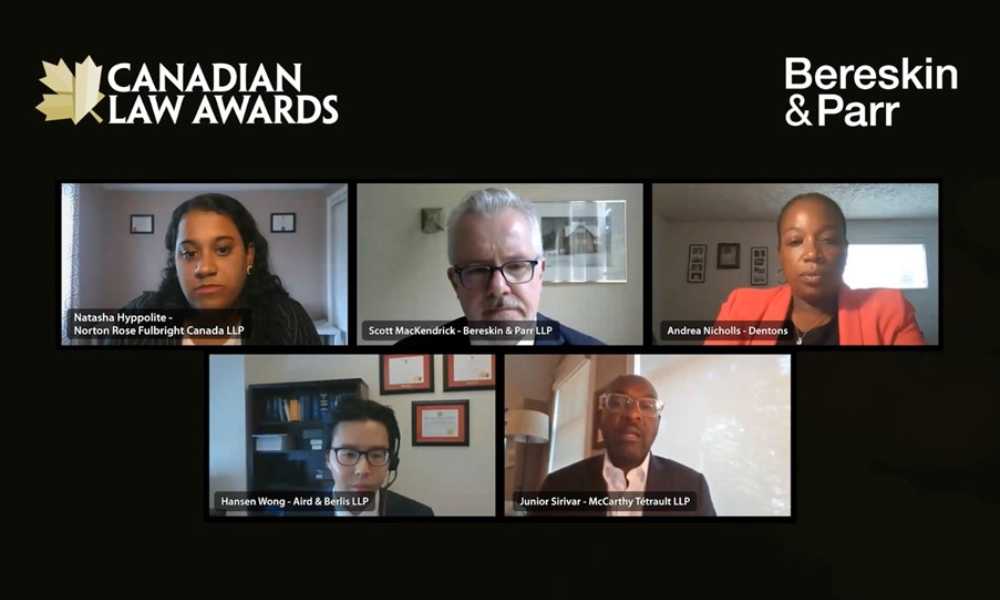 The consensus of a panel at this year's Canadian Law Awards was that it is crucial for law firms across Canada to listen and understand the issues faced by Black, Indigenous and People of Colour and create accountability in eliminating unconscious bias and systemic racism.
The panelists were nominees of the Bereskin & Parr Award for Diversity Initiative of the Year. Authentically Driving Change through Diversity and Inclusion Initiatives was moderated by Scott Mackendrick, partner with Bereskin and Parr and chair of the firm's diversity and inclusion committee.
"The events of 2020 really spurred us to take a hard look at our initiatives and put into place some initiatives that we thought would really have meaning," said Andrea Nicholls, chief financial officer at Dentons.
"It was really important that we took the time first to stop and listen."
In the past, certain institutional structures, biases in the legal community, and a lack of representation at certain levels have made racialized people feel excluded in the legal profession, said Natasha Hyppolite, Associate at Norton Rose Fulbright Canada LLP and member of the firm's Race Equity Council.
Hyppolite said the council's goal is to provide meaningful input on race equity strategies and targets to accelerate the analysis of diversity data and create new standards for Norton Rose's recruiting practices.
One of the main lessons from the firm's efforts and revised race equity strategy was how much it needed to listen to its BIPOC employees, she said, adding that creating listening groups within the firm was a transformative strategy.
"I think there may be a general consensus that difficult conversations about race have been cast aside in the workplace, even at the interview level at the recruitment stage, and that feeling that it's not a subject to be discussed really can permeate the work culture."
Through employee resource groups, racialized members now have access to listening groups where they can share experiences in a safe and confidential space with people who may be experiencing similar situations, Hyppolite said.
"The aim is to develop themes that we can take back to the firm's management committee to identify existing obstacles and form strategies to resolve them."
Nicholls, who shared a similar view as Hyppolite, said the initiative of the D&I committee at Dentons involved reaffirming its commitment to BIPOC employees by listening, learning, collaborating and acting.
The forum for listening and learning is constructive, she said.
"That was the first time that I've seen racialized people like myself sharing painful stories. At the beginning of my career, I would never think of talking about my experience as a black woman walking into a corporate setting and being the only one. So, I think having that forum to allow people to be free with their thoughts, concerns, experiences, and pain, in many cases, was really useful."
After listening and learning, Nicholls said Dentons created new initiatives involving mentorship, sponsorship and launched the Dentons Black Professional Network.
"Many of our lawyers and external counsel create a mentorship program with young lawyers," she said. "We do a one-to-one match, where we have the more experienced lawyers mentoring the younger ones."
Building a culture of allyship is also essential to eliminate the structural barriers faced by racialized members of the profession, said Junior Sirivar, partner and lead of the race action group at McCarthy Tétrault LLP.
A significant revelation from McCarthy's D&I efforts was "just how ready people were to have what we've been calling uncomfortable conversations, and how much people wanted to learn," he said.
Part of the firm's focus is educating employees on how to be allies and have conversations that focus on substantively listening and learning the experiences of their colleagues, he said.
"I'm a Black man but if you focus on the second aspect, I am a man, and there are a number of things that I need to learn in terms of how to be an ally to other equity seeking groups."
Panellist and litigation associate at Aird and Berlis LLP, Hansen Wong, said the firm learned the importance of proper marketing and communication for D&I initiatives.
Though the panellists may all recognize the importance of these programs, Wong said some in the firm were skeptical.
"We need to be cognizant that despite all of our advancements in D&I, that there are still those of us that are philosophically different."
He said the reluctance of some employees is why effective marketing and communication are crucial for tying D&I initiatives back to discussions about the law and discussions relevant to the legal community.
"A lot of the webinars organized by the ABDI are very focused on diversity and inclusion, but educational about the law in some aspect."