The Canadian Law Awards assembled the country's leading experts on diversity and inclusion in law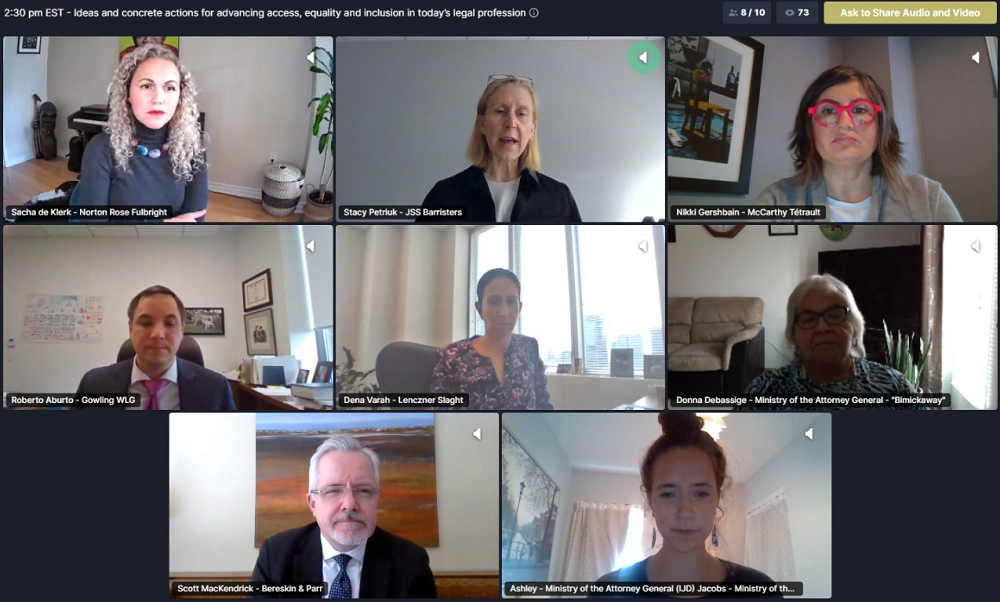 While women have been graduating law school at least as often as men for decades, progress in gender equity in the upper echelons of the profession has been slow and requires "bold action," said lawyers driving diversity and inclusion programs at a number of prominent Canadian law firms.
As part of the inaugural Canadian Law Awards, Key Media convened a panel of industry experts representing the seven organizations in the running for the Bereskin & Parr Award for Diversity Initiative of the Year.
"The aspiration to be inclusive is shared within the legal sector," said Sacha de Klerk, head of Diversity and Inclusion at Norton Rose Fulbright Canada LLP.
"We all say that we embrace and that we value difference but is the reality more that we embrace difference as long as it fits into the existing system and that the burden to change and adjust doesn't affect the groups with the most power and influence?"
"There's been a lot of work in the sector and it's a start. But, overall, there is slow progress. The time, now, is right for bold action."
The panel, "Ideas and Concrete Actions for Advancing Access, Equality and Inclusion in Today's Legal Profession," took place the afternoon of Oct. 6. The awards were presented that evening. Winner of diversity initiative of the year was McCarthy Tétrault LLP for its program Inclusion Now.
Inclusion Now was launched in 2019 to accelerate the recruitment and retention of underrepresented groups, with a particular focus on women, Black and Indigenous people of colour and members of the LGBTQ2S+ community, said Nikki Gershbain, McCarthy Tétrault's Chief Inclusion Officer. Gershbain represented the winner on the panel and said the initiative is a "key business and strategic priority for the firm."
With Inclusion Now, Gershbain said the firm has taken a "data-driven approach" to D&I.
"There is sometimes a misconception that demographic data is just about representation, it's just about numbers," she said. "But it's a very, very helpful tool for measuring belonging and tracking the delivery of meaningful career-enhancing opportunities that people are receiving within the organization. And also advancing retention and leadership."
As part of Inclusion Now's governance model, the firm has created four working committees: A race action group, a gender equality action group, a pride action group and an abilities group. Gershbain said the firm expected engagement, but the response was "staggering." They have 500 firm members – partners, associates, students and staff – involved, which represents around a third of the organization.
McCarthy Tétrault has also collaborated with fellow CLA finalist Lenczner Slaght Royce Smith Griffin LLP, on its referral network for women: ReferToHer™. Representing Lenczner Slaght on the panel was Dena Varah, a partner with a wide litigation practice.
Lenczner Slaght launched ReferToHer™ in 2019 to build a list of distinguished female litigators to help overcome unconscious bias in referrals. The initiative was launched by Lenczner Slaght partners Shara Roy and Sana Halwani. With McCarthy Tétrault, ReferToHer™ expanded to corporate counsel and have since added a list of licensed insolvency trustees.
Varah said the firm is planning further expansion.
"Women have been in law firms for a long time," she says. "But I think the conception for this list was that it is often easy to think of the senior members of the bar, many of whom happen to be male, and sort of perpetuate that referral system by not bringing people to top-of-mind who could be great referral sources. So we just wanted to ask everyone to step back and think about that. Referral sources are of huge importance to developing your business."
In all, the finalists for the Bereskin & Parr Award for Diversity Initiative of the Year were:
McCarthy Tétrault LLP – Inclusion Now
Gowling WLG (Canada) LLP – Our People First: Mental Health Strategy
Jensen Shawa Solomon Duguid Hawkes LLP – Enhancing Diversity and Inclusion in Recruitment and Advancement Policy
Lenczner Slaght Royce Smith Griffin LLP – ReferToHer™
Ministry of the Attorney General – Bimickaway
Norton Rose Fulbright LLP – Achieving greater representation of women in leadership and partnership
Smart & Biggar LLP – Diversity Goals: Diversity Leadership & Programs
Scott MacKendrick, a partner in Bereskin's litigation practice group, moderated the discussion.