Jacobs is professor at Windsor Law, while Khimji is associate professor at Queen's Law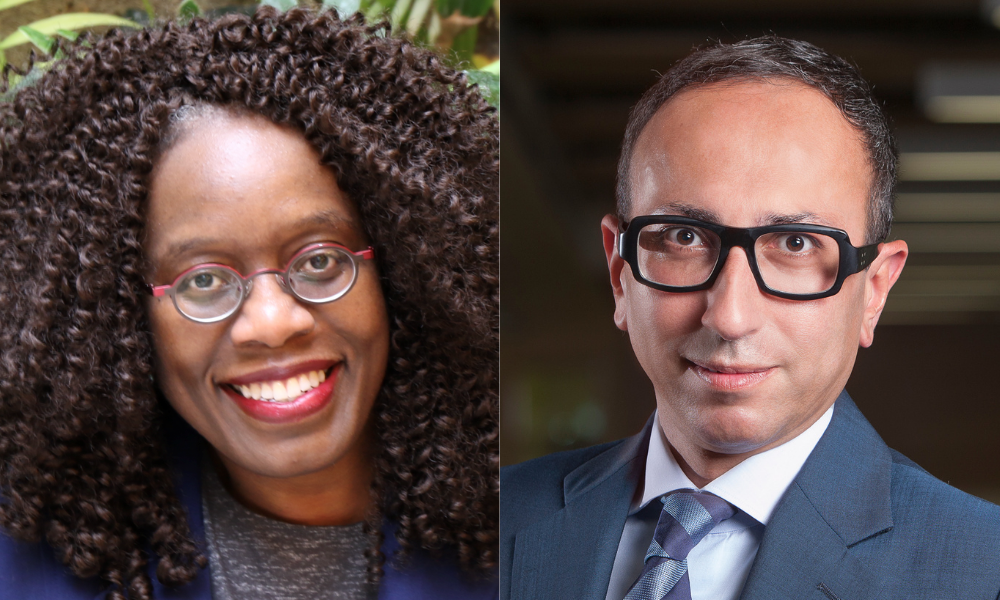 Dr. Laverne Jacobs and Mohamed Khimji have joined the Lincoln Alexander School of Law at Ryerson University as new visiting scholars, according to a July 26 announcement.
As a visiting scholar, Jacobs will work on finishing Disability, the Right of Access and the Law: from Litigation to Citizen Participation, her new book which is expected to be published in 2023 and which is supported by funding from the Social Sciences and Humanities Research Council of Canada (SSHRC) and from the Fulbright Foundation. She will also be holding workshops and discussions regarding administrative law and law and disability for the Ryerson community.
Aside from engaging the academic community, Khimji will focus on a research study titled Shareholder Democracy in Public Corporations - An Empirical and Economic Analysis, for which he serves as the principal investigator and holds an SSHRC Insight Grant. Legal reforms on shareholder participation in corporate governance may potentially benefit from this study's findings.
At the University of Windsor Faculty of Law, Jacobs has been a law professor, associate dean for research and graduate studies and founding director of the Law, Disability and Social Change Project, a research and public advocacy initiative that seeks to foster and to develop inclusive communities.
Her areas of teaching and research include law and disability, equality, human rights, access to information, access to administrative justice, administrative law and theory and qualitative empirical research methodology. She has been working on a study on guardianship, disability rights and relational ethics, funded by the Canadian Institutes of Health Research, as well as a study on navigational tools and administrative justice, funded by Justice Canada.
Jacobs has also been co-director of the Disability Rights Working Group at the Berkeley Center on Comparative Equality and Anti-Discrimination Law and Canada's nominee for the United Nations Committee on the Rights of Persons with Disabilities, named last June. She received her LLB and BCL from McGill University in 1999 and her PhD from Osgoode Hall Law School in 2009.
Khimji has served as inaugural holder of the David Allgood Professorship in Business Law at Queen's University Faculty of Law and as holder of the Stephen Dattels Chair in Corporate Finance Law at Western University. He has also held a faculty position at Dalhousie University's Schulich School of Law and visiting appointments at Yale Law School and at the Faculty of Law, University of Valencia.
Khimji has researched and has acted as consultant in the areas of corporate law, commercial transactions and intermediated securities, advising private firms and government and regulatory agencies in Canada, in the U.S. and in the U.K. regarding such matters.
Khimji previously practised corporate law at Torys LLP in Toronto. He earned his LLB from the University of Bristol and his LLM from the London School of Economics.