Marasco focuses on aircraft agreements, registration, and drone licensing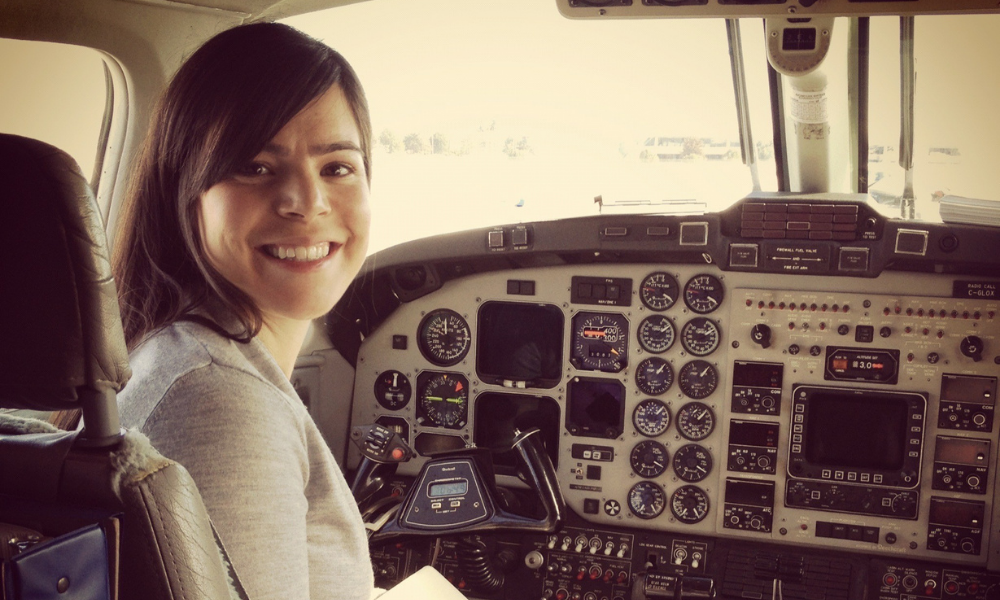 Auriol Marasco calls herself an aviation geek and gives credit to her love for flying and interest in aviation law to Canadian children's author Robert Munsch book Angela's Airplane.
That book told the story about a little girl who gets on an aircraft and is instructed not to press any buttons by her father, but she did.
"She takes it for a flight and has an amazing time, and she grows up to be a pilot, and I thought that's what I want to do," Marasco says. "I wanted to push the button."
Before embarking on her legal career, Marasco completed her undergraduate in commercial aviation management at the University of Western Ontario and her business degree while attaining her flight licenses. Marasco says, "while I was doing my business undergrad, I did my private and commercial and instructor rating, and I loved it. I loved flying."
Marasco says she was hooked on the industry but knew flying was not the lifestyle she wanted. She began Osgoode law school with the sole ambition to study aviation law after taking an upper-year class about licensing and pilot regulations as an undergrad. "I started reading case law and thought this is a side of aviation I haven't been exposed to yet, but it seems interesting, and I'm glad that I took that class."
After law school, Donald Gray, the chair of the aviation group at Blake, Cassels & Graydon LLP, mentored her. "He said, 'I love aviation first and law second.' So, I knew I had found a great mentor there. I hit the ground running from law school and haven't really looked back."
Marasco is an aviation lawyer and partner in Blakes's aviation and aerospace group, focusing on aircraft financing or leasing purchase agreements for Canadian airlines. "I also help corporate air jet and corporate companies who are looking to purchase corporate jets.
"Some people think I have some discounts that I can give them to buy a plane, and unfortunately, it's nothing like that," she jokes.
She says working on purchase agreements kept her busy during the pandemic. Many companies embarked on private flights because of the decreased availability of commercial carriers and the uncertainty of when things will be back to full capacity at airports.
Marasco also works on regulatory matters involving aircraft registration, import and export of aircraft and helping drone operators get licensed in Canada and navigate their way around the aviation space.
Aviation is a capital-intensive industry with many hurdles involving aircraft and pilot certification, access to capital, and weather storms, says Marasco. Her goal is to help clients minimize barriers to the real challenges of connecting people around the globe.
"If I can make it easy for clients to purchase an aircraft, to lease an aircraft, to access to capital markets, then that's what I'm trying to achieve for them."
Marasco appreciates she can see the difference she makes in her work. "I can see what I'm doing," she says. "If you're financing account receivable, you can't really touch those, you can't really pick them up, you can't talk about them at a dinner party, but with aircraft, you can do all of that."
She is on the board of directors of Hope Air, a non-profit that arranges free airfare for Canadians travelling for illness. "Being able to advise Hope Air and act on their board of directors has been one of the greatest achievements of my career thus far, to help them deliver services that are critically needed to many Canadians."
The aviation industry faced massive lay-offs and, in some cases, a total cessation of operations, she says. Operators faced restructuring of leases and aircraft return conditions, increases in private aircraft operations, and purchases amid uncertainties about commercial air travel. Many companies had to do hard lobbying for government investments to level out the playing field as well, she says.
Marasco says she is amazed by the industry's resilience, which finds alternative ways to access financial resources and qualified pilots. "They have a passion for the end goal that they don't take no for an answer."
She is thrilled more women are interested in aviation law than when she began her career. "When I started, it was few and far between seeing women at the industry events, and I have been delighted to see there is now a line to the woman's washroom because there are lots of women at these events."
Marasco is a part of Women in Aviation, an organization dedicated to encouraging and advancing women in an aviation career, Aviation Women's Association, an international organization for women holding positions of impact in the aviation and aerospace industry, and Advancing Women in Aviation Roundtable, an organization created to promote the development and advancement of women leaders in the aviation industry. Anderson, former managing director and assistant treasurer of American Airlines, and Dana Barta, executive director and head of aviation capital markets at JP Morgan, founded AWAR.
"They took meaningful efforts to find ways to break down barriers to ensure that more women are coming in, and I'm happy to say that I'm seeing that it's working."
Marasco says she is fascinated by people's intelligence in the aviation industry and how much they can teach her. "But even these incredibly intelligent people, inside each of them is a kid who loved playing with airplanes and looked up in the sky when they heard a jet going past with joy in our eyes."