'I'm 71 and I'm still working full time. If you like doing something, that fires you up,' Hiley says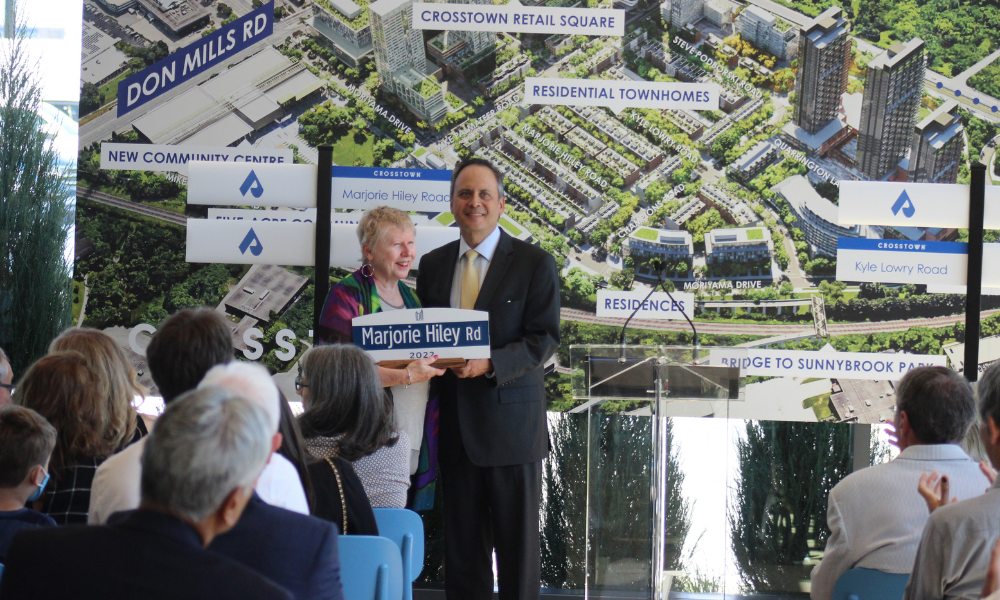 Immigration lawyer and executive director of the Don Valley Community Legal Services, Marjorie Hiley, has been awarded a street in her name for her lifetime achievements and contributions to the community. Hiley has been practicing law for the past 44 years, including 40 years in the community legal clinic system.
"I'm quite embarrassed to get the street named after me because many wonderful folks are working in law and volunteers do such great work," Hiley says. "I'm just a representative for the clinic lawyers and workers who do so much for people because we have an extensive clientele."
Hiley says the Don Valley Community Legal Services covers many impoverished and wealthy neighbourhoods from western and eastern Toronto, the 401 to the lakeshore area and North york.
The clinic provides legal services in areas including immigration, employment, housing and income maintenance, and Hiley says its mandate is to offer legal services to people in poverty, the disadvantaged, vulnerable, and disabled.
Originally from Winnipeg, Hiley says she decided to become a lawyer at eight years old and credits her mother, who had only a high school diploma, for her early ambition.
"The second world war came, and she didn't do any further schooling, and she worked and married and had children. She always felt that she could have accomplished more."
As the only daughter amongst two brothers, Hiley says her mother encouraged her to become her own boss. "She said, 'you want to be the boss, Marjorie. Just because you're a female doesn't make you second class. You want to be a lawyer, doctor, accountant, or engineer. You don't want to be the assistant.'"
While Hiley does not remember why she chose to become a lawyer, she says it was a good decision because she genuinely enjoys her profession. "I'm 71 now, and I'm still working full time. If you like doing something that fires you up, you get up in the morning and go."
Hiley has spent much of her career doing refugee work and working on sponsorship applications, study permits and assisting illegal residents searching for avenues to remain in Canada. She says it has been fascinating dealing with people from diverse backgrounds, faith communities, and cultures.
"I'm a white middle-class person. So, when I got into doing this, it enlightened me and broadened my viewpoint of the world and life, and I just found it very satisfying."
Upon completing her first degree in philosophy and political science from the University of Winnipeg, Hiley worked for a year at the International Development Research Center in Ottawa. After working at the IDRC, she began her legal education at Osgoode Hall and became interested in the school's Community & Legal Aid Services Program.
In Hiley's first year of law school, she began providing legal advice to a safe home for Indigenous young girls who came into downtown Toronto. "I gave them legal advice as if I knew anything about the troubles of being an indigenous woman. I certainly didn't, but I was trying my best."
After Hiley's call to the bar in 1978, she became the first executive director and lawyer for the Mississauga Community Legal Services and helped develop the clinic. "Because of my career with law students, they thought I could take that on," Hiley says.
After working at the Mississauga Community Legal Services, Hiley became a lawyer for the Durham Children's Aid Society and litigated under the Child Welfare Act for four years. Upon leaving the Children's Aid Society, she became the executive director for Flemingdon Community Legal Services, which became the Don Valley Community Legal Services after a 2019 merger.
"I can't say there was a coordinated approach, part of it was just a life experience. What you did and enjoyed," Hiley says.
She says there is nothing worse than just working on getting a paycheck. "I always tell my articling or law students to find something they like to do because they will be working for a long time, and you want to have that sense of accomplishment."
Hiley has been a trailblazer in developing community legal clinics, and while many of her peers have left the clinic system, she says it has been wonderful to see it develop nicely.
Working on refugee cases can be daunting with low chances of success, but Hiley says she has learned to develop creative solutions for clients because there are several ways to assess a situation. For example, she once helped a family from Trinidad and Tobago stay in Canada as refugees, but it was difficult because their country is a democracy.
"Because we were able to make several applications, the husband was able to get some good education and training here in Canada, and they had to leave after four or five years. However, because he got this education and work experience in Canada, he applied as an economic applicant, not a refugee and was accepted to come to Canada."
Hiley says there are many stories in her career where she has helped people in adverse situations become a success story. "It's taught me to understand people's diversity and be as non-judgmental as possible," she says. "There are always biases, but you can learn so much, and I've learned that you can everyday learn something from your clients and colleagues. Life is a learning experience because no matter what you think you are as an expert, there's always something you could gain."
Hiley says many people are thrilled about her street naming but asserts that she is a mere symbol of the 'amazing" workers in the community legal clinic system. "It makes me want to continue for a number of years as long as my health allows me to continue to work with these people because it is a great community."
"Whatever legal career you have, we have to be cognizant of those not as privileged as us and always look at how we can help them obtain access to justice because if you have access to justice, that can help you with other aspects of your life."