Patel will advise teams and clients on ESG matters in new role as strategic advisor at Norton Rose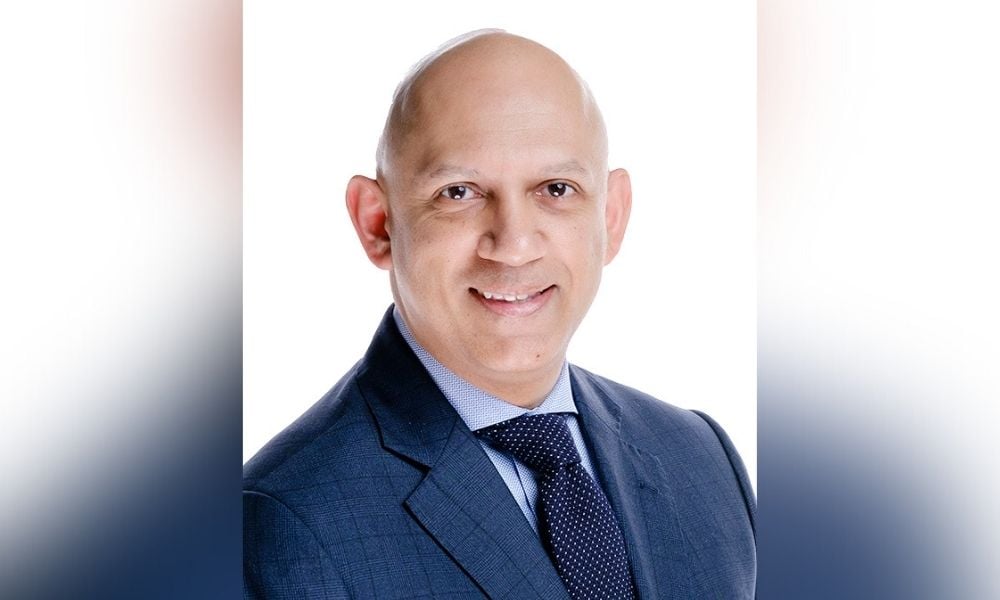 As businesses prioritize environmental, social, and governance issues, Nadir Patel, the new strategic advisor at Norton Rose Fulbright Canada, says he is excited to use his global expertise to support clients and amplify thought leadership in climate risks and other governance-related topics.
Wrapping up a 31-year career in Canada's public service, Patel says shaping public policy and optimizing opportunities for a better and stronger Canada inspired his government and public service work.
"I was born in the UK and emigrated to Canada when I was very young. Canada gave me many opportunities, so it was an opportunity to give back."
He says his transition into Norton Rose stems from his interest in finance and business and the desire to transition into the private sector and leverage some of his global knowledge, expertise, and education into something different.
"For ten of the past 14 years, I was abroad, in India and China," he says, and have spent time on different trade market access-related issues, providing an opportunity to support some of our firm's work globally.
A global perspective is critical more than ever before, and Patel says getting outside of Canada, travelling for work, or having an opportunity to live abroad diversifies people's experience to become much more valuable in Canada.
"It helps us realize, when you live abroad, how great we have it in Canada, how this is just a fantastic country in so many ways and if you don't see what it's like in a different place, you don't fully grasp that."
Patel's career has primarily intersected between business and public policy. He says the link between business and public policy is quite significant but not fully appreciated in government or the private industry, so there is an opportunity to integrate closer.
"Government public policy is far greater today than it ever was because if you pick up the Financial Times, every other article is about some link to public policy, which could be globalization, trade agreements, and taxation tariffs."
With an MBA specializing in finance, Patel has spent much time in different roles interacting closely with the business community and has interacted with lawyers and law firms on a national and global scale. He says Norton Rose was a natural fit based on his experience and the firm's global reach.
Coming in with a non-law background can be valuable for a law firm in areas like ESG, and the idea is to leverage some of that advisory capacity for the benefit of clients, he says.
The firm focuses on risk, which Patel says is much more prevalent in boardroom discussions and often tied into some of the legal work done in companies, and increasingly has public policy dimensions. So, for example, there's a public policy capacity for geopolitical and climate risks.
Companies continue to expand their global presence, and increasingly, he says, the integration with business strategies or how to address a challenge or problem includes non-legal type advice. For example, having extensive knowledge of government regulatory issues and public policy, Patel will work with lawyers and advise teams and clients to address issues beyond the legal dimension.
Clients likely have an international profile, presence, or operations in many instances, so Patel says his extensive international experience dealing with market access issues in the Asia Pacific could be valuable for clients' services.
"If there is a need where I can be of value, I'll be ready to step up and support any lawyer on the team, not just in Canada but around the world."
Before joining the firm, Patel was Canada's High Commissioner for India and was crucial in expanding Canada's global presence, which largely focused on facilitating trade and investment.
While Patel has had many achievements, he says his time in India stands out. "In my first year, we had 34,000 Indian students in Canada, and at the end of my tenure, there were 223,000."
India is home to Canada's largest embassy , and he says it was a concerted effort to take market share away from other countries and showcase Canada as a fantastic place to live and study.
Patel began his career in 1990 at the Canada Customs and Revenue Agency as a tax auditor and progressively moved into the Privy Council Office in 2003, serving as chief of staff to the prime minister's national security advisor, cabinet associate secretary, and deputy minister to the deputy prime minister.
He served as a senior policy adviser to the Privy Council clerk and Cabinet secretary from 2005, and in 2006, the Minister of International Trade and the Minister of Transport appointed Patel as Canada's chief air negotiator.
"I would go around the world to negotiate airspace treaties and work closely with airlines, airports, and civil aviation authorities, navigating all the regulatory aspects of airlines that fly back and forth between countries."
As Canada's chief air negotiator, Patel negotiated 43 International aerospace agreements, but he says the treaty with the European Union was noteworthy because the EU had no deal with any country. In addition, it included some very modern standards, including aircraft emissions which Patel says have long-lasting, multi-year, multi-billion-dollar impacts. "We didn't realize how important some of these initiatives [ESG] would be years later."
Patel also served as consul general in Shanghai from 2009 to 2011, which he says was a commercial hub of activity. "We had a lot of Canadian companies that were active in western China in terms of investment and trade."
Before he arrived in India, Nadir served as Assistant Deputy Minister and Chief Financial Officer for Canada's Department of Foreign Affairs, Trade and Development, overseeing an annual departmental budget of nearly $10 billion with 2,300 branch employees, and concurrently was the chief human resources officer for the department's workforce of 10,000 employees.
Having stayed abroad and worked in high-stress environments and on sensitive issues, Patel says prioritizing personal life and family is important.
He says managing time based on good family time commitment and balance is prevalent for him, precisely because of his young kids.
"Everything that I've done to contribute to the success, or the lessons learned has to be guided by a moral compass – ethics, integrity, values, and respect for others."
The pandemic has shown that life is precious, and Patel says working very hard, focusing on family, having integrity, and a global outlook will lead to success.
Success is non-linear, and while Patel has had his fair share of setbacks, he says they are not much that "we don't learn from them and get right back." Instead, setbacks, failures and things not coming together as anticipated help people succeed.
"It's better to have taken an informed risk and if it doesn't come together, learn from it so that we do things differently next time or do things better."