Mentorship and sponsorship are about breaking down stereotypes: Shime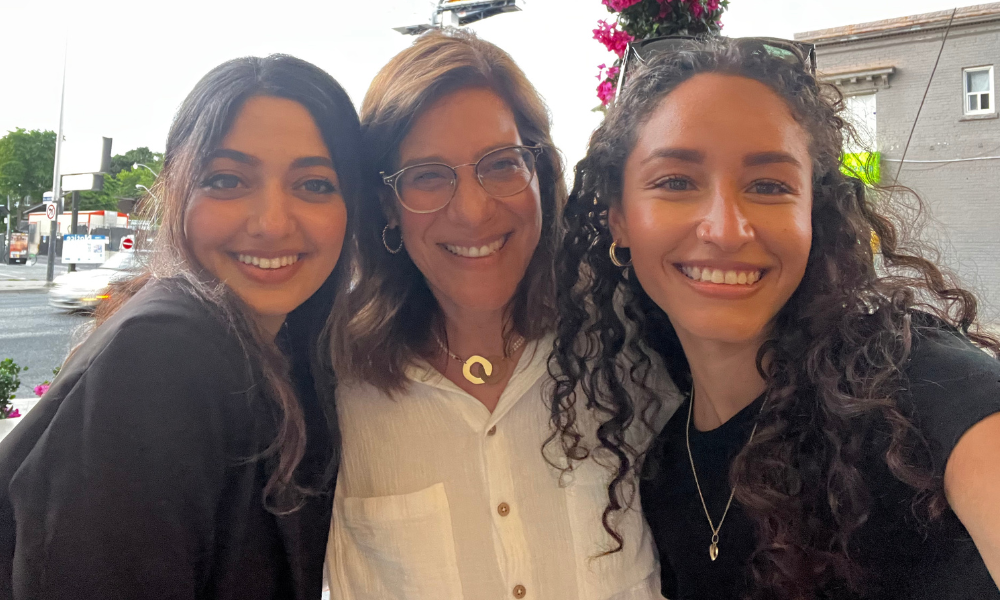 Sandra Shime, lawyer and diversity, equity and inclusion leader at Women in Leadership Toronto, vowed that when she became a senior advocate and understood the different sides of the law better, including interviewing, accessing information, and having a "voice at the table" in a workplace, she would provide opportunities for junior lawyers and other professionals.
Legal education teaches students about contracts and torts and property law but does not provide interviewing insights, how to access a network or gain a voice at the table, so Shime says she began sponsoring and mentoring to offer important overlooked information.
"My grandparents were immigrants to Canada, and when I became a lawyer, I didn't understand navigating my career options and simple things like resume and clothing, and I never really had mentors," Shime says.
Sadly, she says many women mentors somewhat slowed her career. For example, after she returned from maternity leave, one of them refused her request to work part-time, and another female executive director declined her request to mediate cases because if she developed mediation skills, she could leave the organization.
"It became increasingly important to build and develop people as they came along, especially for someone who didn't have mentors and didn't have the information on the side of the law that isn't readily available."
Shime mentors' high school, university and law students, many of whom are first-generation. She says it is an excellent opportunity to help people who, like her grandparents, did not have much help navigating their Canadian journey.
In the summer of 2020, Shime and Bonnie Goldberg, with their spouses, sponsored two law students at the Childhood Arrivals Support and Advocacy (CASA) Program as its first interns.
The CASA program serves young people brought to Canada as children but live in Ontario without immigration status. The organization provides outreach, legal representation, and intermediary supports to assist these "undocumented" young people in getting access to the knowledge, resources, and legal support they need to take control of their lives as Canadian residents.
Shime volunteers for CASA as the primary media contact and the student mentor.
The interns, Heather Batista Báez and Mohadeseh Bakhtiari, hail from the Dominican Republic and Afghanistan, respectively and are members of the inaugural class of the Lincoln Alexander School of Law at Toronto Metropolitan University. They worked on curriculum development for CASA's high-school presentations about undocumented immigrants, which helped bring forward undocumented young people. The law students also worked on applications for permanent resident status on humanitarian and compassionate grounds.
When the internship was over last summer, Shime offered to mentor Báez and Bakhtiari through their law career.
"We developed a lovely relationship, and both have come to me with questions about interviewing. I've gone over their resumes, and at some point, I connected Mohadeseh and Heather to my network," Shime says.
Through Shime's connection, Bakhtiari will work with the Department of Justice for her internship next year, and Shime says the process made her a huge advocate for sponsorship, even though mentorship is also part of the equation.
"Mentorship is giving advice or guidance, and sponsorship is where you give people access to the table and your networks and help move them into spaces so they access legal opportunities that they might not otherwise have."
Many first-generation students battle imposter syndrome and Shime spends much time talking to them about how their voices, ideas, and brains are significant and tries to give them the confidence to assert their voices, she says.
Mentorship and sponsorship are also about breaking down stereotypes, which Shime says helps create better conversation. For example, she is vocal about her Jewish identity to create an opportunity for people to see beyond the stereotypes about Jewish people.
"They can take their prejudices about Jewish people back to their communities and and say, 'oh, I met a Jewish person, and she wasn't this stereotype.'"
Shime says her students also spend much time breaking down stereotypes about themselves. For example, Bakhtiari is Muslim Afghani and has to fight much Muslim prejudice, and Báez is Latina and breaks down stereotypes about what it is to be a Latina woman in the Latino community.
"When we sit down and talk, we're talking about law and careers, but inherently in the conversation, we're breaking down prejudices among different religious and ethnic groups."
Shime says conversing across cultural and religious groups is a testament to immigration to Canada. "A Jew, Muslim, and Christian may never have had the opportunity to meet in the places where we originated from, but here in Canada, we talked about law, family, holidays, experiences, careers."
She says sponsorship and mentoring has been fascinating, and first-generation students can pay it forward to the next generation of law students or women from other countries.
Shime says she has gained so much from her students and finds them inspiring. "They make me optimistic for the future of Canada and law."
Bakhtiari says Shime has been phenomenal and that she has exceeded the expectations of a mentor. "I don't think of her just giving advice, I think of her more as someone who constantly advocate for you, is looking for opportunities for you, pushing you to do better and strive for more."
Bakhtiari is the first in her family to finish university and attend law school, and she says that until Shime, it was difficult to picture having a successful career. "She helped me as to how to get a great job, do great in school, and succeed as a good lawyer in the future."
She says mentorship is beyond having a single conversation and asking for advice. "It's about taking those actions and creating opportunities for students who wouldn't be able to get those opportunities without your support or your help."
Báez says her dad worked in construction, so growing up, she had no one in the professional field and had to figure out getting into law school by herself.
"First year was really tough for me. I didn't really know how networking worked; I didn't know how to make those connections. So, meeting Sandra the summer of first year was really life changing and since then, she's been an invaluable part of my law school journey."
Báez says her relationship with Shime is something to be grateful for, and anytime she needs help with anything related to law school jobs, Shime is an email or a text away.
"She's very responsive, she cares about you, and that's very hard to come across."
She says that having mentors like Shime in the legal profession is critical because it can be life changing. However, many of her friends have had bad experiences.
"It's hard to find the connection; especially for students, it's already intimidating to reach out to someone, so having more people willing to be there for a student and guide them through the journey is necessary."