Primeau wanted her firm to flatten the pyramid and reject the 'glorification of exhaustion'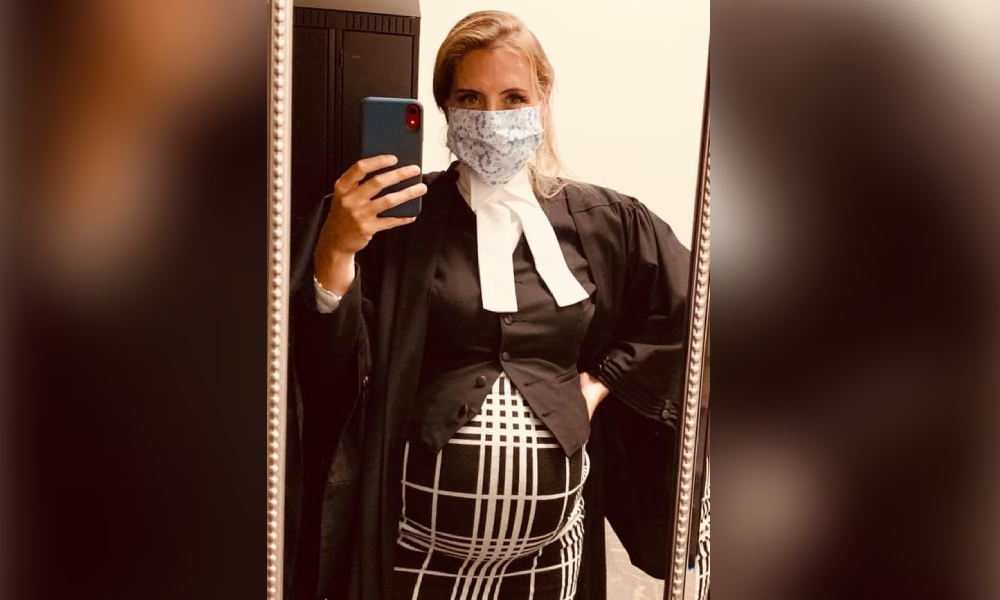 It took law school and just under 10 years of practice for Jodie Primeau to find her way back to the approximately 4,100-person town of Deep River, Ont., where she grew up.
Graduating from the University of Ottawa's common law program, she began in criminal defence at a firm in the city. She moved to Kingston, worked for a couple sole practitioners and then Queen's University. She found the traditional law-firm model, the pyramid structure where the grunt-labour flows downwards and the credit and glory flows up, did not suit her. Nor did the omnipresent "glorification of exhaustion."
"There wasn't a lot of space for women, and specifically women who choose to have and bear children," says Primeau. "There was a permeation throughout the law-firm structures that I've seen of outdated and difficult beliefs about a woman's place in a competitive and adversarial practice."
"And so after having worked in all of these places, I decided I wanted to create a space where I thought I could thrive and where I thought other women could thrive."
Primeau Law Professional Corporation provides services in criminal defence, real estate, wills and estates, family law and mediation. It is Deep River's first female-founded and female-run law office.
Deep River, Ont. sits on the southwest bank of the Ottawa River, midway between the nation's capital and North Bay. The waters that form the border between Quebec and Ontario have for hundreds of years been a key transit route for the most significant Canadian industries – from the fur trade, logging and lumber to hydroelectricity.
But close to the end of the Second World War, in the infancy of the nuclear age, the area became relevant for a new highly prized commodity. The town was founded when a certain 38 km stretch of the river, which was a kilometre-and-a half wide and 60-metres deep, was identified as an ideal site for a nuclear reactor, according to nuclear physicist Jeremy Whitlock.
It was the deep waters, the isolation and the disguise of the nearby Petawawa military base that attracted nuclear scientists, and they built a "secretive townsite" to house the hundreds of families operating the various research reactors and laboratory. In 1962, the world's first Canada Deuterium Uranium (CANDU) power reactor went into operation, said Whitlock.
Deep River's status as a world-renowned nuclear research hub has led the town to having a "disproportionate number of extremely smart people," says Primeau. The firm's current summer student is the granddaughter of Nobel Prize Winning astrophysicist Arthur McDonald, who worked up the road at the Chalk River Nuclear Laboratories. Bertram Brockhouse, also a Nobel Prize winning physicist, conducted research in Deep River from 1950 to 1962, and John Hilborn, nuclear physicist and Officer of the Order of Canada has long called the town home.
With its unique history and nearby military base, Deep River has a diverse population, which includes a substantial conservative element, says Primeau. So, in launching a firm, she says she either had to downplay the fact the firm was female-run or "just run right into it."
"I obviously chose the latter," she says.
With the "i" in "Primeau" replaced with the symbol for female: ♀, "I jokingly say we put our lady parts right in the middle of our name," she says. "We started using that display as that disruptive mentality to really start to engage the community in what we were doing, and it's really evolved from there."
Primeau emphasizes the significant support residents of Deep River have shown the firm and its feminist mission. But there has also been pushback and confusion as to how a feminist law firm would operate. Some thought the firm would not take on male clients and a few clients fired them.
"I think that we can't leave feminism up to only those in big city centres, where things like feminist firms are a little bit more expected, and where the culture around feminism is a little bit more robust," she says. "Feminists in rural places like Deep River have an obligation, I think, to wave the feminist flag, and to further educate why about why equality is important and why we're not there yet."
Normalizing a female-run practice by being seen practising is one prong in Primeau's strategy to enhance female representation in professional roles in rural areas. The second is encouraging the younger generation to follow suit. The firm created the Future of Feminist scholarship, awarded to students who identify barriers to participation for all genders in professional roles and devise a plan to address or eliminate them.
"We're hoping to challenge and engage students into thinking critically about these real problems, so that there's a better chance more women and more non-binary persons can enter the professional workspace."