The scholarship gives students a choice in their career path after school: Donna Young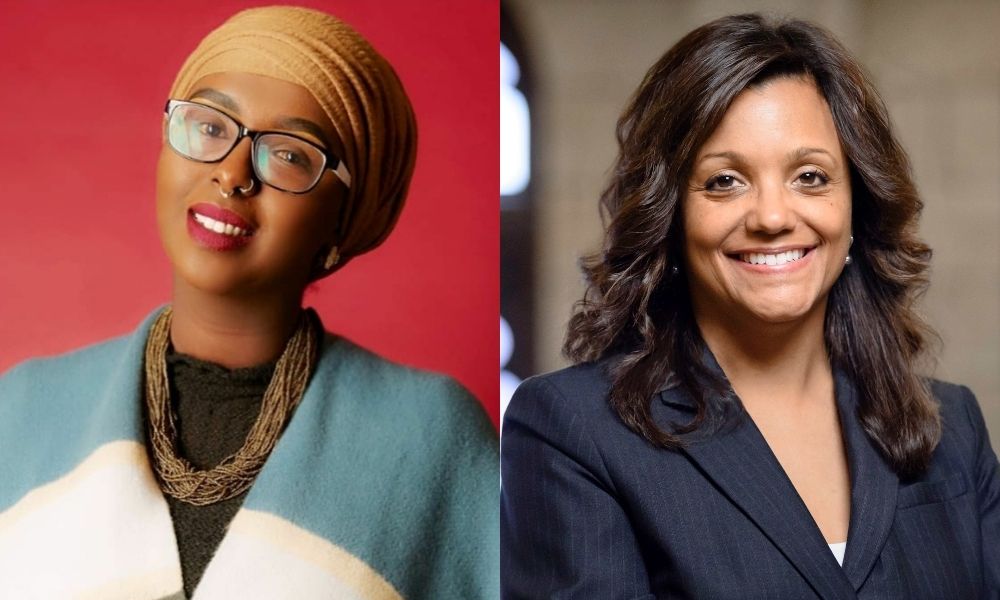 The BlackNorth Initiative, in collaboration with Lincoln Alexander School of Law, has launched five renewable scholarships for Black Canadian law students who demonstrate high academic potential, financial need and a commitment to their community over the course of their years of study.
"There's a lack of representation in the legal system, and a lot of that has to do with financial barriers," says Dahabo Ahmed-Omer, the BlackNorth Initiative executive director. "We wanted to create an opportunity for black youth to be students, to just think about going to school, doing well in school, and focusing on their studies, as opposed to worrying about whether or not they can even study."
Dealing with systemic racism is a long-term battle, but Ahmed-Omer says thinking about how to eradicate some barriers for the Black community and creating some access to opportunities can be a current method of tackling racial injustice. In addition, she says the chance to create economic support for students is vital to BlackNorth's priorities.
"Ryerson is a wonderful partner... And we know that they are very keen on increasing equity and diversity within their mandate and so it was a no brainer to partner with them on this."
Wes Hall, the founder and executive chairman of Kingsdale Advisors, a shareholder services and advisory firm, established the BlackNorth Initiative on a mission to end all forms of anti-Black systemic racism by usinga business-first mindset following the killing of George Floyd in 2020.
In the last two years, the legal profession has worked hard to be more inclusive, and Ahmed-Omer says there is an awareness and consciousness that was non-existent before and led several law schools to be actively involved in increasing Black students' capacity and access. However, it is not enough because there is still a lack of representation of Black lawyers and barriers to entering the profession.
"BlackNorth have done a really great job at highlighting the issue and highlighting the challenge and now people and institutions, more specifically educational institutions have taken upon themselves to not create those opportunities, which is a great place to be in," she says.
"We're not there yet, but there has been a lot of work done to create some opportunities that never existed before."
She says more people need to create these scholarships because they assist enormously. "I would urge anyone, any institution or any other organization doing this kind of work to offer scholarships to students who are very much deserving and in need."
Founding Dean at Lincoln Alexander School of Law, Donna Young, says the collaboration is exciting, and the scholarship supports Black students underrepresented in the legal profession and often from communities where financial aid is less attainable.
"70% of our students are eligible for government assistance through OSAP. That's a high percentage, but our law school is committed to bringing in groups of people from communities that might not otherwise be able to achieve a law school degree because of financial barriers," which is why this initiative is significant, she says.
Lincoln Alexander has no alumni base to seek financial support, and so Young says that for the last two years, the administration has been actively seeking financial support for student scholarships.
"We don't still have the financial support that other more established institutions have, so this scholarship initiative is welcomed because it is very consistent with our goals of increasing representation of Black students and lawyers. It helps our students concentrate on the hard work of law school without having to think about finances."
The school has been communicating with BlackNorth Initiatives for over a year, and she says BlackNorth was impressed with the diverse faculty and student body and mission to increase access to the legal profession for underrepresented groups.
"Two other things I suppose might have played into this and that is that we are the only law school in Canada named after a prominent Black Canadian, and the founding Dean is a Black woman."
Despite the pandemic challenges, she says the law school has shown Canada that it is committed to racial justice and access. "When they [BlackNorth] were choosing what to do with their resources, they saw what we were doing and thought that it was a worthwhile investment for our students and for that, I'm grateful."
Through gifts like the BlackNorth Initiative scholarship, Young says students have autonomy in the positions they might take after law school.
"A lot of our students are very much interested in social justice, but they might be tempted to take employment with law firms that might not be consistent with their ideas of social justice or what they want to do with their careers because they pay more."
Students at Lincoln Alexander law are not required to article after law school and begin practicing after passing the bar exam. Young says the practice was, in part, to alleviate some of the financial burdens for students.
"Instead of having another 10 months of what is essentially legal instruction through articling, our students can go out and practice immediately."
She says any financial barrier to the legal profession will automatically weed out certain members of communities who are often racialized, Indigenous and Black, because of significant discrepancies in wealth and resources among different Canadian residents. For example, law school tuition without more financial support will be a barrier for those unable to afford to participate fully once in law school.
Young hopes the scholarship sends a message to law firms who have signed their name to the BlackNorth Initiative pledge that one way of fulfilling the commitment is to diversify their law firm. "We take our role in diversifying the legal profession very seriously, but we really need some help from the legal profession."