Students, law professionals, and the prime minister celebrated Lincoln Alexander's 100th birthday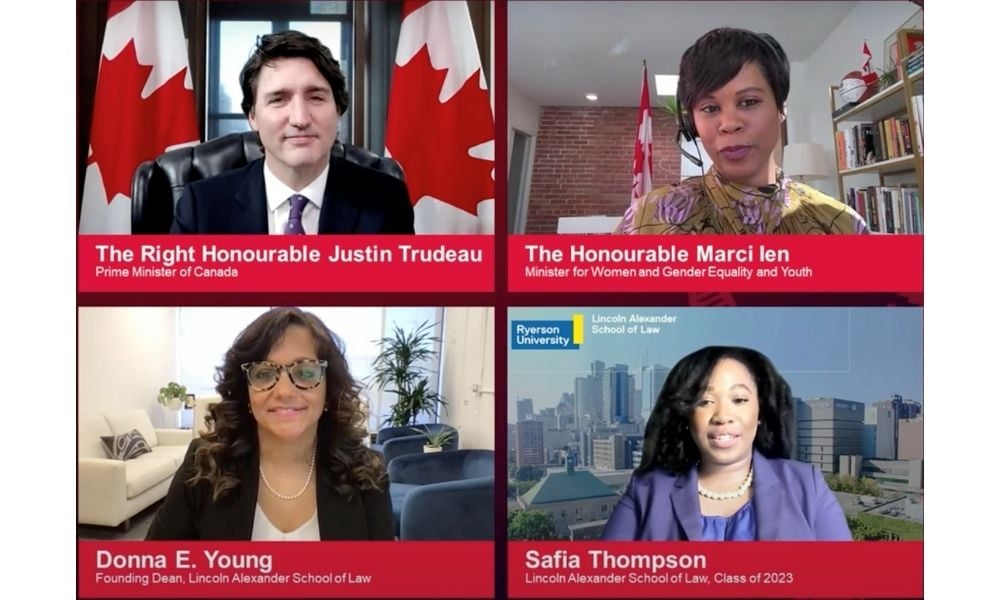 The Lincoln Alexander School of Law at Ryerson University has received a $1 million gift to establish the Edward Sonshine Chair in Race and the Law as part of its racial justice initiative. Founding Dean Donna Young announced the contribution as law students, faculty, legal professionals, and prime minister Justin Trudeau gathered virtually to celebrate the 100th birthday of Lincoln Alexander.
"This transformational gift will inform the direction of our racial justice initiative and create a new and first of its kind chair position to examine the role of law in both current and historical injustices," Young said.
The gift was awarded by Ed and Fran Sonshine, and Young said it would ensure that the legal education offered to students continue to include a critical examination of the role of law in perpetuating antisemitism and other forms of discrimination and an understanding of how the law can be a tool for dismantling oppressive systems and advancing justice for everyone.
Young said Sonshine understands adversity and appreciates lawyers' role in building a more fair and just society. "Born in Bergen-Belsen displaced persons camp in Germany, Mr. Sonshine immigrated to Canada with his family as a young child. Both he and his wife, Fran, are children of Holocaust survivors."
Ed Sonshine, founder and non-executive chair at RioCan Real Estate Investment Trust said it was a privilege to make the donation and that it is up to lawyers who understand and shape the law to ensure racial justice, that everybody, no matter their ethnicity, skin colour, orientation, and religion gets the same opportunities and treatment under the law.
"I graduated fifth in my class in my class from Osgoode Hall Law school, yet there were 10 firms where I couldn't get an appointment to apply for an articling position because they just didn't hire Jews. Period." Sonshine said Canada should be known for its fairness but has not always lived up to the right standards.
Prime Minister Trudeau, in a panel discussion, said Alexander's legacy inspires him to recognize that listening, empowering and bringing in people who live and see the systemic barriers in Canada is an essential element in working to eliminate those barriers.
"Understanding that the experiences faced on a daily basis by racialized Canadians are very different than the experience of this country many people go through, and that the challenges out there are things we all have to be fighting for," Trudeau said, "it shouldn't just be black parliamentarians like Lincoln Alexander and others fighting for black success. It shouldn't just be indigenous people carrying reconciliation. It's on all of us from positions of privilege, vulnerability, power, influence, to take on the fight for what is right."
Listening to the Black community over the past years, Trudeau said reforms to the justice system and high levels of incarceration were critical. He also highlighted the federal government's interest in the economic empowerment of Black communities through the Black endowment fund and Black entrepreneur loan program.
"It's not just about stopping the bad things. It's about enabling the successes that then come and transform our society in so many ways for the better," Trudeau said. "So much time is spent focused on negative and it needs to be, but we also have to be focusing on the building and the positive."
Safia Thompson, a second-year student at Lincoln Alexander Law, said her motivation to go to law school came from a feeling of responsibility and the desire to bridge the educational gap. "I was born to Trinidadian immigrant parents who pretty much sacrificed everything, including their dreams, so that I could follow mine, and through that, I was able to become the first in my family to attend university and now law school."
In her career before law school, Thompson said she began to understand the relationship between business policy law and the individual experience and wanted to do more to address those tensions. "That sense and feeling of responsibility for me also extended to my community," she said.
A major way to remove barriers to justice is by empowering others and allowing for greater access to legal information, meaning equipping the public with a higher level of legal knowledge and using technology to supplement the law in a way that provides quick and affordable access to the most basic and accurate legal advice, Thompson said.
She said it is crucial for law students to individually equip themselves with legal knowledge to disperse into their various communities. "It's important to create one of the most diverse classes we possibly can because the most diverse student body will lead to the more diverse communities who can benefit from the information that we are sharing, and the bigger the reach, the closer we become to true inclusivity and removing barriers for everyone."
Thompson said Lincoln Alexander School of Law equips her with the skills she needs while allowing her to be in a space where she feels safe, accepted and understood as an individual and racialized woman. "A space where I could see people who looked like me, and people different from me in the classroom, faculty, executive administration. My classmates and I are truly blessed and humbled to have been given that, especially during these critical and unprecedented times."
Alexander was known for his compassion, sound judgment and humanity, and Dean Young said she hopes law students take inspiration from his life when deciding what kind of lawyer they want to become. "I can't really think of a higher goal than for a law school to train lawyers who exhibit those same qualities in their personal and professional lives, and who strive to be a fair and more humane society."