Chamberlain led law school's work to provide extensive in-person law program amid COVID-19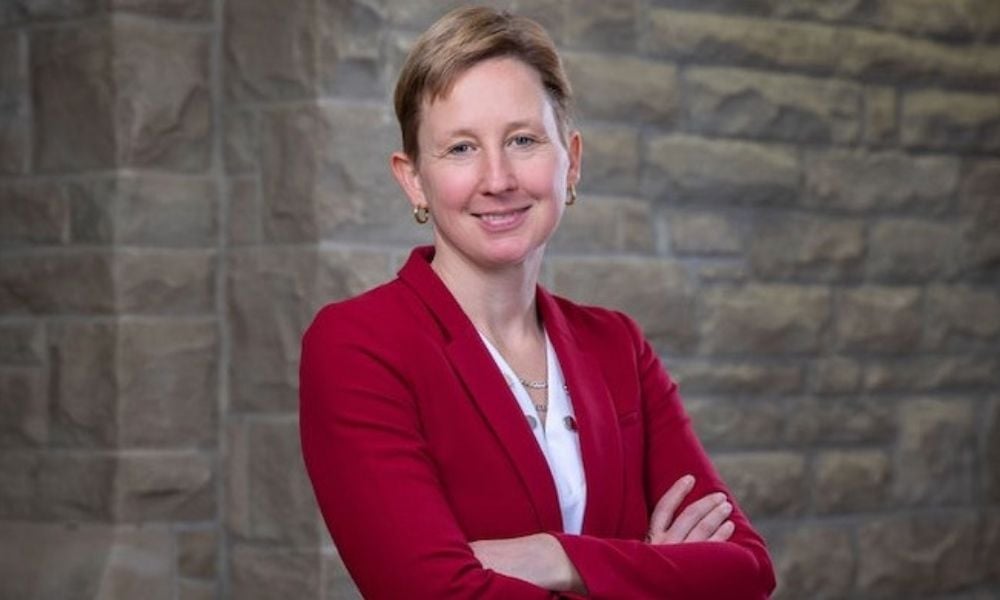 Erika Chamberlain, an authority in the legal areas of torts, impaired driving and alcohol-related civil liability, has been reappointed dean of the University of Western Ontario's law school for a second term starting on July 1, 2022, lasting for five years.
Since joining the law school in 2005, Chamberlain has served a five-year term as associate dean (academic) from 2012 to 2017 and law dean since May 2017. Her reappointment garnered unanimous support from the Decanal Selection Committee and Alan Shepard, the university's president and vice-chancellor; was informed by an external review and by feedback from the law school and campus community; and received formal approval by the Board of Governors' Senior Policy and Operations Committee on Sept. 28.
According to Sarah Prichard, the university's acting provost and vice-president (academic), Chamberlain has assisted in ensuring "an outstanding teaching and learning experience for students" and has spearheaded a significant renewal of the law school, including through recruiting almost a dozen young scholars, through creating the Anti-Racism Working Group and through establishing a Chair in Corporate Governance and Western Law's first Canada Research Chair, for more robust research capacity.
Chamberlain also led the law school's work to provide Canada's most extensive in-person law program for first-year students amid the COVID-19 pandemic, said the law school's news release.
Admitted to the Ontario bar in 2002, Chamberlain received her LLB from Western Law in 2001 and her Ph.D. from the University of Cambridge in 2009, where she held a Cambridge Commonwealth Scholarship, a Social Sciences and Humanities Research Council Doctoral Fellowship and the WM Tapp Studentship at Gonville and Caius College. She went on to clerk at the Supreme Court of Canada for a year.
According to information from the law school's website, Chamberlain has authored many articles on tort law, focusing on the tort liability of public authorities. She has also written in the areas of impaired driving law and alcohol-related civil liability and has offered research and advocacy to MADD Canada since 1999. The Supreme Court of Canada has cited her efforts in this legal area. Her work has also informed legislative amendments at the federal, provincial and territorial levels.
Chamberlain has been a founding member of Western's Tort Law Research Group, a co-organizer of the Sixth Biennial Conference on the Law of Obligations in 2012, general editor of the Canadian Cases on the Law of Torts since 2019, chairperson of the Ontario Law Deans group and a member of the Ontario Universities Council on Quality Assurance.
The Student Legal Society honoured her as "Professor of the Year twice and she was recognized by the USC Teaching Honour Roll three times for her work.