His steady approach has resulted in significant legislative reform and LSO electoral success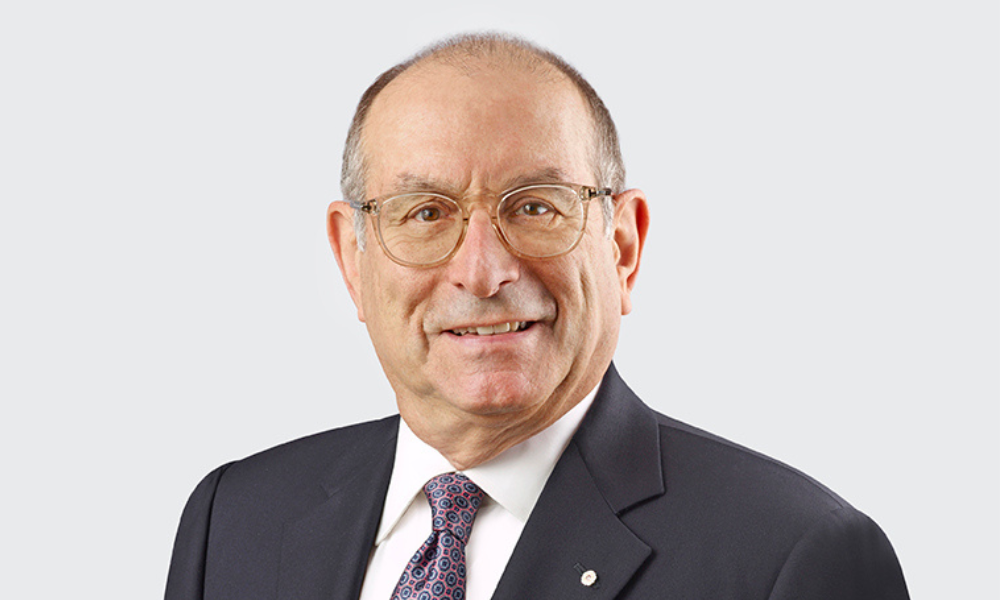 For Sidney Troister, real change doesn't happen through revolution. As a bencher, author, teacher, legislative reformer and senior real estate lawyer at Torkin Manes LLP, Troister has helped bring about change, but none happened overnight.
"Real change, enduring change, happens one step at a time," he says.
Perhaps Troister's most significant accomplishment – successfully lobbying the provincial government to reform the Planning Act – took him over 20 years.
A deed or mortgage in Ontario is void if the Planning Act is breached. As he built up his real estate practice, Troister got many retainers to assess and repair Planning Act breaches. But he also noticed that many of the rules in the Planning Act didn't make sense.
"I saw that there were things in the Planning Act that could easily be fixed without in any way breaching the policy of what's known as subdivision control," says Troister.
So, he began reaching out to the government. "In 1998, I decided it was time that the government fixed that. I was very naive about how government legislation works. I got a nice letter saying, 'Thank you, but we don't know what you're talking about.'" Troister says he continued to write letters every few years, all ignored.
Despite his lack of success at legislative reform, he gained a reputation as an expert on the Planning Act. He authored several editions of The Law of Subdivision Control in Ontario and was getting regular referrals from the Lawyers' Professional Indemnity Company and other lawyers for Planning Act breaches.
It was only after the election of Doug Downey, who practised real estate law before entering politics, that Troister truly made headway.
"I made a call to Doug and said, 'You know, I've been trying to get the Planning Act amended for the last 16 years, and nobody even wants to give me the time of day.' And he jumped on it."
While it took a few more years, Troister now had an internal champion in government, which proved invaluable. In 2022, with Downey now the attorney general, the government reformed the Planning Act.
The changes benefitted property owners, lenders, real estate lawyers and agents, title insurers, and the public in Ontario. To reflect the changes, Troister published the fourth edition of his textbook.
Regular updates to his book were only one of the ways Troister kept lawyers and others up-to-date on real estate developments. He taught and then co-chaired the real estate section of the Ontario Bar Admission course, co-chaired the Law Society of Ontario's special lectures on real property law in 2002, and continues to chair its annual real estate law summit that he founded in 2004.
He also alerted the profession about how rent control law affects real estate transactions, co-authored a seminal paper on the role of real estate lawyers, which paved the way for LSO-run title insurance in Ontario, and led the examination and analysis of title and mortgage fraud in Ontario.
But Troister's contributions go beyond the real estate bar. He has served the entire profession as an LSO bencher for two terms.
His preference for evolution over revolution has also helped guide his views about legal regulation. Troister was recently re-elected as a bencher as part of the Good Governance Coalition. He says he was heartened that most lawyers in Ontario rejected the revolutionary fervour of the FullStop slate.
"I'm gratified that 66 percent or thereabouts of the profession opted to support the coalition instead of the stop everything slate."
The FullStop slate – originally called StopSOP – was elected in 2019 in opposition to a mandatory statement of principles that asked lawyers to pledge to uphold diversity as part of their professional duties. While Troister's coalition ran against FullStop, he opposed the statement of principles from the outset.
"It was a bad idea, and we paid a huge price for that bad idea, in my opinion," he says. Despite that, Troister did not agree with much else in StopSOP's approach.
"My experience with the slate was they tend to mostly vote as a block or support each other, regardless of what it was that they were dreaming up from one day to the next."
Other than their shared goal of preventing the StopSOP slate from getting re-elected, Troister says the Good Governance Coalition has few common goals. "There are a whole lot of free thinkers among the Good Governance Coalition. As a matter of fact, there's no party solidarity whatsoever."
So, Troister hopes the LSO moves away from revolution back to evolution. His track record shows a dedication to putting in the work. He has chaired committees on professional development and competence, which helped the LSO determine how to license new lawyers during COVID, and on audit and finance, which worked to keep annual fees low without unduly influencing services such as libraries.
"I care about competence. I care about good lawyering. I care about ensuring that the people in Ontario have qualified counsel in whatever they're doing."
An evolution that Troister will take one step at a time.