It is not a law firm. The chamber includes 24 independent and mostly criminal lawyers, Trudell says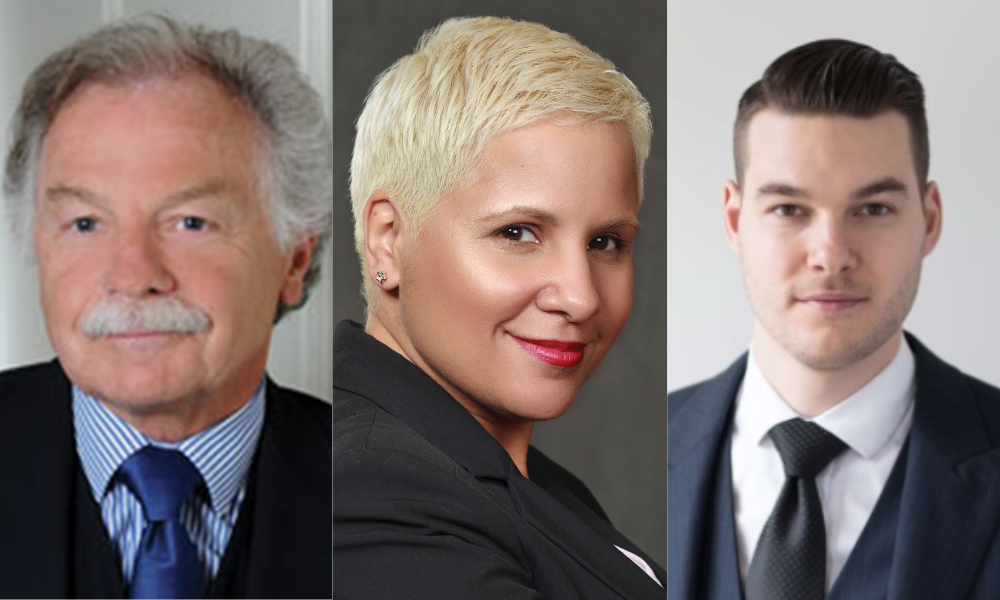 Justice Lori Anne Thomas describes Simcoe Chambers as a "brain trust" of criminal law. The Ontario Criminal Court judge who was a part of the chamber before her appointment in 2020 says the chamber was pivotal in helping improve her skills as a defence lawyer.
Justice Thomas says it is not unusual for defence lawyers to work until 10 pm or midnight, but the chamber is an unwavering support system. "Being a defence lawyer can seem very isolating at times, but it doesn't feel isolating when you're among friends when you come home to the office. The support is always there."
Simcoe Chambers includes many independent firms and sole practitioners focusing on criminal law. Bill Trudell of William Trudell Professional Corporation and Superior Court Justice Joseph Di Luca founded Simcoe Chambers in 2008 when they rented a property in Simcoe and Adelaide for extra space. Trudell says they formed a partnership with defence lawyer Peter Copeland and Superior Court Justice Breese Davies.
"We formed a management company called section 16, and section 16 was the former section in the Criminal Code about insanity. We thought that was unique because we didn't know what we were doing."
Trudell graduated from the first law class at the University of Windsor in 1971. He says a significant part of his practice involves professional regulation and representing lawyers at the Law Society of Ontario. "I've been practising for a long time, and I love and enjoy it as I did in the beginning, and part of that joy is being part of Simcoe Chambers for the last 13 years."
It is not a law firm, Trudell says. Instead, it is a group of people working together in a competitive environment where everyone is recognized and exceptional. "There are lawyers here who have had incredible results and successes, and yet there are days with disappointments and tragedies when people need to support each other."
He says members have a shared passion for justice, a strong work ethic, kindness, and mentoring. "No day goes by in a lawyer's life where they don't need to ask for help, and that's happened every day here since 2008."
Several chamber members have assisted with ethical problems at the LSO and mental health at the Ontario Review Board. Nine judges have been appointed out of Simcoe Chambers, indicating the work level, respect, and cooperation members have for each other, Trudell says.
"When we come out of law school, we want to change the world and help, and everyone who has come through and is here now is doing that." He says the chamber is the place for lawyers to determine their next path, and in difficult times like COVID, it exemplifies the importance of having mentors and a support system.
Justice Thomas, who became a part of Simcoe Chambers in 2016, says it is a great place for lawyers to start their careers. "If you had a case, whether it was a first-degree murder or assault you wanted to discuss, the chamber was great to talk these issues out, and everybody had the time for you. It's almost like we all seemed invested in each other's cases."
Many chamber members are at the frontlines of "changing the law" and have argued before the Supreme Court and Court of Appeal, and Justice Thomas says many prominent lawyers guide the chamber. So, for example, when "Justice Di Luca and others were appointed, the standard maintained because there are many other good lawyers that remained or joined."
Criminal lawyer Eric Neubauer who joined the chamber in 2014 after working as a federal crown, says the "high calibre" and reputation of the lawyers practising at the chamber attracted him when he looked to open a defence practice. He joined after an invitation from Justice Di Luca, his professor at Osgoode Law School and a mentor.
Neubauer says a unique chamber component is that members are connected by the struggle of running a small business and law practice. "It's the mutual struggle that comes from being a criminal defence lawyer and running your own small law firm that binds everyone together at Simcoe."
The chamber organizes a first Thursday event, and before COVID, members of the chamber gathered in person to share stories and experiences on the first Thursday of the month. "Unlike going out for lunch or having a holiday party where there's a reason or agenda," Neubauer says, "this is getting together for no reason other than to check in on each other and see how everyone's doing."
The event has led to invitations of speakers and judges and sharing stories off the record, which has been helpful for lawyers in the chamber, Trudell says. "We call it the Simcoe Chambers family because everybody helps each other."
Neubauer and Justice Thomas say the success of Simcoe Chambers is hugely attributable to Trudell and long-standing chamber members. Trudell makes a big difference in ensuring that whoever becomes a part of the chamber is either a promising young lawyer or an established, well-respected lawyer, Justice Thomas says.
It is crucial to have different perspectives in criminal law, and she says the chamber is not just a place people become a judge. "It's a place you go to be a good lawyer and be around other good lawyers."