Sa'd says police depiction of her as a protester attempting to block access to the scene is untrue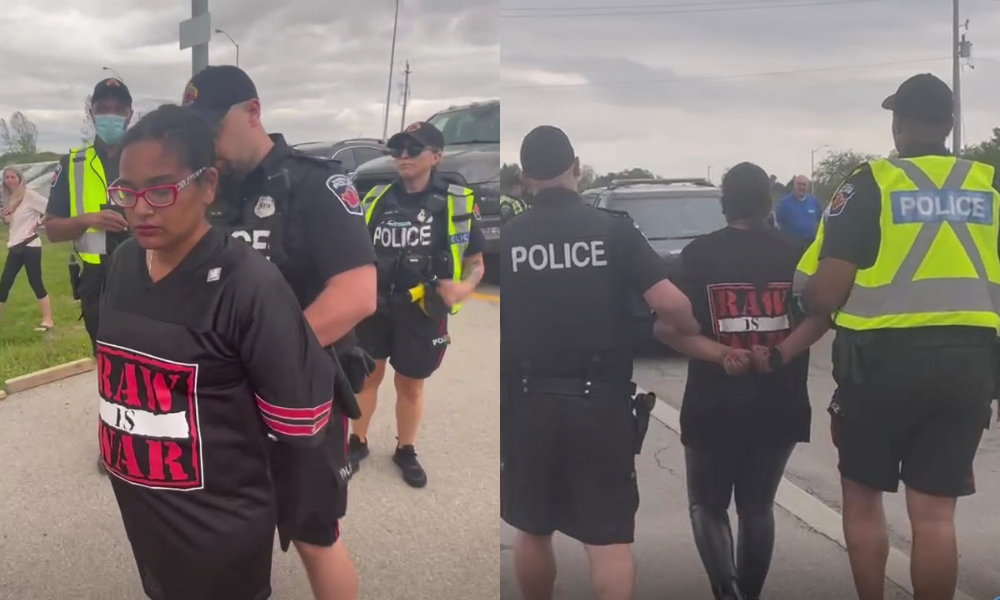 The Hamilton Police Service on Thursday arrested and charged Toronto lawyer Caryma Sa'd with trespassing at premier Doug Ford's rally at the C. Munro Hamilton International Airport.
Sa'd says her arrest was humiliating and indicates a scary and growing pattern of journalists and civilians met with physical violence for political expression. For example, the injured nurses at the rally against Bill 124, which caps wage increases for public sector workers.
Sa'd asserts that she was invited to the event and that regardless of the technicality of holding a public rally on private property, it is disheartening to see state resources utilized to stifle political speech.
It is probably a deliberate choice made by politicians to create grounds for legal arrest and is not in keeping with the spirit of democracy, Sa'd says.
"Police went on to characterize me as a protester and someone attempting to block access to the venue, and none of that is true," she says. "Now I'm reading falsehoods about myself that are official police statements, and it's very distressing."
The Hamilton Police Service (HPS) released a statement, and spokesperson Jackie Penman said Sa'd's charge stemmed from an arrest made when a group of protesters gathered on private property blocking a thoroughfare to a Cargojet facility.
"The protesters were asked to move off the roadway. All individuals complied but one individual refused to move and was arrested," Penman said. "The individual was transported off the property and immediately released with a ticket for Trespass to Property."
Law Times reached out to the Progressive Conservative Party of Ontario, who advised to reach out to the HPS. The HPS did not respond to the request for comments.
Sa'd, who is in good standing with the Law Society of Ontario, says she values and respects the rule of law and constitution, so her arrest, though not an isolated event, was a degrading experience.
"It's scary to be part of that pattern and to see things head in that direction," she says. "Because of the scale of police brutality, it could have been much worse, and I am aware of that."
Sa'd, who RSVP'd for the rally and received the confirmation in her name, says when she arrived at the venue, she was "greeted" by an individual who earlier in the month kicked her out of another Doug Ford event saying she was not invited or welcomed in the rally. She says the individual refused to identify himself or say who decided she was unwelcomed.
"I asked about my RSVP. He didn't address that and then he got police and was purporting to act on behalf of the party…..what I could ascertain from his statements was that they don't like my activity on Twitter or my coverage of Doug Ford, and therefore, I wasn't allowed in."
Sa'd says she asked the police the same questions, but the sergeant cuffed her, put her in the back of a cruiser and drove her off the property.
"It happened very abruptly," she says. "I had the RSVP in my hand, and I asked the question about it and the sergeant decided that he had had enough of me talking. So, he arrested me."
Police have a lot of discretion in exercising their duties at any given moment, and Sa'd says that while she understands that, she was not presenting as any physical threat.
"They could have just issued the ticket, and then told me to leave, and if I refused at that point, then perhaps that's grounds for arrest. Instead, they arrested me, wrote the ticket and released me and at no point was I advised of any rights to counsel," she says. "I'm going to have complaints about a couple of Charter breaches, and all in service of what I would call a very anti democratic function."
Sa'd says she is nonpartisan and has no connections or affinity to political parties. "I don't do anything that is against the law and my approach to coverage uses humour and satire and I think that Ontario's top politicians should be able to withstand a joke."