An open letter with more than 1,000 signatures calls for respectful dialogue in legal community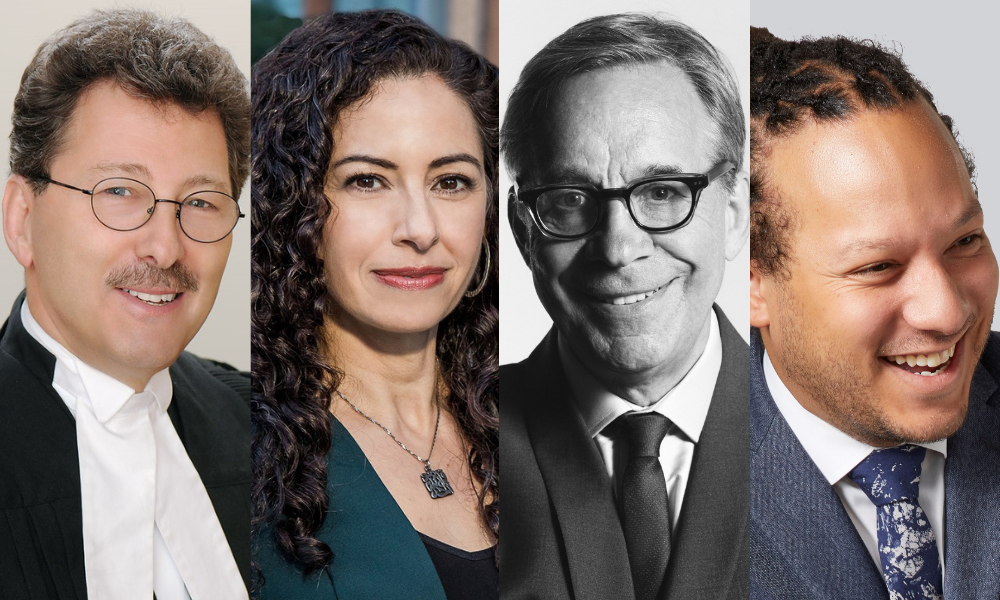 At the University of Ottawa, the Jewish Law Students Association and the Muslim Law Students Association recently released a joint statement, saying they were speaking up at a "very troubled time" to keep their spaces safe and open for dialogue. The students called on professors, lecturers, and fellow students to "understand the present context when exercising your freedom of expression" in discussions about Israel, Hamas, Gaza, and Palestine.
"[T]his is an exceptionally raw and difficult time. Members of our law school community have lost loved ones in this conflict. We call on you to show a commensurate level of sensitivity and tact," the statement said.
The student associations called on their law school to "focus on how our shared pain unifies us instead of letting hatred divide us" and to "listen to each other with empathy, dignity, and respect."
The student associations' expression of fellowship inspired another letter, signed by more than 1,000 legal community members, to urge Canadians to tone down the anger in the public discourse on the Middle East. Toronto lawyer Mark Sandler published "An Open Letter from Canada's Law Community – Promoting Respectful Dialogue and Rejecting the Celebration of Violence and Hatred" on LinkedIn. The letter is an "unequivocal rejection of all manifestations of anti-Semitism and Islamophobia, physical or verbal intimidation, incitement to violence and the celebration or glorification of violence and barbarity." The letter said it "recognizes that our common cause is the promotion of the rule of law, respectful dialogue and critical thinking."
Over the last month, public statements – or their absence – and open letters concerning the Oct. 7 Hamas attack and the assault on Gaza have stirred controversy in legal education and the profession and have even led to a class action lawsuit against universities for allegedly failing to address antisemitic incidents on campus. On Oct. 7, Hamas killed 1,200 people and took around 230 hostages. Since then, Israel's bombardment and invasion of Gaza has killed more than 11,180.
Gary Joseph has written several articles for Law360 Canada on the legal profession's reaction to the Hamas attack, including a description of his decision to sever ties with Osgoode Hall Law School and his criticism of the Law Society of Ontario. Osgoode and the LSO failed to appropriately condemn the Oct. 7 attack, says Joseph, a Toronto family lawyer and chair of MacDonald & Partners LLP.
"I wanted to speak out and call out people who should be calling out this atrocity. It's not a political issue. It's a humanity issue. It's a matter of calling out evil."
The experience with Osgoode highlighted the "continuing acceptance of hate speech" on Canadian university campuses, he says. Joseph contrasts the schools' and law society's responses with the widespread expressions of sorrow after the murder of George Floyd in 2020.
"Not only did our schools and our law societies speak out, but the Jewish community spoke out, expressing its disgust with what happened to that gentleman," he says. "The Jewish community was also entitled to want and hope for support from communities when something absolutely despicable occurs to us."
Seventy-four students from the Lincoln Alexander School of Law signed an open letter in response to their school's statement on the Hamas attack, which was posted on Oct. 20. The letter's signatories said they rejected any statement that "only condemned Hamas' recent war crimes" but said nothing of "the historic and ongoing war crimes committed by Israel," and that the Hamas attack was "a direct result of Israel's 75-year-long systematic campaign to eradicate Palestinians." The letter attracted headlines and a furious reaction from many in the legal community, particularly its statements that Israel is not a country but a "brand of a settler colony" and that the signatories supported "all forms" of Palestinian resistance, which others have taken as an endorsement of the Hamas attack.
The law school responded a few days later, saying they "unequivocally condemn the sentiments of antisemitism and intolerance expressed in this message." The school has appointed a retired judge to lead an external review of the open letter and whether it breached the student code of non-academic conduct.
The law school's response brands one-sixth of the student body as antisemitic, says Joshua Sealy-Harrington, assistant professor at Lincoln Alexander. He says the statement condemning the letter was also delivered "on behalf of the law school," though the faculty received no notice or consultation. The reference to university policies reads as "a veiled threat of potential institutional sanction, piled on top of the harassment and doxxing already endured by these vulnerable students," he adds.
"Going forward, how students at my supposedly progressive law school are meant to feel comfortable engaging in political activism or discourse – at least, when that activism upsets our senior administration or its external stakeholders – is beyond me. And the fact that this is happening at a law school that markets itself as specifically committed to racial justice disgusts me."
In response to the open letter, LSO bencher Jonathan Rosenthal sent one to Lincoln Alexander's dean, Donna Young and TMU president Mohamed Lachemi. In Rosenthal's letter, which was signed by 22 other lawyers, including four benchers, he said the TMU open letter was a "hate-filled incitement to violence against Israel and the Jewish people" and called the school's response inadequate. For contravening the law school's values, the student code of conduct, and the school's discrimination and harassment prevention policy, consequences for the students were necessary to illustrate that "hate speech and incitements to violence are utterly unacceptable," the letter said.
Rosenthal's letter warned TMU that "it is very much an open question whether, in light of your inaction, the legal community will continue to offer your students the professional placements that are a requirement of your curriculum."
Dania Majid, co-founder and president of the Arab Canadian Lawyers Association, says many aspects of the TMU open letter have been taken out of context. The letter's support for resistance was qualified with the statement that referred to the Hamas attack as a war crime and by reference to the limitations that international law places on resistance. As an occupied people, under international law, Palestinians have a right to resist, she says.
"But at the end of the day, no one's interested in actually understanding what the letter is saying, what the students are trying to put forward, or even understanding the Palestinian position," says Majid. "Attacking this letter on its face because it criticizes the State of Israel is classic anti-Palestinian racism because – like accusing it of antisemitism – it's a way to dehumanize the Palestinians, erase their narrative, exclude them from the discussion, and demonize them."
She says the students were not saying anything that UN officials or other humanitarian organizations have not said themselves.
Toronto immigration lawyer Sergio Karas says the identities of the 74 signatories should be made public, that they should be expelled, and that no law society should license them because they are unfit to practise law and fall short of the good-character requirement.
"The law students… not only engaged in open antisemitism, but also supported a terrorist organization that committed atrocities against the civilian population of Israel, and crimes against humanity including murder, rape, brutality, and kidnapping of hostages," says Karas. "While the Charter of Rights protects freedom of expression, it does not protect threatening conduct and the intentional spread of misinformation, or the promotion of hate against an identifiable group."
Sealy-Harrington says that if "opposing occupation, apartheid, and genocide" makes one unfit for the profession, "then call me unfit for the profession also." He notes these terms have been substantiated by Amnesty International, Human Rights Watch, and leading experts on genocide in relation to Israel and Palestine.
"If I've learned anything in the last two weeks, it is that many in the profession, rather, are unfit to educate and mentor these brave students who are calling out injustice, which is actually a time-honoured tradition of legal practice."
Howard Levitt is an employment lawyer at Levitt Sheikh in Toronto and has written about the TMU letter in his National Post column. He says the students who signed it are either antisemites, or they did not realize what they were signing or the consequences of doing so and are therefore negligent. Either way, he will not hire them.
"Employers shouldn't hire them. Why would you want a racist in your law firm?"
The reaction to the TMU open letter led to another, The Open Letter to the Legal Community on Pro-Palestine Speech. More than 700 lawyers, law profs, and academics have signed the letter, which the authors say was produced in response to the "pervasive repression of speech and scholarship on Palestinian liberation." Lawyers and students were facing a "new McCarthyism," with lawyers advocating on social media to blacklist them, contacting employers to have them fired, and bullying and defaming as antisemites those who have voiced support for Palestinian human rights or attended public protests. Students who signed open letters criticizing Israel are being threatened with expulsion, and employers are rescinding interview offers, the letter said.
The signatories "commit not to discriminate against anyone for speaking out for justice and freedom for Palestinians. We will mentor you. We will support you. We are proud to call you colleagues," the letter said.
Majid and her organization, the Arab Canadian Lawyers Association, signed the Open Letter to the Legal Community on Pro-Palestine Speech. She attended law school in the wake of 9/11, during the Iraq war, navigating the beginning of her legal career amid rampant anti-Arab and anti-Muslim racism and a "climate of silencing and fear," she says.
"When it comes to the experiences of Palestinian and Arab students and those who advocate for Palestinian human rights, we have seen this retaliation since my time in law school – even before my time – and all the way through."
The retaliation used to be discreet, but this time, it is intense and open, and anti-Palestinian racism is "normalized and accepted," she says.
Oct. 7 and the Gaza war are also correlated with a reported rise in antisemitism in Canada. In the last week, the Montreal Jewish school Yeshiva Gedola was hit with gunfire twice. Also last week, police found the remnants of Molotov cocktails at a synagogue and Jewish community centre in Dollard-des-Ormeaux, a Montreal suburb. On Tuesday, Canadian Bar Association president John Stefaniuk said the CBA "continues to condemn the rise of racism, anti-Semitism and Islamophobia in Canada flowing from the situation in Israel and Gaza. We call on all members of the legal community to foster responsible and respectful dialogue."
Levitt says he has spoken to many members of the Jewish community who say they feel "palpable physical fear." He says they are taking Mezuzahs off their doors, removing their skullcaps, and are afraid for their families. Some are even thinking of emigrating.
"Most significantly, and most fundamentally, they're suddenly feeling not at home anymore. In a community that thought they were a part of, they are suddenly realizing that they're not really a part of it. They're viewed as the other."
He says he has had non-Jewish lawyers contact him and express their support, which is helpful.
"It's the obligation of everyone to express repulsion at the Hamas atrocities, and a baseline of civility is appreciating and supporting Israel's right to defend itself to ensure it never happens again," says Levitt. "Hamas has taken the position publicly, repeatedly, since [Oct. 7] that they will do it again and again and again until Israel is extinguished."
Levitt has also offered pro-bono legal services to employers being sued for terminating an employee who attends a pro-Palestine protest. He says that any employer who has an employee who is client-facing, public-facing, or in a management role and is bringing the company's brand into disrepute can fire them for cause. This would include attending rallies where participants chant antisemitic slogans, including "from the river to the sea Palestine will be free," which Levitt says is code for "kill all the Jews in Israel."
Majid says that the pro-Palestinian chants are calls for equality and human rights for all and that the truth about their meaning has been widely reported in the media.
"I really take issue with people who oppose notions of equality and human rights and dignity for all," she says. "If you think that's problematic, then the issue is with you and not those who are attending the Palestinian rallies."
Levitt says that if protestors believe the chants are a call for equality, which he calls "rationalization" and "nonsense," they should be aware of how the chants are interpreted by others and stop them.
"If those law students who continue to demonstrate at rallies with antisemitic slogans… do not realize that they are implicitly approving Hamas' murders and supporting rabid antisemitism then, in my view, they are either intentionally uninformed or truly antisemitic and have no place in the legal profession."
In Majid's law school days, she says law students were scared to speak out, and little organizing or discussion was occurring at the law school about how the post-9/11 environment impacted Arab and Muslim students. That has changed, she says. To see so many law students speaking out, knowing of the consequences they could face, gives her hope.
While it is ultimately up to an individual lawyer whether they want to take a stand on a particular issue, Majid says lawyers are responsible for taking a stand "in the face of a genocide."
"This is an extraordinary circumstance we find ourselves in," she says. "Lawyers and law students shouldn't be punished for exercising their Charter rights. Nothing that has been said is intended to incite hatred. It is not about hatred. It's about trying to stop the humanitarian catastrophe, the genocide happening right now."
Majid adds that it is frustrating to see all the work the legal sector does around diversity, inclusion, and equity, how law firms and the law society celebrate it, and how it only applies to some.
"It definitely does not apply to those who are Palestinian, or support Palestinians.
"If we're going to be champions of EDI in our profession, if law firms and law schools are going to hold up their policies and speak about it – well, it has to apply to all students."
Sealy-Harrington says he is furious at how much time and effort has been invested in "tone-policing" law students who are "calling out genocide, including students directly impacted by the genocide." That time should be spent calling for a ceasefire in Gaza, "and supporting these students through this traumatic time," he says.
"I'm frankly disgusted with the legal profession and know that we will look back on this month with horror at how quickly so many abandoned their supposed commitments to basic human rights and dignity for all," he says.