Sole practitioners and small firms make up the majority of Ontario's lawyers, and some say Convocation could benefit from more sole practitioners and small-firm lawyers, too.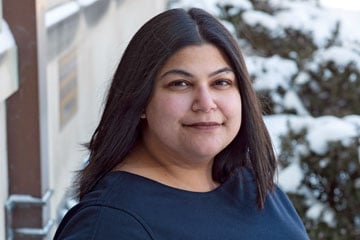 Sole practitioners and small firms make up the majority of Ontario's lawyers, and some say Convocation could benefit from more sole practitioners and small-firm lawyers, too.
Lawyers that own their own business could have important feedback as the Law Society of Ontario considers issues such as continuing professional development, parental leave, licensure and alternative business structures, according to bencher candidates who work on their own or in small firms.
Deepa Tailor, managing director of Tailor Law PC, is one small-firm lawyer who is running for a spot on the law society's board as a bencher in Convocation.
Tailor says if she wins a spot in the April 30 election, she would advocate for expansion of programs that impact solo lawyers, such as the Parental Leave Assistance Program, Coach and Advisor Network, as well as support for lawyers preparing for their first audit.
"The one thing that the Coach and Advisor Network doesn't really address, though, is all of the other challenges you face as a sole proprietor: sales, marketing, reading financial statements, the general business of law," says Tailor, who started her Mississauga, Ont.-based firm as a sole practitioner but recently added other lawyers.
"Depending on where you articled or your prior work experience, you don't have any interaction with them until you start up your own business."
According to the Law Society of Ontario's online data, more than 73 per cent of Ontario law firms that are licensees' primary businesses have a single lawyer.
About 51 per cent of professional regulation complaints received by the law society in 2016 were about sole practitioners, while 79 per cent of all complaints about lawyers were about licensees in firms with fewer than five practitioners, according to the LSO's 2017 annual report.
Rene Larson, a bencher candidate and sole practitioner in Thunder Bay, Ont., says if elected he would like to see the law society lower the price on continuing professional development and put more content online so solo practitioners can brush up on new areas of practice as challenges arise.
"The law society, I think, is mishandling the professional competence part of it and the learning standards — and focusing too much on professional regulation, rule making and rule enforcement, rather than helping lawyers be better lawyers," says Larson.
"Knowledge and education will work much better than militaristic regulation."
Kenora, Ont.-based bencher candidate Cheryl Siran is the managing partner of small firm Hook Seller & Lundin LLP and says that funding for law libraries — factored into a budget that is approved by Convocation — is an example of an important issue that may not be obvious to lawyers in bigger firms.
"For many new lawyers — rural, remote, solo, small — the availability of library funding is important in terms of supporting competence as well as a physical location for informal mentorship," says Siran.
Toronto lawyer Barbara Hendrickson, founder of BAX Securities Law and a bencher candidate, says moving from a big shop to a solo firm opened her eyes to how the existing rules apply differently in a big firm and small firm context.
For example, says Hendrickson, within a big firm, it's not unusual to be compensated for bringing in new clients, even if they are referred to someone else within the firm.
However, she says, referral fees between small firms can face more regulatory scrutiny.
Similarly, regulations around so-called alternative business structures are often discussed in the context of large, publicly traded firms, rather than arrangements between small business owners, Hendrickson says.
"I think there has to be a greater recognition of how the existing rules differentially impact small firms and large firms," she says.