Apple Inc. disclosed at an industry conference last summer that, at that time, there were more than half a million different podcasts available for downloading on iTunes alone.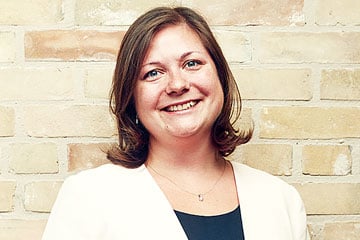 Apple Inc. disclosed at an industry conference last summer that, at that time, there were more than half a million different podcasts available for downloading on iTunes alone.
Even if it sometimes appears that it is a phenomenon dominated by true crime shows and advertisers for job recruiting, mattresses or easy-to-make meals, there are shows on virtually every kind of topic and in many different languages.
The range of options also includes podcasts focused on legal issues or the practice of law — an increasing number of which are based in Ontario.
The question in 2019 is whether there are practical benefits for a firm, especially one that is smaller in size, to develop a podcast in such a crowded field of choices.
"It is a chance to talk to interesting people," says lawyer Natalie Worsfold about the initial decision at Counter Tax Lawyers to start a podcast.
She co-hosts the "Building New Law" program with her colleague Peter Aprile, who founded the Toronto-based tax law firm.
The podcast speaks to guests on topics such as practice management, billing and the use of technology within a firm. Its stated goal is to challenge traditional law firm structures.
"We started it because it was an opportunity to speak to people who want to do law differently, who manage their practices in innovative ways," says Worsfold.
"It has also been a way to connect with others in the legal profession."
"I am not certain there has been a return on investment on it," says Worsfold, but she adds that that has not been the goal of the podcast.
"It is a lot of work. You need to be excited about it," she says.
Practically speaking, she says, lawyers may have some "natural training" in terms of hosting what is essentially a do-it-yourself form of radio.
In terms of the technical requirements, however, if there are sufficient funds available, it is good to seek outside help, according to Worsfold.
"Invest in the right equipment. Hire an expert," when starting up a podcast, says Worsfold.
For small firms or even sole practitioners, it is possible to develop a podcast on a relatively small budget with sufficient production values to attract listeners, says Ottawa criminal defence lawyer Michael Spratt.
"We do it in our living room, after the kids are in bed, with one microphone," says Spratt about "The Docket," the podcast he co-hosts with his wife, lawyer Emilie Taman.
Websites for podcasts can be created with inexpensive software and a local songwriter agreed to the use of one of his songs to start each episode, says Spratt.
Nearly five years and 90 episodes since it began, Spratt says there have been nearly 500,000 downloads in that time. A podcast with a modest budget can still be available on iTunes and other providers as long as an RSS feed is set up and an application is sent that outlines what it is about.
"It has been a slow build, mostly by word of mouth," says Spratt, who jokes that he hopes to turn a room in the basement into a proper studio for the podcast.
The Docket focuses on criminal justice issues, the Supreme Court and often whatever the high-profile political issue is at that time in Ottawa.
While the podcast may have resulted in some additional clients seeking out his legal services, Spratt says that was never the reason he started it in 2014 with fellow defence lawyer Leo Russomanno.
In the legal field, it is also a forum to pass on knowledge in a specialized area to a broader audience, he says, such as Goldblatt Partners LLP's "Injustice" and "A Podcast Called Intrepid" hosted by professors Stephanie Carvin and Craig Forcese, as just a couple of other examples of podcats in Ontario.
For some firms, a podcast may also be a better way to communicate its lawyers' expertise than the traditional method of blog posts or commentaries on their websites after a significant court ruling or change in the law.
Hull & Hull LLP has put out nearly 600 podcasts on areas of interest in trusts, estates and capacity law.
The episodes can be accessed on its website and lawyers at the firm are expected to co-host them on a rotating basis.
"We started blogging about eight or nine years ago. This is more personal. It is a chance for people to hear directly from our lawyers," says Paul Trudelle, a partner at Hull & Hull.
"We want to put the information out there and it is also a good way for our lawyers to think about the issues and also to think on the spot," he says.
The firm has received feedback from lawyers in the area of trusts and estates and also general practitioners.
"It has been a very positive experience for us," says Trudelle.
He suggests that firms, especially those in smaller communities, might consider a legal podcast as a way to distinguish it and provide "added value" to potential clients.
When speaking about the law, specific rulings or the practice of law, there is general agreement to avoid using this forum as just an extension of what might be written in a commentary on a firm website.
"Don't use podcasts the same way you have done things in the past. You have to adapt to the medium. Be more informal, even if talking about legislation or a Supreme Court ruling," says Spratt.
"To get listeners, you need to be engaging," he adds.
At the same time, he notes that lawyers still need to be mindful of any content on a podcast, even if it less formal than a written commentary. "The law society rules still apply," says Spratt.