Three lawyers reflect on progress, challenges, and allyship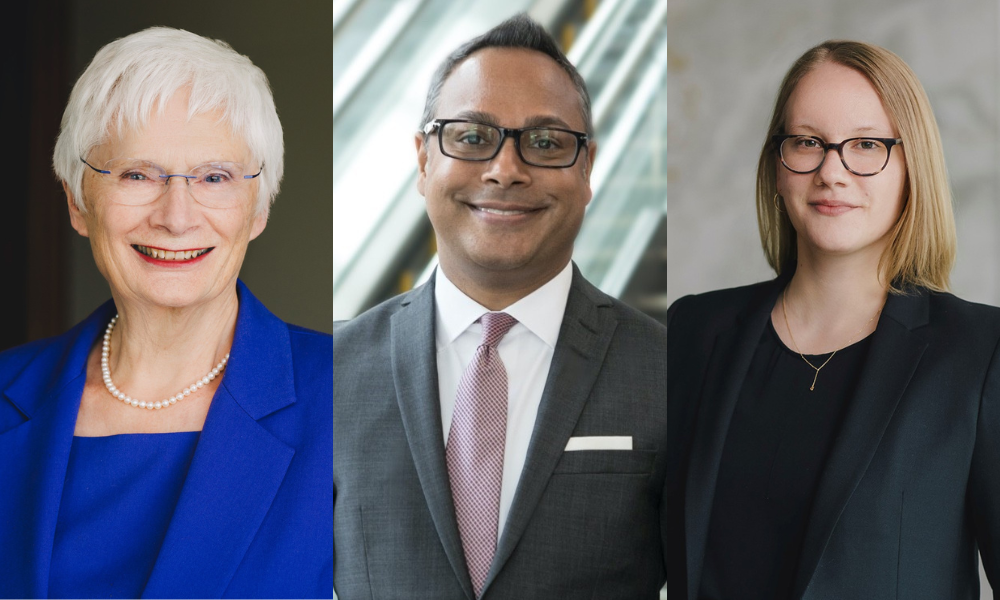 When Angela Swan, counsel at Aird & Berlis, came out to her colleagues as a trans woman, she says she was "warmly welcomed and immediately accepted."
"The only question I was asked was, 'What took you so long; we saw it coming years ago?'" she says.
Generally, inclusivity in legal workplaces has advanced through the implementation of better diversity, equity, and inclusion policies, workplace training, and affinity groups, says André Bacchus, a career counsellor at the Lincoln Alexander School of Law. Though there is "more work to be done," he adds, such as continuously updating policies and training. This could include developing directories for employees to find mentors with similar backgrounds and interests.
For Bacchus, coming out in the workplace was a "natural process" because he had been out during law school.
"I have tried to be my authentic self in all situations, including with colleagues at work," he says. "Being your authentic self at work is essential in helping to find balance and effectively manage the stresses of a demanding profession."
Bacchus says that being out and authentic has also produced a more enjoyable work environment. When practising at Fried Frank Harris Shriver & Jacobson in New York, the firm organized a dinner for him and the other "out" associates and partners. And during his time working at Toronto Metropolitan University with the Law Practice Program, Bacchus' colleagues hosted a post-wedding lunch to express support for him and his husband.
Before working with Lincoln Alexander School of Law, Bacchus held various roles at McMillan LLP, Blake Cassels & Graydon, Osgoode Hall Law School, and the University of Toronto Faculty of Law. As a lawyer and legal academic, Swan has expertise in contracts, tax, and complex corporate/commercial matters. She has taught at the University of Toronto, McGill, and Osgoode Hall Law School.
Both Swan and Bacchus try to stay visible as members of the LGBTQ2S+ community in their workplaces. Swan, her daughter, and Aird & Berlis's DEI officer and production team made a film about Swan's coming out, which featured family, friends, and colleagues. Bacchus says he speaks on panels, offers mentorship and advice, attends career fairs, and does his best to encourage "an inclusive environment where members of the community and allies feel comfortable and can support each other."
They also try to foster a more inclusive environment for future generations of LGBTQ2S+ legal professionals.
"Creating an inclusive environment has always been a part of my ethos, both personally and professionally," says Bacchus. "During my time at Heenan Blaikie, it was important to help students appreciate the firm was committed to supporting all equity-seeking groups."
He says Heenan Blaikie made him the "face of the firm" in the hiring process, which involved his sponsorship of diversity events and training. At the LPP, he and his colleagues encouraged inclusivity by sponsoring diversity events and embracing Pride Month. He adds that the Lincoln Alexander School of Law espouses diversity as a "core pillar" to accelerate change in the profession.
Naomi Mares is a municipal land use and planning lawyer at Aird & Berlis. Holding a privileged position as a white, cis woman with several years of experience in the legal profession, she says she fosters inclusivity by "speaking up for my fellow community members when I think something needs to be said, and by acting as a formal mentor for summer and articling students."
Swan has tried to comfort and encourage parents of children with gender dysphoria, as well as young trans people.
"Those parents show such great love for their children; to think that they might be persecuted for what they do is appalling and shows such wanton cruelty," she says.
"The most important human quality is kindness; if we are kind, every problem we face is manageable. If we are not kind, a great many problems are made immeasurably more difficult to solve, if a solution is even conceivable."
But Swan notes that the unkindness that often makes headlines in the US is creeping north. She points to New Brunswick's Policy 713, which recently took effect and under which it is no longer mandatory for a teacher to use the preferred pronouns or names of trans and non-binary students under 16 years old. Under the policy change, teachers must also obtain parental consent to change a trans student's name at school.
"We have got to challenge those who, in the name of 'parental rights,' for example, would deny children the ability to explore, perhaps with a kind and sympathetic teacher, feelings they cannot control and do not understand," says Swan. "No position, regardless of its moral or religious justification, is valid if it is not the expression of kindness. How I wish I had had such a teacher."
"In today's turbulent times, we see continued progress in some areas but also the rolling back of rights in other areas," says Bacchus. "Allies need to speak out, and equity-seeking communities must show solidarity and support for each other. We must never take for granted the hard-fought gains of the previous decades."
Given the state of the world, says Mares, being an ally is a "positive obligation." Though it is a good start, it is not enough to "passively support" the LGBTQ community, she says.
"For me, being an ally is showing up. When our firm held our main pride event, it really meant a lot to me that many of my colleagues showed up with a great attitude and were active participants in the event.
"It's not always possible to attend everything, but giving your time and attention to something speaks volumes and can make your queer colleagues feel supported."
Both Bacchus and Mares say the legal industry has a lot to learn from the incoming generation when it comes to the continued evolution of the inclusivity landscape.
"I think this incoming generation is really turning the tables and looking to the legal industry to make room for them, as opposed to tying themselves in knots to fit in," says Mares.
Says Bacchus: "From previous generations, we need to remember the hard-fought battles to get us to where we are today and that taking up the mantle of leadership, including voicing our support for all equity-seeking groups, is essential if we are to avoid any types of retrenchment or shrinking of the inclusivity landscape that has been created."
Younger lawyers are advancing the conversation on gender identity and gender expression in the workplace, says Mares. She says it is up to employers to educate themselves on these topics or risk missing out on significant legal talent.