Lerners appointed Cynthia Kuehl as firm chair, effective Jan. 1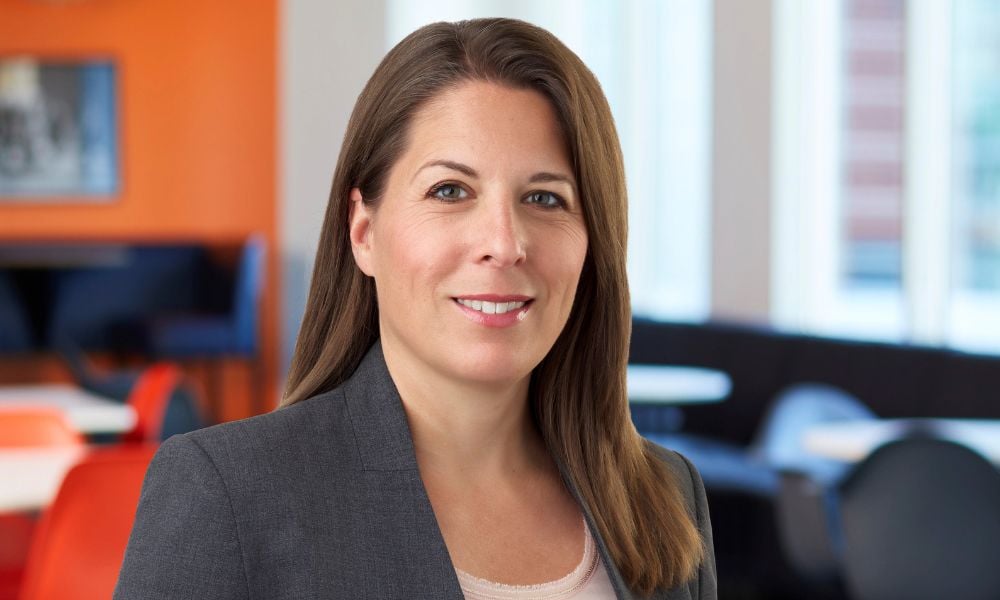 Two formative mentorship experiences stand out for Cynthia Kuehl as integral to her career development.
The first is more personal. When Kuehl was an articling student, Lerners partner Lisa Munro impressed on her the value of genuineness.
"What Lisa taught me most was that it was important to be authentically you, all the time. She was always someone who encouraged you to be open with yourself, open with your colleagues."
Kuehl says genuineness and authenticity were important for office culture when Munro served as managing partner of Lerners' Toronto office.
The second involved Lerners partner Earl Cherniak, who not only gave Kuehl a "ton of opportunity, early and often" in her career, but loudly and proudly promoted her and her skills to clients and opposing counsel.
Kuehl has been practising civil litigation at Lerners for her entire 22-year career. The firm recently announced that she will assume the role of firm chair, effective Jan. 1. She will be the firm's first Toronto-based chair and will take over for Graham Porter.
"I've had the true privilege of working with Cynthia for the last two decades," said Porter. "She embodies our firm's values, is a sought-after mentor, and is an advocate for diversifying the field while making it possible to be a leading litigator while raising a family. I could not be more confident in her appointment as my successor. I look forward to the further growth she will drive and the new ways of thinking she'll encourage."
In 2021, former Chief Justice of Ontario George Strathy and Associate Chief Justice Michal Fairburn called on senior litigators appearing before the Court of Appeal to share a portion of oral argument with junior counsel. To do so "not only enhances training and mentorship for newer advocates, it also contributes to the vibrancy of the Court as a public institution and increases public confidence in the justice system," said the judges.
Kuehl credits senior lawyers at Lerners for following this advice long before it was given. They had the confidence in her abilities from an early stage and gave her the credit when credit was due.
"I was given an opportunity in my fourth year of practice to do my own trial as first chair," she says. "A former partner of ours went to the client and said, 'She can handle it. You should have her do it.' And when we were successful, I got to do my first appeal from that file as well."
"It's vitally important to foster those opportunities for young advocates."
Another time during her early years, Kuehl had been clocking long hours on a file she shared with a senior partner. She was at a function, sitting with that senior partner, and that client approached to thank him for all his work.
"Without missing a beat, the senior partner turned to the client and said, 'Don't thank me. It was Cynthia who did all the work. She's going to be a star and you should watch for her.'"
"That is the culture and the leadership style that you want to have from your senior partners," she says. "It gives people confidence. It gave me confidence. It's the right thing to do, and I'm very proud to have practiced with people with an incredible amount of integrity over the course of my career."
No longer a junior lawyer, she says she can now echo the sentiment about Lerners' new school.
"Watch out for a lot of our young people. There's a lot of stars among us and I'm really excited about investing in them."
Kuehl grew up one of three daughters in a farming family in rural Ontario. Based on how her parents raised her, she says, when she became a lawyer she was "relatively naïve" about the obstacles faced by female professionals.
"It never dawned on me growing up that I needed to work harder being a woman because I was just always told that if you work hard things come to you," she says. "It was a mentality my parents always had."
She credits her firm for making the same investment for growth and opportunity in its female lawyers as its male lawyers, but adds that "gender parity is not diversity."
"We have work to do when it comes to diversity among equity-seeking groups," says Kuehl. "I'm looking forward to working on that. We have some initiatives that are already underway including our 'Learn with Lerners' bursary and mentorship program, which is both a financial bursary but also a one-year mentorship with racialized law students, so that people have the same opportunities we did to meet with lawyers, to be mentored by them, and gain confidence."