Temins plans a major rebrand to get the firm's message out after surveying the internal group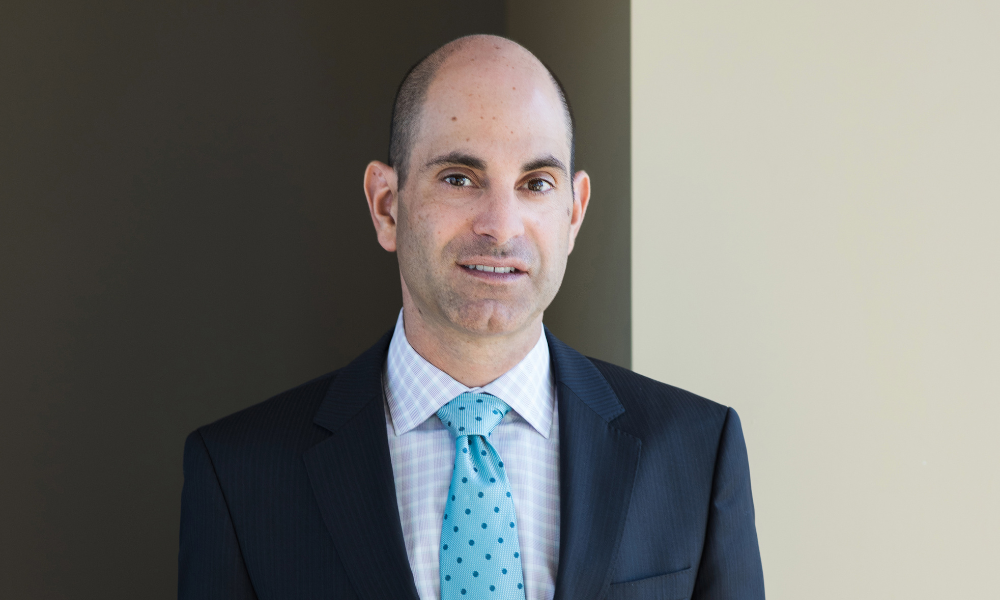 Law Times spoke with Brian Temins, the managing partner of Minden Gross LLP, a year into his tenure. Temins spoke about his firm's growth, the return to the office and long-term plans.
How has Minden Gross managed through the pandemic?
After the initial uncertainty, business was booming for the first year and a half of the pandemic. Now it looks like we may be in an uncertain economic time, which will likely impact deal flow and access to capital.
From a firm perspective, we've done well during the pandemic years. But there are now different things on the horizon that might not have been as top of mind as they are today. Not that rising interest rates were a huge surprise, but they came on quicker and faster than many expected.
Internally at our firm, there's been a lot going on in the last year. In addition to my new role as managing partner, our long-time chief operating officer Diane Carty recently retired. We now have our new COO, Roger Rosemin, in place.
We've seen transitions in our practice groups as well. Ryan Gelbart is now running the corporate group, and Rachel Goldman Robinson has stepped up on the estates side.
Now that you have been managing partner for an entire year, is there anything that surprised you?
In some ways, it does surprise me how much more internally focused my day-to-day role has been, even though I was on the executive for five years before becoming the managing partner, and I co-chaired the business law group for 10 years.
How did the pandemic affect your different practice groups?
Like many firms, after initial pause or fear in March 2020, things roared back to levels we hadn't seen before. As we entered this year, we saw a little bit more uncertainty.
At some point, I would have expected a more significant pickup in insolvency work. We are still waiting for that.
In the other practice areas, none of them stand out in terms of how COVID affected them. Corporate has been huge. Real estate was incredibly busy.
What supply chain issues and the increased cost of the building will mean is hard to say. New builds and condo developments is an area that we've done very well in for many years.
When Minden Gross was formed in 1950, we had a real estate focus, and it has been strong in that area ever since. So far, the practice has been incredibly resilient, but there are more unknowns than there was a year or a year and a half ago.
Your firm grew significantly over the last few years
Early in the pandemic, we consciously decided to increase our numbers.
That was both because we're growing, and we had additional turnover. We wanted to ensure that we were well positioned to continue to provide the service we were providing.
So, we invested in people. We changed our wage scale to ensure that we're top-line competitive with any firm.
How you handled the return to the office over the last year?
We've asked all our people to come back a couple of days a week. Particularly for those earlier in their career, they get better mentoring, training and development when interacting with people more directly than entirely in a virtual world.
We are still in a hybrid environment though. We expect to be in a hybrid environment for the foreseeable future.
Is there a requirement for people to come in a certain number of days?
It's an ask, not a requirement, for two days a week. We have revisited this many times over the last two and a half years. And we will do so again in the fall.
We have committed to all the firm members that they will receive sufficient advance notice for any ask or requirement. We're not going to say on Friday, "Okay, we'll see everybody every day on Monday."
Has your firm's size stabilized over the last year, or will you continue to grow at the same pace?
We've grown throughout 2022. We are close to having our highest lawyer headcount ever, although our growth has levelled off slightly.
We have a few more recruits that we'd like to make. And there is also the natural growth with students returning.
I think the pace of growth will probably slow a bit, though, in terms of percentage.
Have you made any changes in your use of office space?
We haven't changed locations. We have a few years left on our lease, which in March of 2020 was not our favourite expense item when there was no use of the office. But a couple of years later, it's been quite beneficial because it will allow us time to decide what we need to do long-term with respect to our premises.
We have pivoted for the use of our premises, though.
Some folks have shared offices or more hotel-like settings, whereas we used to have traditional offices everywhere.
It doesn't make sense when people aren't there most of the time that they necessarily should have a dedicated space. I understand people like it, but from a management perspective, it's not a great use of resources. So, we've looked at and tried to be thoughtful about that.
Although we've got some overarching thoughts on that, we've looked at it at the individual level.
We're also looking critically at our technology and investing in new technology, so we have the right technology for how we're practising law today.
It isn't necessarily the same program, hardware, and infrastructure we might have had a couple of years ago. People have different needs now.
With technology, there'll be more significant wholesale changes as we get into 2023.
What are other longer-term changes planned with Minden Gross?
We're also looking at our brand in the market. We will show the market a new brand and website and look and feel, which I think embodies the firm we are today.
We need to do a better job than we have historically of getting our message out.
The other thing we've done is invest in our people in some non-monetary ways.
We have brought several invisible things to the outside world that we see as important. We've introduced new equity, diversity and inclusion policies. We broadened our recruitment. That involves bolstering our culture, which should help with retention and recruitment.
What have you done in EDI?
We recently retained a third party to conduct an EDI survey. We are looking at the results of the survey now. There were multiple choice questions, but we're also really focused on some of the comments that individuals made, which were thoughtful and helpful. We're looking at how we could take it to heart and implement some of the suggestions.
With all our changes, we're looking for greater engagement within the firm regarding what people need to make them work better instead of a more top-down approach. So, we look at things differently than we might have been several years ago.
*Answers have been edited for length and clarity.