Law school's first year in awareness program aimed at men culminates on International Women's Day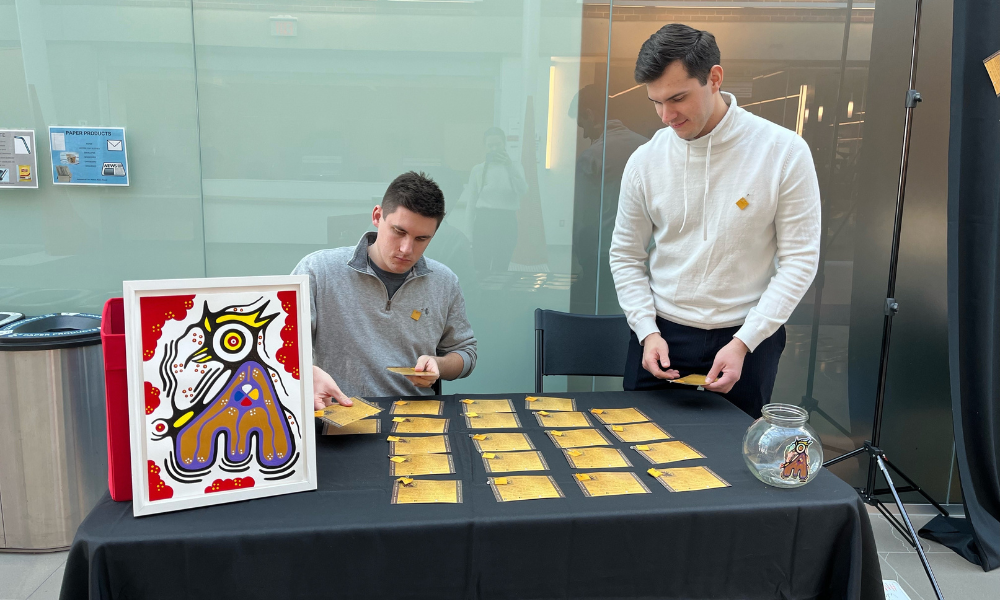 On International Women's Day today, it's not unusual to see groups rallying to ensure that women and girls are not subjected to domestic violence and abuse.
But what makes the Osgoode Indigenous Students' Association's contribution to the Moose Hide Campaign unique is that it emphasizes the role Indigenous and non-Indigenous men and boys can play against violence directed at women and children.
"The idea is to get men and boys together talking about this issue and raising awareness for it and doing their part," says Levi Marshall, a third-year student at Osgoode Hall at York University and one of the campaign organizers at the law school.
"I think that is what makes it different from some other campaigns aimed at stopping domestic violence – it is supposed to be it was led by and aimed at men and boys, though it has expanded beyond that now," adds Marshall, who serves as OISA's co-director of communications.
Marshall says, "you can't overstate importance of men embracing the campaign," especially as men are the main perpetrators of domestic violence. "If men are part of the problem, they can also be part of the solution."
In the days preceding International Women's Day, Marshall and other organizers of the Moose Hide Campaign have been handing out pieces of moose hide attached to pins to wear as a show of support of advocacy to stop domestic violence and take a pledge to help end violence against all women and children.
Leaning into Moose Hide Campaign Day on May 11
It culminated Wednesday with a photo booth at Osgoode's Gowlings Hall to capture and post images of support on social media for use as part of the 12th annual national Moose Hide Campaign Day on May 11. On that day, participants can fast from sunrise to sunset as a show of support. They can also participate in online interactive workshops or attend in-person meetings in Victoria, BC or other communities holding Moose Hid Campaign Day events.
Marshall says studies at Osgoode will have finished for the year by then, but the OISA wanted to ensure that the school could demonstrate its support for stopping domestic violence.
"We decided to do it before the school year ended," he says. "This is our first year, and we hope it just gets bigger."
He also pointed out that OISA had planned a Moose Hide Campaign in previous years, but the pandemic forced their cancellation because of mostly virtual learning instead of on-campus classes.
The terrible impact of domestic violence against women and children
As a Mi'kmaw man and a member of Membertou First Nation on Cape Breton Island, Nova Scotia, Marshall says he has seen the suffering first-hand.
"We see it a lot in our families and friends – women and girls going through hard times in their personal relationships and families."
He adds, "I wanted to do something that would somehow help and bring awareness to an issue that's super-important and personal for me."
The idea for the national campaign was born in 2011 by campaign co-founder Paul Lacerte, a member of the Nadleh Whut'en Band in northern British Columbia, and his daughter Raven, as they hunted for moose on their traditional Carrier territory along the Highway of Tears where so many missing or murdered Indigenous women.
The importance of men in advocating an ending domestic violence
It has since grown into a national, Indigenous-led, grassroots to engage men and boys in ending violence against women and children, often the result of the toxic effect of the experience of colonialism and Indigenous peoples' experience in the residential school system. Marshall notes that "not knowing what a healthy relationship looks like can be troubling, and many people haven't been able to get the support they need."
Wearing a moose hide pin signifies an individual's commitment to honour, respect, and protect all women and children, Marshall says, and speak out against gender-based and domestic violence. More than three million moose hide pins have been distributed free of charge to communities, schools, and workplaces across Canada.
Marshall notes there is an even greater need to act against gender-based and domestic violence is more critical than ever because the rate of such violence has increased dramatically during the COVID-19 pandemic.
Indigenous women disproportionately affected by domestic violence
Justin Thompson, a third-year law student and co-chair of OISA, said the campaign is about education, awareness, and action to address violence against women in general, highlighting how Indigenous women are disproportionately affected.
According to statistics on the Moose Head Campaign website, spousal violence against Indigenous women is three times higher than violence against non-Indigenous women. Indigenous women are killed at six times the rate of non-Indigenous women.
Thompson, a member of Nipissing First Nation, adds that those sobering numbers reflect the legacy of European colonization, the Indian Act and residential schools. He also points to the lack of funding for community-based social and mental health services, and many Indigenous survivors of abuse are reluctant to use government-based services.
"The way Indigenous people have been treated by governments hasn't instilled trust," he noted, "and that underlines the need for community-based options for these services."
After completing their legal education at Osgoode, Thompson and Marshall will be articling with aboriginal law firm Olthuis Kleer Townshend LLP.