Law school's Community and Legal Aid Services Program took part in preparing 11th hour reprieve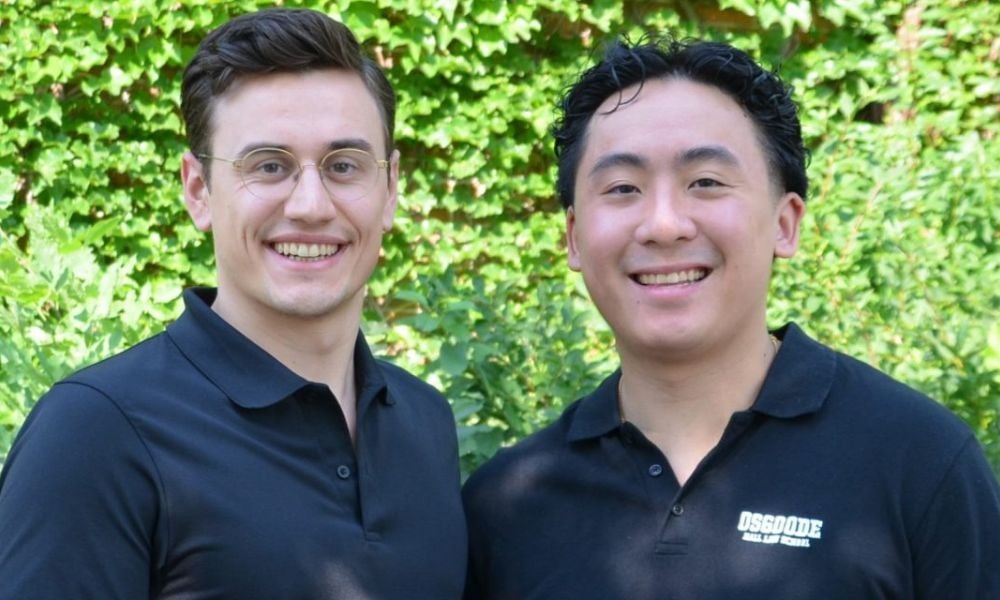 Osgoode Hall students Louis Althaus and Brandon Jang will enter their final year of law school knowing they have already used their skills to help a family facing deportation to Kazakhstan win an 11th-hour reprieve that will allow them to stay in Canada permanently.
In June, they spent three weeks preparing the case while part of Osgoode's Community and Legal Aid Services program, guided by immigration lawyer Subodh Bharati.
While the two learned much about immigration law while doing the research, Jang says what perhaps stands out even more is "the realization of the transformative power of the law to change people's lives."
Over the three weeks, Jang and Althaus filed a 180-page stay motion to the Federal Court of Canada, along with affidavits to support a humanitarian and compassionate application (H&C) to Immigration, Refugees and Citizenship Canada (IRCC) and a deferral request to the Canadian Border Services Agency (CBSA).
The two students got to know the family, which helped them add critical information to the original H&C application a Toronto law firm prepared. "It was important to us that we brought their stories to life," Jang says.
The family came to Canada as refugees in 2017, but the story goes back further. The father, who grew up in the post-Russian invasion of Afghanistan, left at 14 as he feared for his safety. He eventually went back, but there wasn't much left for him there, Jang says, so he went to Kazakhstan, where he met his wife, a Uighur.
The couple eventually opened a shop. However, the father was beaten and threatened with death by the local "mafia" who was extorting them, so after being on the run for two years, he decided to come to Canada, where his brother and sister lived.
Althaus says that when they arrived in Canada, they applied for refugee status under s. 97 of the Immigration Refugee Protection Act, designed for those who are personally targeted with persecution and have no protection from their government. "You need to show that there is a vendetta against you, and the authorities can do nothing to protect you."
However, their refugee claim turned into a seven-year battle, with authorities here saying they didn't think the family's claims were credible. The family was then denied on appeal, with Althaus adding that the burden of proof required was unduly harsh given they were a family who were in hiding. The family asked the Federal Court of Canada for a judicial review of the case. Still, the judge ultimately ruled against the family, and a deportation order came down last May.
This was when lawyer Bharati asked the two students to work on the case with them to prepare for a hearing to stay the deportation, scheduled for July, along with an appeal allowing them to remain in Canada on compassionate grounds. Jang says the thrust of the argument was that the family should not be deported by one agency, CBSA, while another agency was still looking at the humanitarian appeal.
"We worked hard on developing a multi-pronged strategy," Althaus says, adding that the more the two students worked with the family, the more they believed it fitting to be allowed to stay in Canada. "Their story was so heartbreaking we were compelled to put everything we had into this for the family."
This included ensuring that each family member could tell their "story" and explain why they are the model of the type of immigrants Canada should be taking in. All the adults have work permits and pay taxes. All the children are fluent in English, with the daughter even named valedictorian for her Grade 8 graduation.
Jang and Althaus also ensured the authorities knew that the father was a primary caregiver for his sister in Canada, who has Parkinson's Disease.
Says Jang: "It was all about building a connection with the family and developing that trust as we advocated for them."
The strategy worked. Ten days before the deportation date, there was an email from IRCC approving the family's permanent residency status. Althaus says, "They'll never have to be worried about their status in Canada again."
A thank-you note sent by the mother to the CLASP legal team after the successful resolution of the case expresses the family's gratitude.
"Hello, Subodh, Louis, and Brandon," she wrote. "My happiest day was June 26, 2023, the day when you called and informed us of the amazing news.
"I was so delighted that for a short while, my voice disappeared and my eyes filled with tears," she wrote. "These were tears of joy and happiness. Your knowledge and experience have helped us pass through difficult processes. I want to express my huge gratitude to you."
Jang and Althaus are also grateful, as working with the family not only honed their legal skills but taught them the importance of understanding a client's mindset and having compassion and empathy for those they work for.
Althaus says that regardless of what law he practises after graduating, "immigration law will always be close to my heart because it taught us to be passionate advocates and the importance of going above and beyond."
Jang adds that while understanding legal tools and arguments is vital to practising law, "there is the human aspect of law. This case is a great example of how to gain the trust of your clients and believe in them.
"The connection has to be more than at a surface level."