Diversity will grow without artificial cut-offs and when students are measured as a whole person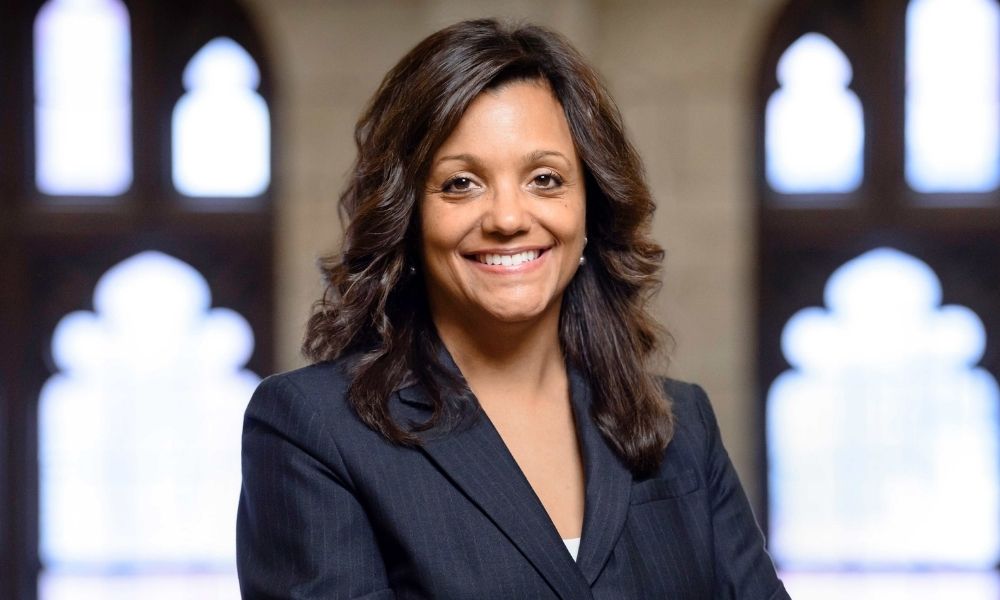 With ongoing talks about a lack of racial diversity in the legal profession, Donna Young, the dean at Lincoln Alexander School of Law, says as gatekeepers into the profession, law schools are responsible for keeping their admissions process as inclusive as possible. "We really need to help the legal profession diversify itself."
Young says her legal career has convinced her that law firms, schools, and other legal entities can diversify the representation of lawyers or judges and be sensitive to how the law affects different people if they genuinely want to do so. She says legal professionals must take more responsibility and not look for excuses. "We are part of a system, so we have to make sure we are doing our part."
Young says taking steps to diversify is straightforward, and it is intentional when a law firm or legal entity is not diverse. Law firms are responsible for examining the criteria used to employ lawyers in their practices with a lack of diversity. "If the criteria are acting as a barrier to diversity, and they know what's happening and not doing anything about it, then they're doing it on purpose," she says, "if you don't want to diversify, keep doing what you're doing. That's fine but own it."
Lincoln Alexander has a holistic admissions process, and Young says the school evaluates every application using the "Kira" interview method. In this online interview, students receive a question and videotape their answers which is very different from the typical way of choosing students by looking at their paper application and GPAs and LSAT scores.
Young says because the admissions officers know the law school's objective is partly access to justice, they evaluate students in all their strengths. However, a solid academic background is essential for the admissions process because of the rigorous legal education.
She says the school admissions process highlights that diversity will inevitably increase when there are no artificial cut-offs, and the law school assesses prospective students holistically. "This is not rocket science. If you have artificial cut-offs, you're going to have cut-offs that disproportionately affect certain groups of people. So, if you don't have those cut-offs and open yourself to different ways of evaluating students, you're going to get a more diverse group."
The law school is building a robust in-house clinical program to serve the community and continue its mission to increase access to justice. In the meantime, Young says students are sent to over 70 clinics around the city to help in different ways.
The school also secured gifts from Ed Sonshine and Janice Fukakusa to kick start a racial justice initiative, and she says it will be unique in Canadian legal academia. The research and client-based initiative will focus on how the law has shaped the understanding of and contributed to racial justice and how the law can be used to alleviate the effects of racial discrimination in all systemic or individualized forms.
The initiative will focus on ways the law manifests to systemically negatively affect certain groups of people based on race and how it can address those effects. For example, nothing inherent in being Black or Indigenous would lead to overpopulating the prisons, so what is it about the criminal justice system that might lead to the disproportionality of our prison population? Young asks.
Many laws are not discriminatory but operate systemically. Young says that through research, community outreach, and activism, the initiative will answer these questions. Students are motivated to use their legal education to further these interests and the people they wish to serve.
She says the initiative has the components to make it one of the country's most robust institutions and centers of learning. The faculty is building on the contributions of Lincoln Alexander and former judges, lawyers, and activists who worked on legal reform to ensure the law is impartial and seen as fair.
With the school environment located physically in the busy intersections of Dundas and Yonge in downtown Toronto, Young says students will be excited and interested in engaging with the "amazing" neighbourhood but a community still in need of legal services when they return to campus.
The student body represents 53 to 56 per cent of racialized students, and 60 per cent also identify as women. Young says the faculty knew they had to build the law community mostly remotely when it opened its doors in the fall of 2020. With the faculty's assistance, she says students have collaborated in a virtual environment as much as possible. "Our students have come up with 40 clubs and associations based on different areas of interest."
Young says the faculty engaged students to counteract the isolation of the last two years through podcasts, synchronous and asynchronous taped recordings and did some hybrid classes. Still, the persistent challenge is that students are exhausted, just like everyone else.
She says most faculty members are excited about being on campus because as much as they want to engage, there is only so much human beings can do while sitting in front of a screen. "Zoom fatigue is real, and so when you provide these opportunities for students to participate on Zoom, it's just like, Oh God, more Zoom."