When Raquel Ness graduated from law school, finding an articling position was nearly impossible for her.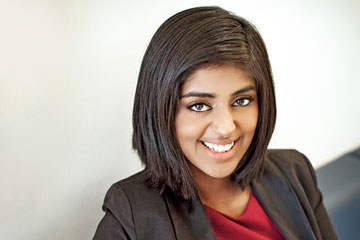 When Raquel Ness graduated from law school, finding an articling position was nearly impossible for her.
The Barrie, Ont. lawyer applied to countless firms in cities and towns across the province. She networked, approached law associations and was open to going anywhere.
But she struggled to find a position in the traditional licensing route.
"It was very difficult," she says. "There are minimal positions out there."
She eventually decided to enroll in the Law Practice Program — an alternative to articling offered by the University of Ottawa and Ryerson University that includes a four-month course and a four-month placement.
Changes to articling and the broader licensing process might now be on the horizon as the law society's professional development and competence committee is expected to release a report in February that will suggest possible reforms.
Last spring, the law society held a number of consultations — which it called "Dialogue on Licensing" — to engage the profession on the issue.
Some of the possible options that have been discussed include making the LPP a permanent program and the only pathway to licensing.
Some have said the problem with the LPP is that its candidates are perceived as second-tier and that it is not financially sustainable. But supporters of the program say there is no evidence that LPP candidates are actually inferior in any way and that it provides a pathway to licensing for those who have been hampered by a shortage of articling positions in Ontario.
The law society considered scrapping the LPP in 2016 before hearing overwhelming support to extend it.
Other options could include ending transitional training as a requirement, limited or specialized licensing.
A United States-style bar examination system could be another possible option, as the committee has also been exploring the way other jurisdictions license lawyers.
It is not clear yet what the committee will propose, but LSO Treasurer Paul Schabas says the profession will have the opportunity to comment on the options after they are released and before benchers vote on them.
Some have called for a complete overhaul of the licensing system and the abolishment of articling. Others would like to see less drastic reforms to the system such as shortening the length of time students article.
Richa Sandill, an employment and human rights lawyer at MacDonald & Associates LLP, who participated in the Dialogue on Licensing, says the biggest problem with the current articling system is an extreme lack of consistency.
"One articling student's experience can be completely different from another articling student's experience," she says.
When Sandill entered the licensing process, she had the choice between the LPP and articling.
She said she chose articling because she wanted in-firm experience. It, however, took her more than a year to find a position.
She says that she had a great experience once she found her position, but that is far from the case for everyone.
Sandill was part of a group that surveyed 221 articling students and found 15.8 per cent of respondents had not been paid at all for articling and 16.8 per cent received less than the minimum wage.
The study, which was conducted through a website called Law Job Exchange, found that of the unpaid articling students that were surveyed, 60 per cent said they would not article at the same place again and 85.7 per cent were not hired back at the end of their articling term.
Sandill says it is time for unpaid articling positions to be banned.
"If a firm is investing in a student . . . a firm will put more into that person's development and get more use out of them," she says. "I think that's one big crack that I have really been pushing for in this entire process to get filled."
As part of its review of the licensing process, the law society conducted a survey that found one in five recent or current articling students had experienced some kind of unwelcome comment or conduct based on a personal characteristic, such as gender, race or sexual orientation.
The regulator is now reviewing its rules when it comes to discrimination and harassment.
For lawyer John McCrea, the testing process served as a big hurdle to licensing.
After he graduated from the University of Ottawa's law school, he found an articling position with WeirFoulds LLP, but he had to take both the barrister and solicitor licensing examinations multiple times each before he succeeded.
McCrea, who has cerebral palsy, says that while the Law Society of Ontario provided him with special accommodations, it took him some time to figure out exactly what he needed to take the exams successfully.
He fulfilled a lifelong dream of becoming a lawyer on Jan. 26, when he was called to the bar.
McCrea says the law society's accommodations are based on candidates being proactive to express what they need, but it is not necessarily easy for an incoming candidate to know what they need in their first attempt at the exams.
McCrea says the process could be made better if there was a licensing candidate peer-to-peer network.
He says that while he thinks the law society should be barrier-cognizant in how lawyers are licensed, it should not be barrier-free.
"I think it should change its process, but it shouldn't change its standards of competency just under the guise of access to justice," he says.
McCrea says the law society should also do away with multiple choice on exams.
"The licensing exams such as they are constituted now are not an accurate barometer for what you do as a lawyer," he says.
In 2016, the law society considered a new exam called the Practice and Procedure Examination, which would replace the bar exam and be given to candidates before they receive their experiential training.
It also explored implementing a Practice Skills Examination that would be added to licensing requirements.
But, these two initiatives were shelved when the committee chose to extend the LPP.