Let a competent real estate lawyer be your guide to your first (or tenth) major property transaction.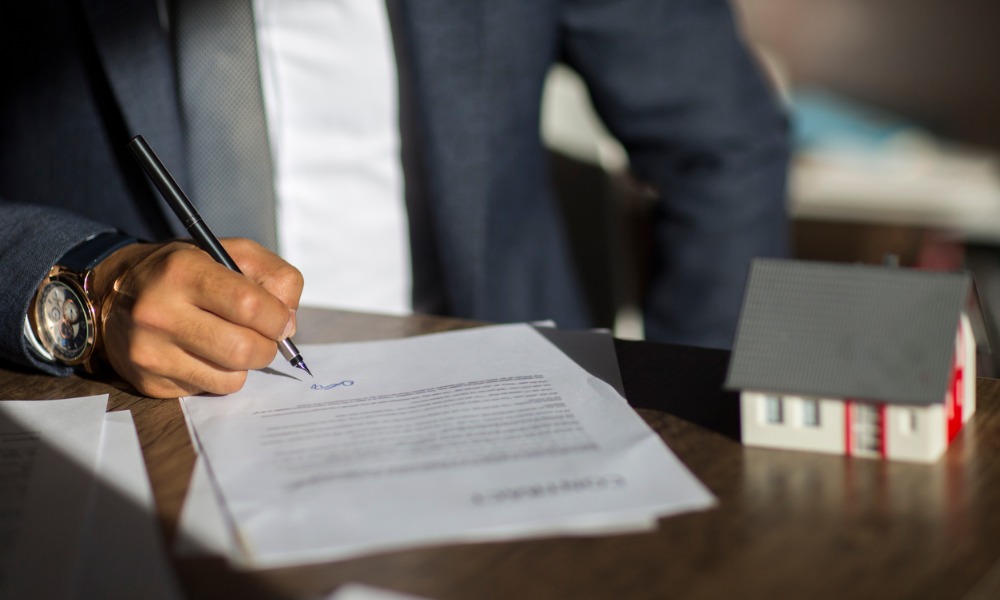 If you're a first-time home buyer, or looking for your second or third property in this complicated Canadian real estate market, a competent real estate lawyer can be a knowledgeable guide to help you with your legal transactions, documents and insurance.
Real estate lawyers may seem interchangeable with real estate agents at first glance, but they have different roles and responsibilities in purchases and sales. As you invest in your next property, learn the difference between the two, as well as all the things a real estate lawyer can do for you.
The difference between real estate agents and real estate lawyers
Real estate agents and lawyers can both offer beneficial yet completely different services when it comes to an upcoming major property transaction.
A real estate agent makes the complex process of buying a home easier for you. They take care if the paperwork, purchase contracts, and other necessary documents. They also handle house inspections and negotiations, and ensure that everything's running smoothly.
If you're in the process of selling your property, a real estate agent can also help you find the right buyer who will take good care your pre-loved home. They will also help in organizing and running open houses.
If you're moving houses, they'll also assist in making sure that you get to your new home quickly. However, it should be noted that the roles of real estate agents still differ depending on your province.
On the other hand, while agents process your documents, real estate lawyers will document and review these real estate documents and transactions.
You can also turn to your lawyers for questions about titles, purchase contracts and insurance. In addition, when transactions turn sour, a real estate lawyer can not only provide legal advice — a litigator also step in and provide representation and defence in court.
Here are other things your real estate lawyer can do for you.
What can your real estate lawyer do for you?
A competent real estate lawyer is knowledgeable and experienced when it comes to the rules and regulations of any real estate transactions. They help their clients understand contracts, leases, appraisals, inspections, legal documents and other legal processes involved in acquiring a property.
They also answer clients' questions regarding the transactions and will help iron out issues.
Licensed real estate lawyers can also draft and revise documents, and will review the purchase agreement to ensure that you're not being misled.
Your lawyer may also review your offer on a property to also make sure that the document protects your rights. If it doesn't, your lawyer can adjust and revise it to better suit your needs.
Arranges for title insurance
Getting insurance is a must when acquiring property, and your real estate lawyer can arrange your property's title insurance for you. It is important to note that title insurance and home insurance are not the same thing.
Getting a title insurance is beneficial, as it covers issues that occurred before and after you've purchased your property.
Protects clients' interests
Your real estate lawyer will also perform their responsibility of safeguarding your best interest. You can lean on them to ensure authenticity of the legal documents involved, and to make sure that you're not falling into any unseen legal traps.
You can ask your lawyer to take a second or third look on your contract. They can review and explain legalese and explain it to you in a way that you could understand more clearly.
This way, you are 100 per cent sure that you know what you're signing up for. Your lawyer can also negotiate your transaction's terms and conditions for your sake, which may involve working with other lawyers, developers and brokers.
Overall, with a competent real estate lawyer, you can be sure that your rights are protected, and that your property transaction is legally sound.
Handles foreclosure proceedings
Court procedures regarding the process of property foreclosures vary from province and/or territory. It's best to hire a real estate lawyer to help you handle this.
Your lawyer will help you navigate this tricky situation, and will give you legal advice regarding your different options. They may help you modify your loan, and may come up with several defences that your party can raise in court.
There may be some situations when you may not need the services of a lawyer to handle your foreclosure, but it's better to know what to expect when facing foreclosure.
Provides legal representation
Some unpleasant legal situations may be inevitable, but even the most qualified realtor will not be able to give you the right legal advice.
Lawyers offer legal advice on property disputes you might get involved in, as well as on other legal issues such as encroachment, trespassing and injuries.
Also, a real estate lawyer can provide legal advice on property management, zoning violations, restrictions and covenants on real estate, property taxes and value estimates.
Apart from this, lawyers will represent you in real estate litigation. They will draft documents and legal pleadings, participate in hearings and a trial with the judge, and will file appeals on your behalf, when necessary.
They will also negotiate with the opposing counsel to work out settlement agreements.
The closing date is the final step in your property transaction. This is when the ownership of the property is officially transferred to the buyer.
It is dubbed as the "most important event" in a sale transaction.
On closing day, your real estate lawyer can facilitate your financial transactions. You'll also take the time to finalize the transaction, where they'll create a Statement of Adjustments.
This document shows the details of the transaction, including the deposit, adjustments and other fees, as well as the final amount that is due on closing day.
If you're purchasing a resale property, the keys will be delivered to your lawyer's office on the day of closing. They'll not be released until the closing has been completed.
In addition, your real estate lawyer can help you familiarize and prepared for some of the hidden costs when buying a home in Canada, so there's no surprise when it comes to expenses on the closing day itself.
If you want peace of mind and legal protection, getting expert help is the best way to go. The Law Society of Ontario offers online directories for online directories for lawyers and real estate specialists to assist you in your upcoming major property transaction.