Peel-area lawyer, who won the OBA civility award, is optimistic about the health of the profession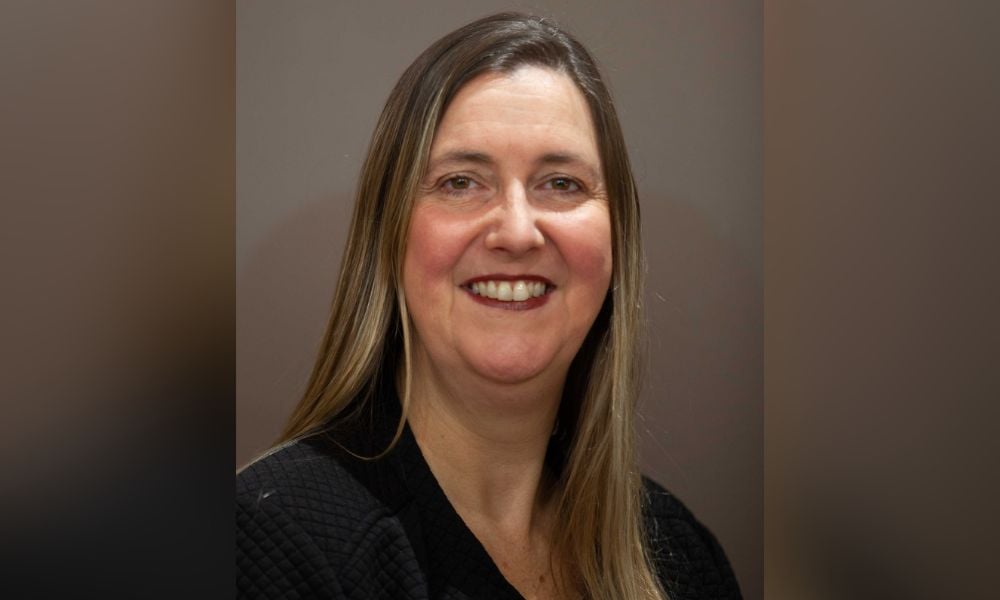 Frances Wood doesn't exactly enjoy talking about herself, but she accepts that people want to hear about her.
Known as "Frankie" to her colleagues, Wood is the 2023 recipient of the Ontario Bar Association's Joel Kuchar award for professionalism and civility. While the official presentation won't happen until the awards gala on May 31, the award is already a topic of interest.
"I have to say, I've been put on the spot a couple of times," said Wood, recalling a recent occasion when she and Jennifer Gold – her fellow partner at Wood Gold LLP – were presenters at a session of the Osgoode family law continuing professional development program.
"One of the organizers called out the award, and I think I went three shades of bright red," she said.
While it may be strange to be recognized for her approach to practising law, Wood said it's just who she is and how she operates.
"I think I've just always done all of these things because it feels like the right thing, but also because I'm trying to create both a world and a profession that I feel happier living in. I don't think of it as being anything special or anything different," said Wood.
"The hope is that we're going to be in this career for 30 or 40 or more years of our lives. And it's terrible to think that many people are miserable a lot of the time. That's no way to live, so I really have made it my mission to be pleasant in my exchanges with other counsel, just to try and get the best of us out of it."
Wood's style is a very personal one. She believes in building relationships and fostering goodwill among colleagues and clients. What she doesn't do is take the fact that she is on the opposite side of a case as another lawyer to heart.
"It's not a fight between me and opposing counsel. There's a dispute between our clients, but that doesn't mean I can't pick up the phone and say, 'How are the kids? How was your vacation last week?' First of all, it makes our practice so much nicer. If you get along with the people you're spending your days with, it really makes it so much more pleasant. It helps clients because if I'm not getting personal with opposing counsel, in my experience, we can cut to the chase a lot more quickly, and we can just get drilled right down to what the real core issues are that need to be resolved between our clients. If you can do that quickly, that's a real benefit to your client. I think it serves clients to be like that. It also serves all of us to help us enjoy this career that we've chosen."
Of course, being a friendly and civil colleague doesn't mean Wood is a pushover in the court – quite the opposite.
"It's not that you're letting anyone walk over you. It's not that you're letting anyone take advantage of you. The second I'm on my feet, I will make all the submissions, and I will argue to the end for my client. Absolutely, 100 percent. In my view, it's more effective to do that without getting personal. You don't have to be unkind. You don't have to be mean. You don't have to be vicious. You can do that while maintaining your civility and your professionalism. I can argue for my client to the end of the earth without being unprofessional.
"I don't think that the judges want to hear me getting all personal and huffy and puffy and enraged. I don't actually think that's effective advocacy. I think you're much more effective if you calmly get up and explain why the law is on your client's side while you use your best debating skills from your grade 8 debate class. Those are the skills that lawyers are trained in, and we are our best when we use our very, very best oral and written advocacy skills. You don't need to be the schoolyard bully. You can state your position, in my view, more effectively by being calm and rational and functional," explained Wood.
But there are other reasons why Wood's colleagues nominated her for the award. She said that her mentoring of other lawyers, especially young lawyers practising in her local area, was one of the factors.
Another was what she calls her "giving back side of things." This includes what Woods describes as "heavy" involvement in the Peel Law Association (where she served as president) and the County & District Law Presidents' Association – now known as the Federation of Law Associations – where she was an executive member. She is an active member of the Ontario Bar Association and served as the chair of the family law section and the access to justice committee. Wood is also on the board of directors of Luke's Place, an organization that provides legal and other services to women who have experienced domestic violence and are going through the legal system.
Wood Gold has offices in Brampton and Mississauga. Beyond her work as a lawyer, Wood, who has been a bar member since 1998, is involved in the local legal system in several ways. She serves as a dispute resolution officer in the Region of Peel and as a deputy judge in small claims court, where she strives to ensure civility and professionalism reign in her courtroom. When Wood is on the bench, she believes she must manage her courtroom so that "everyone feels heard, without letting it become a free-for-all… [because] people feel really deep in their souls the need to be heard."
While having the spotlight on her may be a new experience, Wood firmly believes in the value of awards like those presented by the OBA, and she also encourages members of the profession to nominate deserving colleagues.
"If you're thinking of nominating someone, absolutely do it. We don't nominate enough people for these kinds of awards. It isn't something that automatically jumps to everyone's mind as something to recognize. If there's someone in your circle who you think embodies those ideals, nominations are great. More people being recognized for this kind of work is a good thing," she said.
"Look for people around you who make you feel good about the practice of law: the people in your circle who make you feel that this is a good profession, that this is a noble profession, and who embody the ideals that make this one of the best professions that there is to have – as opposed to what we hear too often in media and in our circles, that [the profession] is destroying people and that it has significant impacts on your mental health and all of the rest of it."
While there is no denying the stress and strain being a lawyer can impose on a person's health, Wood points to the changes being implemented across the profession, including efforts by OBA president Kelly McDermott to emphasize good mental health and promote self-care as part of her mandate.
"I think that shows optimism and hope that we can pull up what's best about our profession and that we can continue to strive towards those ideals. I have optimism. All is not lost."