Moves come as Canadian IP law shifts toward international collaboration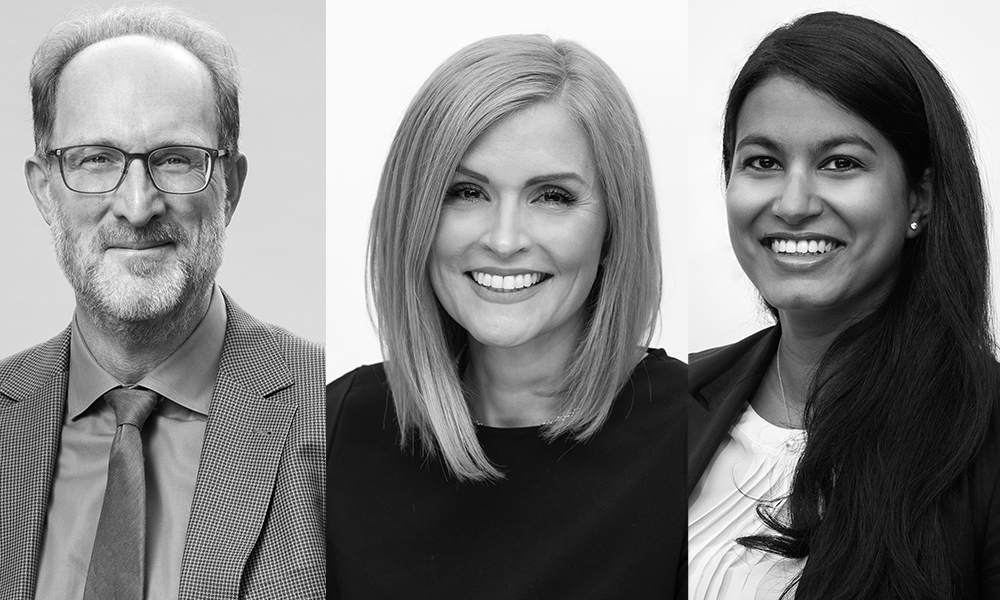 As the International intellectual property firm looks to expand further in Canada, Marks & Clerk have appointed three partners, including a new managing partner for Canada.
Jonathan Colombo, Catherine Lovrics and Amrita Singh will take up their new roles Aug. 1.
The roster additions continue the growth Marks & Clerk has been pursuing in the Canadian market, since their 2018 merger with Sim & McBurney doubled the firm's geographic footprint in the country. The firm will soon reach its hundredth year operating in Canada.
"Marks & Clerk is a tier-one firm in Europe, and they want to expand in Canada," says Colombo. "They merged with the Sim & McBurney… which has created a big splash in the Canadian market, and they wanted to continue their path to grow and become a preeminent Canadian IP firm."
"They reached out to us and we are very happy to join the team and help shepherd Marks & Clerk into its hundredth year in Canada. It is probably one of the oldest, if not the oldest, Canadian IP firms."
The new managing partner of Marks & Clerk Canada, Colombo is the former managing partner of Bereskin & Parr LLP as well as former co-leader its trademarks group. Colombo's experience involves trademark and copyright advisory, he was a member of the Canadian Trademark Agents Board of Examiners and has taught trademark law at McGill University.
With the Federal Government, last year, amending the Trade-marks Act and joining five international intellectual property treaties, Canadian companies are looking to compete with their IP internationally, Colombo says.
"Canada is a growing IP market. And one of the things, though, that Canadian companies can benefit from is a firm that has international reach," Colombo says.
Among the most pressing issues in Canadian IP law is how to manage in that global marketplace, leveraging IP rights which tend to be nationally recognized, says Lovrics.
"How do you achieve IP protection in Canada, grow here in Canada and expand out internationally?" she says. "And then on the enforcement side, likewise, how do you manage to keep your rights enforced internationally? And how do you do that cost effectively?"
Joining Marks & Clerk Canada to lead the copyright and digital groups, Lovrics is a copyright and trademark strategist, with experience in copyright, personality rights, marketing law and data protection. Lovrics is vice-chair of the Intellectual Property Institute of Canada's copyright committee, a trustee of the Copyright Society of the USA and was a Lexpert Leading Lawyers Rising Star in 2018.
Lovrics says she is excited to offer her clients the global reach to which Marks & Clerk has access.
"For me, part of this move was the ability to join a preeminent international IP firm and, in the copyright space in particular, to be able to help grow the copyright practice not only in Canada, but also internationally," she says.
"I do trademark prosecution and oversee large international portfolios and on that side of my practice, it's exciting to be part of an international firm where my clients will benefit from the ability to – underneath one umbrella – handle much of the portfolio."
Singh is an intellectual property law litigator and has acted for clients across a number of industries, including leisure, hospitality, chemicals, architecture and construction, pharmaceuticals and cosmetics. She is chair of the Intellectual Property Institute of Canada's litigation committee, a section executive with the Canadian Bar Association's Intellectual Property section and an elected representative of the Ontario Bar Association's Council.