Lawyers say they are navigating stricter policies and unstable legal aid funding, even as there is more need for their services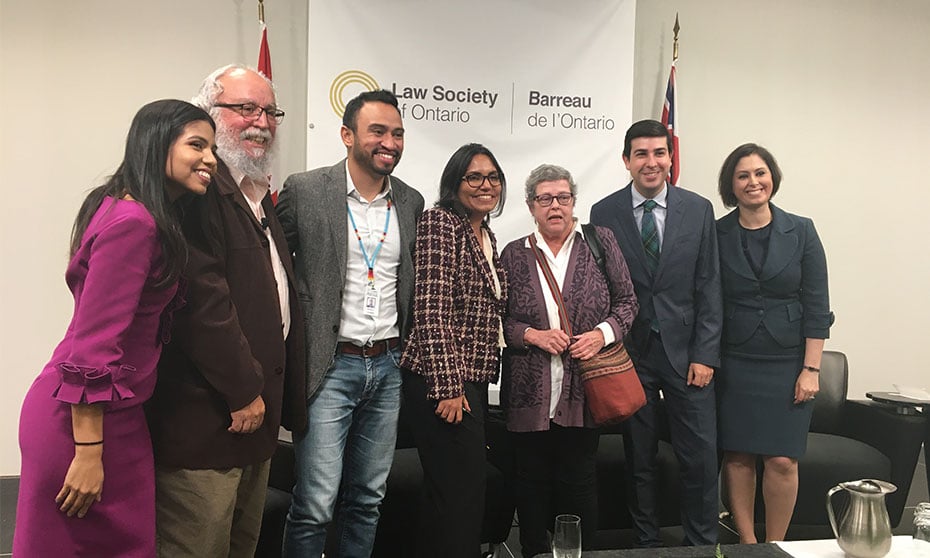 Immigration and refugee lawyers say they are navigating stricter policies and unstable legal aid funding, even as there is more need for their services amid humanitarian crises in Latin America.
The comments were made by panelists in Toronto at the Law Society of Ontario's Hispanic Heritage Month, hosted with the Canadian Hispanic Bar Association.
During her years as a lawyer, Canada has generally gotten worse when it comes to immigration policy, said Barbara Jackman at the event. Canada once allowed groups such as communists and socialists from Latin America, she said. But now most members of resistance movements, even progressive movements in repressive regimes, are labelled as security risks and terrorists.
"What's happened over the years . . . . is we've gotten tighter and meaner and restrict more and more in how the laws apply, and in what the law says. We criminalize the immigrants in a way that is just completely unfair," said Jackman.
Amid this clampdown, a surge of migrants are fleeing from the Carribean and countries including Mexico, Guatemala and Venezuela. These people have a hard time seeking shelter in the U.S. or coming to Canada, said Francisco Rico-Martinez, the co-director of the FCJ Refugee Center, who spoke about community services.
Immigrants coming from Latin America have faced a host of legal issues, including closed work permits in abusive job situations; temporary residency fees for victims of family violence; problems gaining protected status in Canada due to dual citizenship; and inconsistent treatment of Mexicans at points of entry due to use of "voluntary departure" and use of Mexican passports by other Latin Americans, said Rico-Martinez.
There has also been different availability of Refugee Protection Division services for different countries of origin, such as Mexico and Venezuela, he said.
Jackman and Rico-Martinez said that, like previous special programs designed to help refugees, the Canadian government needs to great a bridge for Latin American migrants. Both speakers identified issues with Canada-U.S. Safe Third Country Agreement, which requires refugee claimants to request refugee protection in the first safe country they arrive in, either the U.S. or Canada.
The policy has become a source of controversy in the upcoming federal elections, with left-leaning candidates looking to renegotiate or suspend the agreement and right-leaning candidates looking to reinforce the policy. Conservative candidate Andrew Scheer, for example, said on Oct. 9 that "legitimate refugees will wait longer and longer for Canada's help" under the existing system.
"Canada has done nothing for the thousands and thousands and thousands of Latin American refugees that are at the Mexico border. And it's not even part of the the discussion," said Jackman. "If we have any responsibility to refugees, it's ones in our hemisphere. [Conservative candidate Andrew] Scheer said, 'If we take the ones at the border, that means we're taking less from Syria.' Well, that's not true at all. Because there isn't a queue for refugees."
Another political battle that has impacted lawyers is the level of funding for Legal Aid Ontario. While Ontario's conservative government cut funds for immigration and refugee services, the federal government offered a one-time backstop.
"[After the cut] we were crying, literally. Because if there is no legal aid for refugees or appeals or humanitarian applications, the bulk of the work would be done by community agencies. And they don't have the resources," said Rico-Martinez.
While the current legal aid funding is set to last until March of next year, the future is uncertain, said Rico-Martinez.
"If we can help, we help, but the lawyers are stuck with a huge responsibility without enough payment," said Rico-Martinez. "We are a wealthy society. And we have the right to be heard by our legal system . . . . The funding the lawyers received to really deal with all the cases — if they do it, they are forced to do it because they love the work that they do. But the majority of time they are short of resources."
Aside from refugee lawyers, lawyers representing foreign workers also face an uphill battle, said lawyer Andrew Carvajal.
"I think there's a big divide between what the federal government thinks and what the provincial governments think. The federal government is saying, 'Okay, let's bring on these skilled professionals.' And then they get here — engineers, health scientists, doctors, lawyers, and psychologists — It's very hard for them to practice, and that is regulated by the provinces," said Carvajal.
Some of the issues include transitioning temporary workers to permanent residency and the new point-based system, in place since 2015, Carvajal said.
"There's a blatant contradiction between the desire to attract highly skilled workers, people who have more education than any of us, and yet we go to Winnipeg, we go to Vancouver, we go to Calgary and they're driving the taxi," Carvajal said.
It can be difficult for foreign-trained lawyers as well, said Gabriela Martinez, who previously worked in Venzuela.
"There is a path to accreditation," she said, adding that Ryerson University's Law Practice Program has made a big difference for foreign-trained lawyers interested in human rights law.
Despite the challenges of entering immigration law today, there are also opportunities, the lawyers said. Jackman said that she learned Spanish in order to better help Latin American clientele.
"For those who are already called to the bar, there's a lot of opportunities. I think one of the great things with practicing in a place like Ontario, especially in Toronto, is that it is becoming more and more Spanish-speaking. So, there's a lot of opportunity for getting that clientele there. People who are Spanish-speaking normally like to have someone who speaks their own language representing them. It varies by culture . . . . but I think we can connect with them better," said Carvajal.