Judge-alone trials or more lenient bail could stem delays, support health says CLA president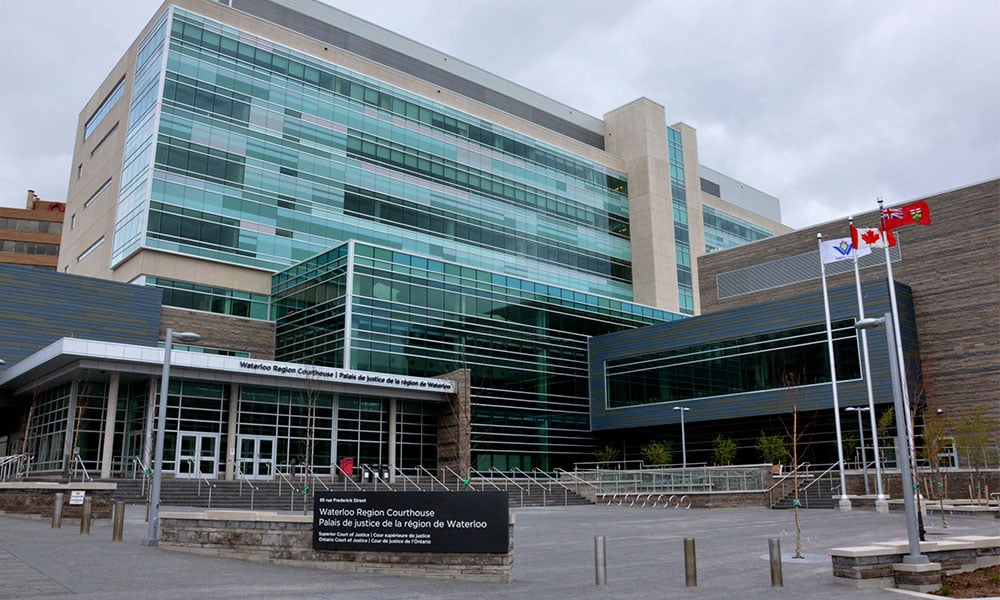 Chief Justice Geoffrey Morawetz's decision to suspend jury selection for future Superior Court of Justice trials was a "courageous" early call that "set the tone and led the way to treat this with urgent, deadly seriousness," says the president of the Criminal Lawyers' Association says.
The announcement that jury panels for upcoming matters are being directed not to attend court does, however, mean that some accused — particularly those who are unlikely candidates for bail — will suffer longer incarceration before they get a decision, says lawyer John Struthers. CLA president Struthers said that the right to be tried within a reasonable time, Charter s. 11(b), is unlikely to be invoked in relation to the COVID-19 virus.
"No question," says Struthers of the conditions for the accused. "There will be no 11b motions based on a clearly discreet and intervening event. These are very fast-moving events but re-election to judge alone, fair resolutions and possibly more lenient bail are some possibilities."
Nonetheless, Struthers says he supports efforts for the government to "immediately plan all necessary steps."
"Canada has a brief window to get ahead of this to soften the curve of the inevitable community spread so as to not overwhelm our heath care system," says Struthers. "We need to pull together from all sides of the justice system."
The court announced this week that any criminal matter set for a jury trial up to May 31, should be subject to a judicial pretrial by phone "about next steps." Ontario's superior court is now advising parties to contact local trial coordinators in criminal matters scheduled in the next 48 hours to avoid an issue being warranted. For witnesses, contact information is available through court offices, the superior court's website said.
While members of the public who are ill or have been travelling have been told not to come to court, jurors who have already been selected and are sitting on current jury trials "must continue to attend those trials, subject to any decision otherwise by the presiding judge," Morawetz said.
The new hold on jury trials comes as the criminal justice system has faced growing, ongoing pressure to minimize delays. Amid cuts to the legal aid system and changing rules, the CLA was already monitoring bail hearings for delay prior to the outbreak of COVID-19. Plus, many jury trials have been up in the air due to recent case law on peremptory challenges.
But Reid Rusonik, a Toronto criminal lawyer, said online that he thinks the virus falls under the ultimate "discrete circumstance." The 2016 decision, R v. Jordan, set deadlines of 18 months for provincial court trials and 30 months in superior court — and according to Global News' calculation, the deadlines stayed 800 criminal cases by mid-2019. The Jordan decision, however, notes that despite the strict timelines, there may be exceptional circumstances or "discrete events," such as medical or family emergencies. The case instructs trial judges to "be alive to the practical realities of trials, especially when the trial was scheduled to conclude below the ceiling but, in the end, exceeded it."
"There is absolutely no risk to public safety if trials are suspended indefinitely," said Rusonik. "[N]o charges will be 'thrown out' because they are delayed in violation of the Charter right to trial within a reasonable time."
At the same time, there is the mounting concern of the spread of the virus to prisoners: Within U.S. prisons, close quarters, bans on alcohol-based sanitizers and handcuffs have all raised red flags. Isolation techniques for incarcerated persons, such as solitary confinement, have also been criticized in the past.
"The only thing the courts should be doing are bail hearings and detention reviews with a special recognition of the massive public interest in not confining people in crowded, close quarters in the time of plague," said Rusonik.
Criminal lawyer Sean Robichaud said one way to reduce the virus' spread would be a court announcement "that no bench warrants (warrants with discretion) will issue for non-trial matters for the next four weeks so we can recalibrate and think of strategies."
For its part, the court said it is aware that "access to justice must be available if COVID-19 disrupts court operations."
"The SCJ knows . . . . is committed to ensuring hearings remain safe," the court said on social media.