Federal government should be 'focusing on bail reform,' premier says at police funding announcement event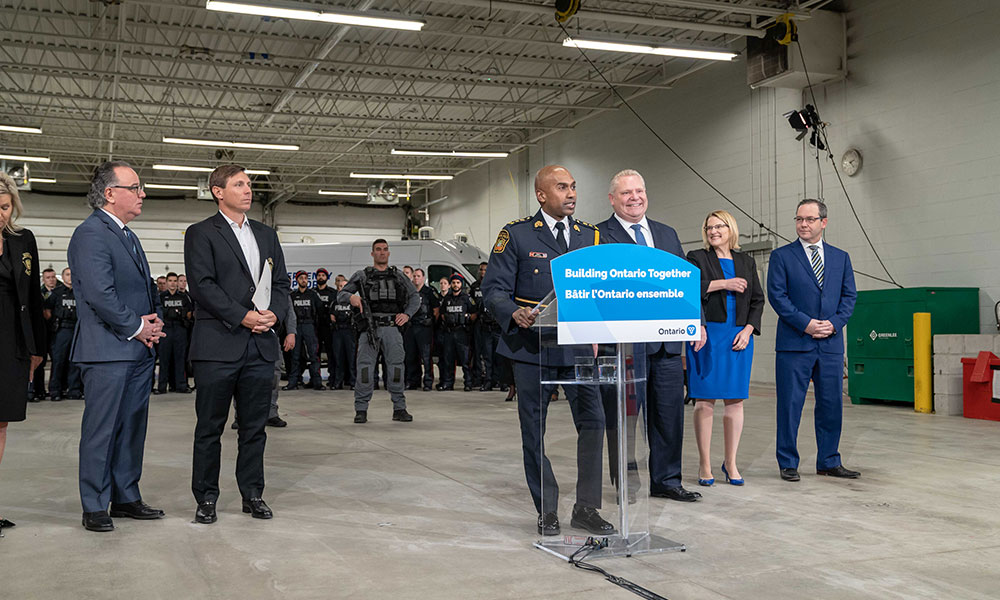 Judges and justices of the peace are being too gentle with firearm offenders, Ontario's premier said on Friday.
Doug Ford made the comments in Mississauga, Ont., where he announced $20.5 million in funding to Peel Regional Police.
Asked whether border officers need more money to prevent gun smuggling, Ford said that what the federal government should be doing is "focusing on bail reform."
"Judges and JPs have to toughen up," said Ford. "What's frustrating to not only ourselves but the police, is they catch a gangbanger and they are out on the street the next day… we have got to send a message."
Ford said his personal message to criminals was that his government planned to prosecute more firearm offenders.
"We're going to lock you up for a long time," said Ford at the event, adding that he did not support a blanket ban on guns since criminals were not rushing to register firearms.
Friday's remark was not Ford's first about the judiciary. During a 2018 press conference discussing the Charter's notwithstanding clause, Ford told reporters that he was concerned courts were blocking efforts to make the province better.
"No one else is the judge and jury but the people of Ontario," said Ford in Sept. 2018.
Friday's press conference also included commentary from Solicitor General Syvia Jones and Attorney General Doug Downey.
Jones highlighted the province's $71.8 million in spending on the Brampton courthouse "to enhance security and expand and modernize services to the public."
Downey said that "justice partners" were doing their job to address the growing problem of gangs "who prey on young and vulnerable people." He singled out "intensive firearm bail review teams" as a change that has made a difference. Jones also said that $1.9 million has been committed intensive firearm bail team in Peel to focus proceedings in the Toronto area in 2020.
"Gangs are finding new ways to recruit members and attempt to avoid detection," Downey said.
But reporters peppered Downey with questions about the MAG's handling of peremptory jury challenges and the Ontario Human Rights Commission.
Criminal lawyers are dealing with fallout from conflicting judicial directives on peremptory challenges amid confusion around a federal bill. A recent appeal on the matter may — as lawyers predicted — require new trials for many people who faced trial over the past six months. Downey declined to comment on the file specifically, saying only that his office was reviewing the matter.
Downey was also probed on his decision to appoint Toronto Police Const. Randall Arsenault to the Ontario Human Rights Commission. Lawyers at the Black Legal Action Centre have condemned the appointment, arguing the process of selecting Arsenault may have undermined the OHRC's independence.
When asked whether the appointment created a conflict of interest in the OHRC's investigation of police racism, Downey and Ford maintained confidence in the appointment and said any conflict would be dealt with by the person recusing themselves.
During a different part of the conference — not related to the OHRC question — Ford communicated his affection for the police force as a whole, nothing the involvement of his daughters in the institution.
"I absolutely love our police officers," said Ford. "There's my bias right there."