'It was a racially fuelled hit on my client', Selwyn Pieters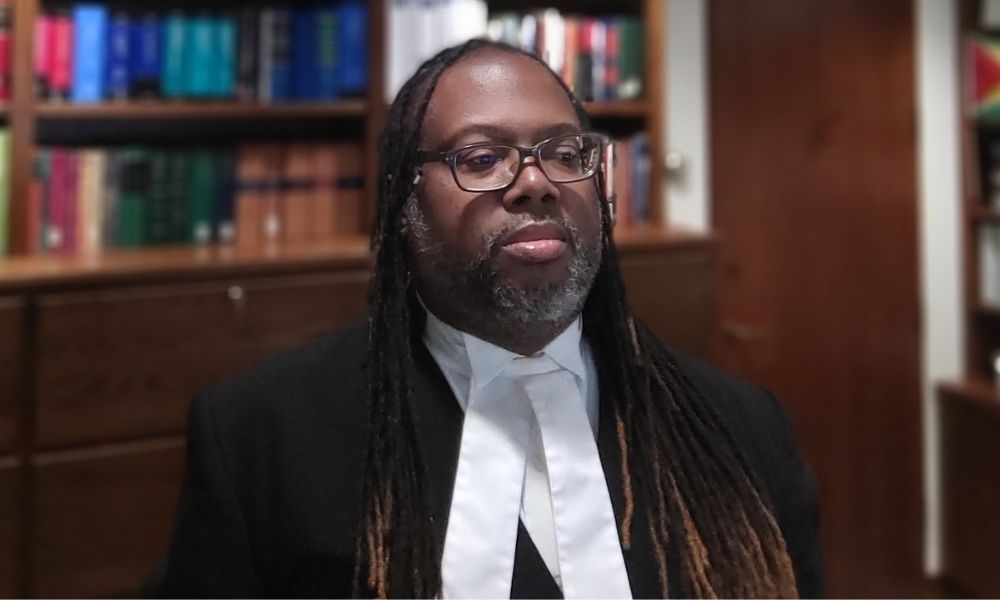 The Superior Court of Justice has granted bail to a Black man charged with second-degree and attempted murder in the shooting death of a white male because the evidence indicates a racist conspiracy to rob him, a possible hate crime and a solid defence argument.
The court's bail ruling is one of the first to consider the Court of Appeal for Ontario's Theriault decision that the racial context of a case must be considered when it involves Black people and anti-Black racism, the accused's lawyer, Selwyn Pieters, says.
"It was a racially fuelled attack on my client. It was a form of racialized violence," Pieters says, "it was violence completely motivated by hate, and how do you prosecute a person who is in a life-or-death situation when that situation is complicated as well by hate and violence?"
He says that a person exposed to a violent racial conspiracy involving a home invasion has the right to defend themselves by any means within the law.
In R v. Roberts, the Crown charged Vaughan Roberts with pointing a firearm, discharging a firearm with the intent to wound, using a gun to commit an indictable offence, possession of a loaded regulated gun and being an unlicensed person with a restricted weapon, along with attempted murder of Michael Muchmore and second-degree murder of Jason Wager following an argument.
Superior Court Justice Mark Smith released Roberts on bail conditions, including house arrest outside working hours and wearing a GPS monitoring device. His bail hearing was on Oct. 25, and Robert was released on Dec. 17, which Pieters says is unusual.
"It's probably the longest wait for a bail decision in my career," Pieters says, "Mr. Roberts ended up spending two months in custody to get his bail hearing and two months in custody to get his decision. He ended up spending four months, which was quite unfortunate but at least we got a favourable result."
Pieters says the state must think about the example it sets if it prosecutes a 20-year-old Black man endangered by a violent home invasion by the deceased and at least two known co-conspirators.
The Crown did not respond to Law Times' request for comment.
In his decision, Justice Smith wrote, "the evidence before me demonstrates that Mr. Roberts was the victim of a racist conspiracy and attack...it appears to me that there was an orchestrated plan by Mr. Wagar to rob Mr. Roberts." He also noted that Wagar had an extensive criminal record dating back to 1993 and was known to be violent.
Justice Smith wrote that there was some weakness in the Crown's argument. "There is evidence that Mr. Roberts may have been at the residence around the time of the incident, but there are no witnesses to the alleged murder of Mr. Wagar. There is no direct evidence that Mr. Roberts caused Mr. Wagar's death by gunshot or any evidence as to the mens rea."
He wrote that Robert's detention was unnecessary to attend court because he had no prior criminal records, was a Canadian citizen with ties to the Ajax community and was employed in his stepfather's construction company.
At the time of his arrest, Roberts was carrying a backpack with over $7,000 and 76 Percocet tablets, which the Crown suggested was evidence that Roberts was involved in a criminal lifestyle that included drugs and firearms and associated with individuals embedded in the drug subculture. However, relatives testified that it was not unusual for Roberts to carry large amounts because he did not have a bank account and worked in construction.
In R. v. St. Cloud, the Supreme Court established that the grounds for pre-trial detention is if a crime is serious or very violent, has overwhelming evidence against the accused, and has a vulnerable victim. However, Justice Smith wrote that the case had no overwhelming evidence, and Robert's self-defence claim exists.
"It is questionable that he [Wager] was vulnerable given his extensive criminal record and his detailed plan to rob Mr. Roberts, presumably using weapons found in his apartment," Justice Smith wrote.
"The evidence strongly suggests that Mr. Roberts was the target of a racially motivated attack and as outlined by the Court of Appeal in the case of R. v. Theriault, racial context is a relevant consideration."
Wagar's violent criminal history combined with racial abuses towards Roberts provides significant context when assessing the case, Justice Smith wrote.
The Toronto Star reported that in Pieter's submissions for Roberts, he pointed to text messages obtained by police showing the use of racist remarks and slurs to refer to Roberts and other Black people in the Kingston area.
Additional evidence also implicated Muchmore after a statement to police that he used a third-party's phone to communicate and conspire with Wagar in the attempted robbery, which Muchmore denied. The Crown argued that the evidence was tenuous because it was not in initial statements. However, Justice Smith disagreed.
"Given that there is some evidence that Mr. Muchmore may have played a part in the conspiracy to rob Mr. Roberts, I am of the view that this weakens the Crown's case on the attempted murder charge."
Justice Smith granted Robert bail with conditions that he remain in Ontario, resides with his sureties and dwell in residence except for medical emergencies, court-related purposes and employment with his stepfather.
He also ordered that Robert deposit all passports with Kingston Police, refrain from communicating with the other parties and going to Kingston except for court-related purposes, not possess any weapons unless through legal counsel to prepare a defence, cooperate with bail compliance checks and be monitored with a GPS ankle bracelet.
The Crown alleges that an argument started between Roberts and Wager at 15 Fergus Street in Kingston, where Robert shot Wagar four times. The Crown also alleged that Roberts confronted Muchmore after shooting Wager, saying, "do you want to die too" and fired twice before fleeing, but the bullets did not hit Muchmore.
The police attended the shooting area after a 911 call describing Roberts and arrested him with a backpack containing the money and Percocet tablets. They also found a fanny pack containing a 9mm Glock handgun with ammunition.