Joint report offers recommendations on charting board path through emerging risks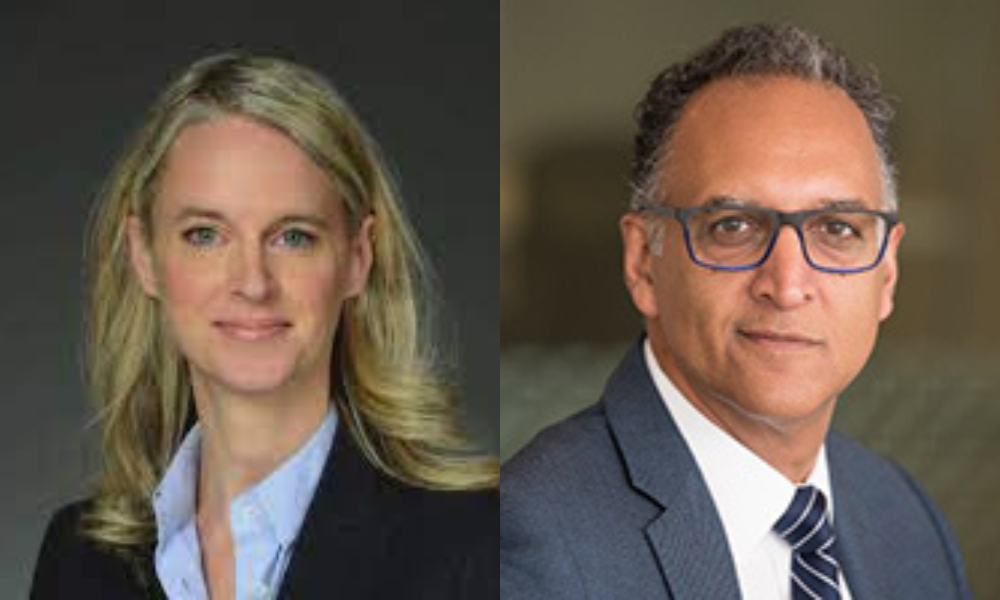 Lawyers advising corporate clients will play a crucial role in helping mitigate risks and prepare directors for challenges, such as climate concerns and geopolitical risk, say the co-chairs of a committee of the TMX Group and the Institute of Corporate Directors.
Two years in the making, the ICD-TMX Group committee of 13 directors has created a blueprint for the road ahead. It has recommendations on how to deal with a range of new and often competing risks. These include allegations of greenwashing and demands to divest carbon-producing assets to questioning companies that do business with countries such as China despite human rights concerns.
The latest report, Charting the Future of Canadian Governance, comes almost 30 years after the Dey Report in 1994, which laid out best practices for directors in the wake of a string of corporate scandals and failures. The Dey report helped improve oversight of management decisions and issues such as boards having a majority of independent directors and separating the roles of the board chair and chief executive.
"We hope that both internal and external corporate counsel who advise companies will take notice of this report," says Cheryl Graden, chief legal and enterprise corporate affairs officer at TMX Group and co-chair of the 13-member committee member that produced the report. "They are certainly an important audience for our recommendations."
Graden adds that lawyers "have always been the natural advisers to corporations and boards around corporate governance matters, so we think that counsel have a big opportunity to influence corporations and help good governance flourish."
Recommendations in the report include changing how directors do their jobs, urging boards to reconsider how senior executives are chosen and measuring the performance of leadership beyond the "narrow confines" of share price and duty to shareholders.
"While Canada has a strong track record in corporate governance, the status quo for boards in this country is not an option," the report said.
The report urges board directors to recognize that environmental, social, and governance matters cannot be considered separate from a company's strategy. The report also suggests that boards take strong oversight of climate change initiatives to determine if management has identified ESG issues relevant to the company's financial and competitive positioning and those important to stakeholders.
Rahul Bhardwaj, chief executive of the ICD and co-chair of the committee behind the report, says that the Dey report is a "seminal" document that set the tone for good corporate governance in Canada. However, he says, "the context of governance has shifted. We need to talk about what has changed, and what needs to change in the boardroom."
Graden adds that this need to look at change applies to large companies in corporate Canada and "the smaller cap venture companies as well, even though they may have a different set of resources and challenges."
Changes in corporate governance also must be seen within the context of rising expectations, Bhardwaj says, "whether it's employees, customers, regulators, stakeholders and society in general, as well as shareholders."
These expectations require that boards must "up their game," Bhardwaj says. "It's a multi-stakeholder environment right now, and we even have case law now supporting the concept of a multi-stakeholder environment. So, if you're looking at creating long-term value, you've got to ensure that your strategy addresses these stakeholders. You can't simply pay lip service to these developing concepts."
Diversity in the boardroom is also an increasingly important factor, Bhardwaj says. "You've got to look at who's around your boardroom table and look at diversity as an important piece as a driver of strategy. When you start to think about geopolitical change, cyber risk, equality and inclusion, you have to ensure that you've got that capacity and competence around the board."
Bhardwaj says that the ICD can also play a critical role in enlarging the scope of who should be considered as a board director, given the regular education it provides new and returning directors.
"This is what we're all about – ongoing director education whether it is through or long format or short courses," he says, "We want to use the principles in this report to ensure our curriculum is up to date and reflects the values we want to uphold.
Graden says she hopes that boards will use the report to have conversations with their legal counsel, internal and external, about the next steps regarding good governance. And that goes beyond the "purely legal-related board governance questions."
Legal advisers are "uniquely positioned with the legal knowledge, ethical background and skills set to offer good judgement in navigating complex issues," she says. "They have the opportunity to help good governance flourish."
The report doesn't offer a "checklist" for directors to use and assess how well their board performs, as the changes being advocated "are strategic, not tactical." It's about not telling boards what to think, the report adds, "it's guiding boards through all the key things to think about, not just one area or two areas."
However, it does set out some guiding principles, such as:
Principles for boards to improve stakeholder identification and engagement, such as determining whether management's investor relations activities take account of the composition and nature of the company's shareholders.
Principles for board oversight of ESG, including whether management has clearly identified the ESG issues relevant to the company's purpose, its financial and competitive positioning, and of importance to stakeholders.
Principles for the board's role in developing strategy, including using board members' experience and expertise to offer management guidance.
Principles for improved risk management oversight, using directors' external perspectives and expertise to collaborate with management to identify the business's risks.
Principles for better oversight of performance measurement and reporting, such as considering the appropriateness and quality of information that management uses to determine whether the company is achieving its purpose or goals and achieving optimized outcomes for its stakeholders.
Principles for board oversight of corporate leadership, such as determining whether the CEO's competencies and character are suitable for the new world of multiple stakeholders and society's rising expectations of corporate responsibility.
Principles to drive high-performing boards, including regular efforts to stay current on changes in the broader external environment that could affect all businesses. Achieving this goal also means assessing the performance of individual directors and the board as a whole once a year, including determining whether board deliberations take account of the views of all its members.
Principles for selecting a high-performing chair would include assessing the candidate's understanding of the company's industry, its business model, and the environment where it operates.