Judge said applicants had 'basic misunderstanding' of challenged sex-work law's provisions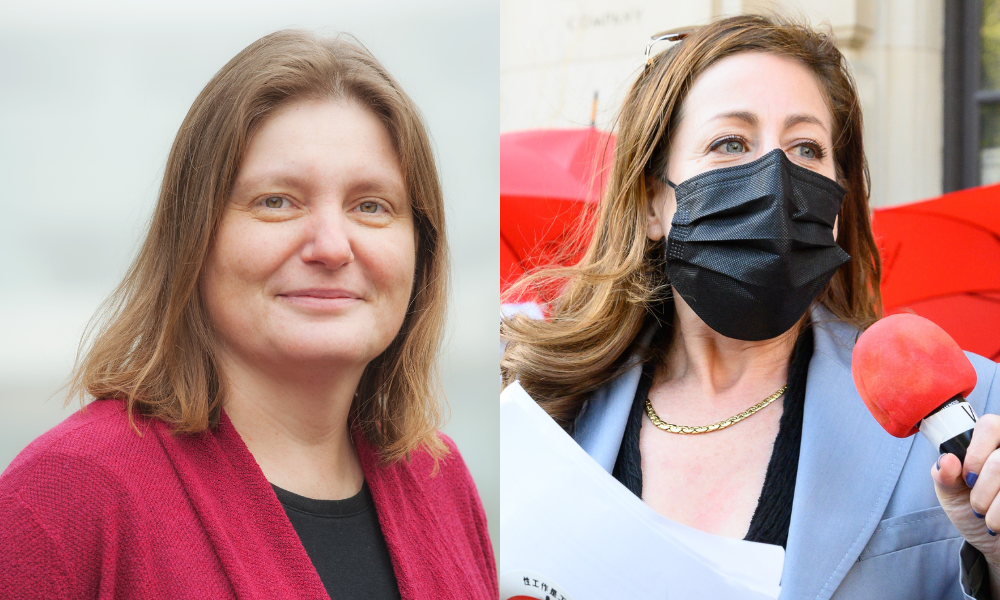 A group of current and former sex workers and sex work law reform advocates have lost their case at the Ontario Superior Court, which argued that several sex-work-related Criminal Code provisions were unconstitutional.
The applicants said that various prohibitions, which were enacted in 2014 in the Protection of Communities and Exploited Persons Act (PCEPA), violated Charter-protected free expression; free assembly; life, liberty and security of the person; and equality rights. While Ontario Superior Court Justice Robert Goldstein found several of the provisions violated s. 2(b) of the Charter's right to freedom of expression, he found they were saved by s. 1. Overall, Goldstein ruled PCEPA Charter compliant.
The applicants argued that in several aspects, PCEPA threatened the safety and lives of sex workers. They said it prevents them from "accessing safety measures or third-party services, working in association, or operating from fixed indoor locations." The applicants said the law prevents sex workers from screening clients, from communicating with clients to "establish boundaries and prevent violence," discourages them from reporting violence to the police, and stigmatizes them, which increases discrimination and violence.
Jenn Clamen, national coordinator of the Canadian Alliance for Sex Work Law Reform, one of the applicants in the case, says she is concerned with how the court dismissed academic evidence and the evidence from sex workers.
In his reasons, Goldstein said that there is evidence that many sex workers do not understand that they are immune from prosecution for selling their sexual services and unnecessarily fear arrest for it.
"This dismisses not only sex workers' experience but the evidence provided by fact witnesses that specifically stated that Black and migrant sex workers are being arrested under PCEPA," says Clamen.
She says that Goldstein also demonstrated ignorance of the "proven relationship between criminalization, stigma, and violence." Goldstein found that the applicants could not establish a causal connection between stigma and PCEPA, nor between PCEPA and the "fraught relationship" between police and sex workers which discourages sex workers from reporting violence to police.
"Even for communities beyond sex workers, we know that criminalization results in stigma and in violence – both physical and institutional," says Clamen. "This is demonstrated in Canadian and international research. Saying that there is a lack of 'empirical evidence' makes us question any real engagement with the record."
In the ruling, Goldstein said the applicants' evidence revealed a "basic misunderstanding and misreading of the challenged offences." He said they argued that the provisions prevented sex workers from hiring security or other third parties, from establishing "incall locations" and forming collectives, and that the law made them vulnerable to criminal charges. "All of these assertions are incorrect," said Goldstein, "as they are based on a faulty interpretation of the law or are the collateral consequences of the asymmetric prohibition scheme."
The judge noted at the beginning of his 142-page decision that "sex workers should understand that PCEPA, properly interpreted, does not prohibit them from accessing safety measures, working in association with each other, and accessing the services of non-exploitive third parties." He said sex workers can safely seek police assistance without fear they will be charged for selling sexual services, receiving a material benefit from their own sexual services, communicating with customers, or advertising. Under PCEPA, sex workers cannot be prosecuted for communicating with customers in public, "except where they do it under certain specific geographical circumstances, such as near a place where children are regularly found, or by stopping traffic on public roads," said Goldstein.
The "key finding" in Canadian Alliance for Sex Work Law Reform v. Attorney General, 2023 ONSC 5197 is that there is no constitutional right to buy sex or to profit from another person's sexual services, says Dr. Janine Benedet, who represented an intervenor, the Women's Equality Coalition, with co-counsel Gwendoline Allison.
"Parliament can validly legislate to prohibit those activities in the interests of the many, many vulnerable people – mostly women – who end up in the commercial sex trade," she says.
Benedet is a law professor at the Peter A. Allard School of Law at the University of British Columbia. Her teaching expertise includes criminal law and the law of sexual offences, and her research focuses on sexual violence against women. The Women's Equality Coalition supports sex work's abolition as part of a commitment to equality for women and girls, says Benedet.
The fundamental argument that the coalition put to the court was that recognizing a Charter right to sex purchase is dangerous and harmful to women, and Canada's legislative approach in PCEPA – known as the Nordic model – is used in democratic countries across the world that are committed to gender equality, she says.
"It's not a coincidence that the majority of those in prostitution are women, and almost all of the buyers are men," says Benedet. "That gendered distribution in prostitution – not to mention the fact that racialized and Indigenous women are over-represented – isn't an accident. It actually speaks to exactly what this practice is, which is a practice of inequality."
She says that Goldstein found sex work to be "inextricably linked" to sex trafficking and rejected the applicants' claim that most sex workers are not coerced or trafficked. "Coercion and inequality make up the majority of what's going on in the sex industry. And that's an important recognition."
In Canada (Attorney General) v. Bedford, 2013 SCC 72, the Supreme Court of Canada found several sex-work-related Criminal Code sections unconstitutional. The court struck down prohibitions on keeping a common bawdy house, living off the avails of prostitution, and communication for the purpose of prostitution. The ruling required Parliament to respond, and it produced PCEPA which received Royal Assent in 2014.
The Canadian Alliance for Sex Work Law Reform and six other applicants sought a ruling from the Superior Court that several offences in PCEPA are unconstitutional, violating ss. 7, 2(b), 2(c), and 15. The applicants challenged s. 213(1) of the Criminal Code, which makes it an offence to stop or impede the free flow of pedestrian or vehicular traffic to offer or obtain sexual services. They challenged s. 213(1.1), the law against communicating near a school, playground or daycare to offer sexual services. They challenged s. 286.1(1), the offence of purchasing, or communicating for the purpose of purchasing, sexual services. The applicants also challenged s. 286.2(1), which prohibits receiving a material benefit from sex work. And they challenged ss. 286.3(1) and 286.4(1), which make it an offence to procure, recruit, hold, conceal, or harbour a sex worker, and to advertise sexual services.