A former trusts and estates lawyer says her years of private practice laid the groundwork for her series of award-winning legal thrillers.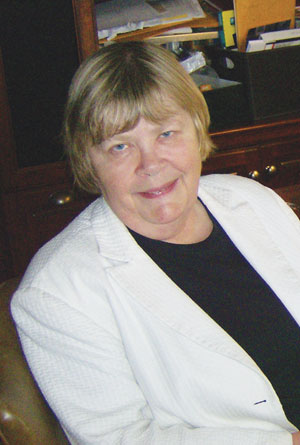 Mary Martin, who was born and raised in Toronto and practised in the city from 1973 to 1999, credits her experience in a small firm for inspiring many of the characters and issues in her novels, one of which recently landed her the Best Fiction Aaward in the Reader Views Awards, which honour the best in North America's independent, English-language publishing industry.
"Much as the major satisfaction comes from the writing and creating, you really want to get published, you really want to get recognized," says Martin. "Otherwise, you sort of feel like you're talking to yourself in a vacuum. I think that's the gratification aspect [of getting the award] - somebody's hearing you."
Martin drew the award for her third book in her Osgoode Trilogy series (www.theosgoodetrilogy.com), A Trial of One. The book follows the series' protagonist, Henry Jenkins, as he tries to recover lost shares - sold to raise money to fund research into memory loss - owned by an elderly client.
The book also received honourable mentions both at the London Book Festival and the Do It Yourself Convention, and also has been listed as a finalist in the ForeWord magazine Book of the Year Awards.
Martin, who earned a history degree at the University of Toronto before moving on to get her law degree from Queen's University in Kingston, credits the late Toronto lawyer Bob Gray for laying the foundation for her legal career. Gray, then 60 years old, hired her at a time when few women were in the profession, and she says he ensured she wasn't stuck in the back room in her early years of practice.
Martin says she modeled her protagonist in the Osgoode Trilogy, Henry Jenkins, after Gray, whom she describes as "a man ahead of his times," in terms of welcoming women into the profession, and "a terrific gentleman."
"The attitudes toward the practice of law, toward the clients, toward the profession," says Martin when asked to describe her former partner's traits that have been transferred to her fictional character. "Really viewing the profession as - I hesitate to use the term - one of the helping professions."
Martin says that, while Gray was a superb practitioner, he was not much of a businessman. She says he showed her how to develop a love of helping people.
Martin says this outlook on the profession showed her that lawyers have a "window on humanity," as they deal each day with their clients' sensitive - often bizarre - personal matters.
Martin says many of her experiences with clients have ended up in her writing, which is a vocation she says she was interested in from the age of 18. But after learning of the struggles many writers face in making ends meet, she decided to pursue a legal career on the urging of a university professor.
It wasn't until Martin was in her 40s that she returned to writing with the intention of publishing a book. One day while vacationing at a northern Ontario ski lodge, she pulled out a yellow legal notepad and began developing the adventures of Henry Jenkins. She says that first book, Conduct in Question, slowly progressed over several years, as she was hard pressed for time between raising three children and keeping her law practice afloat.
Martin, who continues to live in Toronto with her husband, says she feared her family's reaction to her plans to write The Great Canadian Novel. But she was pleased to see them perk up when she added that the books would be crime thrillers.
She says she learned from that feedback that she could use the genre as a plot driver while including the social issues she was inspired to delve into upon reading some of her own favourite authors, such as Fyodor Dostoevsky, Thomas Mann, Charles Dickens, and Robertson Davies.
While Martin's relationship with the law has ended - she has no involvement in any legal organizations or initiatives, but up to 2006 continued to do small legal tasks for some of her elderly clients - she says she has nothing but good memories of her time in the profession. She says her decision to turn to writing is much like a lawyer who branches out into the business world after many years in practice.
And she believes the book offers Ontario lawyers, and particularly those practising in Toronto, an opportunity to reflect.
"Anybody who practises law hopefully has a few minutes sometimes to sit down and think about what they're doing and what eaffect they're having on their clients, their profession, their world around them, the people they love and care for. In a sense, the trilogy really provokes that kind of thinking."