Former Ontario attorney general Michael Bryant, who last week announced his departure from political life, says his post atop the government's legal arm was a "dream job" he could not have envisioned.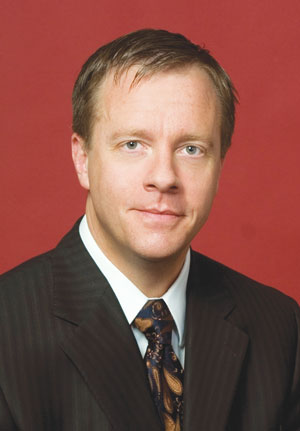 Bryant announced he was stepping down as minister of Economic Development, and will soon vacate his post as MPP for the Toronto riding of St. Paul's. The move ends, or at least pauses, a high profile and ambitious run in office that many expected would lead to the premiership.
Asked why he decided to leave politics, Bryant says, "I hope that 10 years is a significant contribution to public service." He says he also wanted a change, and was drawn to the "excellent" position that he now holds as president and CEO of the new Invest Toronto Corp.
Born and raised in Victoria, B.C., Bryant received his legal education at Osgoode Hall Law School and Harvard University. His career in law began with a clerkship at the Supreme Court of Canada, and he moved on to practise with New York law firm Sullivan & Cromwell LLP and then McCarthy Tétrault LLP.
Bryant used that dense legal background to vault into the role of attorney general in 2003, where he made some of his biggest contributions while in government. He tells Law Times in an interview that he knew it would be the "best legal position that I would ever have."
"It was just incredible. It was literally occasionally an out-of-body experience, and I enjoyed it," he says.
Bryant says he saw opportunities for reform in various areas, and "tried not to let the urgent overly obstruct the important."
"That is a position where the issues management can swallow up everything else, and you're not able to point to changes you made over four years because you handled the crises of the day. You have to find a way to do both."
As AG he spearheaded a long list of initiatives that created controversy: legalizing paralegals, overhauling the province's human rights system, banning pit bulls, and reintroducing a Law Reform Commission, to name a few. He says he wouldn't change a single measure.
"I have not one iota of regret about anything that we did," he says. "I would strenuously argue that everything done has turned out as good or better than predicted. And I'm not surprised that there's lingering controversy around the changes, because they were in some cases changes that were a long-time coming."
Bryant credits his successor, current Attorney General Chris Bentley, for pushing the agenda along. "Attorney General Bentley has masterfully implemented or improved on whatever I was able to accomplish in terms of those items that required implementation after 2007. Thus far, I certainly think that they were the right decisions for the government, bar, and bench. But it still may be too early to make a definitive appraisal."
He also gave credit to members of the legal community who graciously gave him advice while AG, without gaining any of the recognition. "The willingness of lawyers and judges and retired judges to help without getting credit was one of the best bonuses of the job," he says. "There's no question that that support made all the difference in terms of achieving whatever we were able to achieve.
"The very nature of the advice is I can't name names, but it is a real credit to the system, that so many lawyers and judges and paralegals and other professionals believe that part of their obligation is to serve the public, and that means helping out and sometimes saving the bacon of the attorney general. I'm obviously eternally grateful for that."
It was a "bittersweet" departure when Premier Dalton McGuinty shuffled his cabinet in October 2007 and moved him to the Ministry of Aboriginal Affairs.
"A lot had been accomplished by the government in the justice portfolio," he says. "I wanted to do more, obviously. It was bittersweet in that the Aboriginal Affairs portfolio is something I had devoted a lot of my pre-political professional life to - in my studies and in my practice. I wanted to have the opportunity to work on that intensively and full time. So I relished that opportunity.
"However, the attorney general job was very difficult to let go of, in that never in a million years would I have volunteered it. But I had a sense that a change in portfolios might be in the best interests of the government and of myself.
And I was thrilled that it was Bentley appointed, because he had been so helpful to me in my term as attorney general. And I felt that he was absolutely the only person who should do it, and I'm very glad that the premier felt the same way."
While Bryant is not yet returning to practice, he expects he will use his legal training with Invest Toronto, which he describes as "a bully pulpit for economic growth for Toronto." He says his advocacy skills will be vital in pushing for new investment in the city. As a CEO, he adds, "The strategic approach you take as an advocate, as a litigator, will apply here."
Bryant says he "will always have a desire to practise law," but adds that he can't see himself wearing a gown and appearing before a court after having appointed judges as AG.
"Truth be told, I'm not sure what the future holds on that front, but I'll always have some connection to the law. I wouldn't be surprised if I end up at least teaching, through a law faculty, a class," he says. "I'm surrounded by lawyer friends and my brilliant lawyer wife [Gowling Lafleur Henderson LLP entertainment law partner Susan Abramovitch], so certainly I'll never be that far from the law."
Bryant also weighed in on the state of the profession, saying the economic downturn precipitated by missteps within the financial sector reiterates the importance of lawyers' code of conduct and professional obligations.
He says those principles "have allowed us as a profession to avoid the pitfalls of the horrible judgment, in hindsight, that was exercised by people in the financial sector. In some ways, I think that we're a model for those parts of commerce that appear to be broken."
However, Bryant believes the "economic reset" following the recession will have a significant impact on the legal industry's delivery and billing of services.
"I don't know exactly how that will unfold. But already we're seeing, I think, some changes."
He also believes the legal expertise and justice system in Toronto and throughout Ontario is a marketable resource that he plans to exploit at Invest Toronto. Chief Justice Warren Winkler has voiced a similar view; one Bryant says has shaped his approach.
"We have a justice system that's second to none, certainly in terms of its credibility and independence, and the same with the legal profession," says Bryant.
"Looking to other jurisdictions in the world, and even the United States, I think you'd rather be a defendant in Ontario on a class action where you're going to get a fair shake and an independent judge, versus some of the rocket-docket activities that take place in some states in the United States, where the judges are elected and the lawyers will have literally donated to their campaigns."
He says, "We have, in typical Canadian fashion, not marketed the value-add that our justice and legal system brings to Canada. I will certainly be trumpeting the virtues of that, and it will be something that I think will enhance our financial sector, already ranked the best in the world in terms of the banking system."