Toronto artist Quentin VerCetty's work will be unveiled in January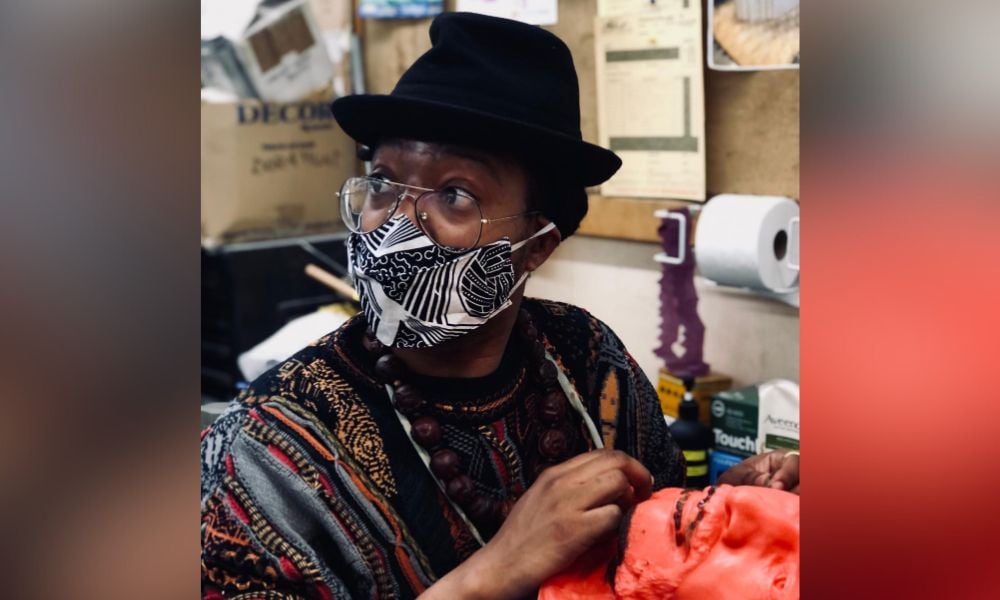 The artist sculpting a commemorative bust of Lincoln Alexander is firing up his kiln oven to mould a bronze likeness of the lawyer who was Canada's first Black member of Parliament, cabinet minister, and lieutenant governor of Ontario.
Alexander's commemorative bust will be installed in the Ontario Legislative Building at Queen's Park, where it will be displayed for public tours and educational programs. The LINC Bust Committee and Licensed to Learn (L2L) are directing the project and recently kicked off its "creation stage." Toronto artist Quentin VerCetty has commenced work on the bust, and his product will be unveiled in a public ceremony at Queen's Park on January 21, 2024, Lincoln Alexander Day.
Displaying the Lincoln Alexander bust at Queen's Park, where Ontario students will attend on field trips, will be a way to remind the public of the "value and impact of this incredible human person," says Rosemary Sadlier, past president of the Ontario Black History Society and chair of the LINC Bust Committee.
"I'm saying that with all respect. I've met a lot of people – some people make you feel seen, and other people don't. Lincoln Alexander had a way of making people feel seen. I think that is what students and the general public will get when they go in and see him as a bust at Queen's Park."
"Lincoln Alexander is important because he represents what is possible when people are in a position to secure educational opportunities and act upon them," she says. "Here's a man who made good on his opportunity, his commitment, his intelligence, and his charm. He was a really wonderful person to meet and be with."
The commemorative bust project operates on funding from individual donors and support from the Black Opportunity Fund and the Royal Bank of Canada.
With a focus on the socio-economic employment of Black communities in Canada, education is a key focus area for the Black Opportunity Fund, says executive director Craig Wellington. The bust's permanent display in front of educational tours will allow Canadians to "learn about this great Canadian and his significant accomplishments," he says.
The son of Caribbean immigrants, Toronto-born Lincoln Alexander received a law degree from Osgoode Hall Law School in 1953. He practised in Hamilton before opening his own firm and was appointed Queen's Counsel in 1965. He became a Conservative member of Parliament in 1968, the first Black MP in Canadian history. Alexander was also the first Black cabinet minister, serving as the minister of labour to Joe Clark's government.
In the 1980s, he spent five years as the Ontario Workers' Compensation Board chair before being appointed Lieutenant-Governor of Ontario in 1985, the first Black vice regal in Canada. He later served as chancellor of the University of Guelph and chair of the Canadian Race Relations Foundation. In 2021, Toronto Metropolitan University renamed its new law school the Lincoln Alexander School of Law.
The Black Opportunity Fund has a justice working group to provide recommendations on developing the federal government's Black Justice Strategy.
"Lincoln Alexander, as a prominent legal professional, and with the stances he made as chair of the Canadian Race Relations Foundation, certainly resonate with our mandate and our mission," says Wellington. "We're very pleased to be supporting this important initiative."
"We have had an erasure of the accomplishments of certain groups in Canada throughout our history," he says. "We're not taught about the great accomplishments of, particularly, Black and racialized Canadians…The more we know about each other, the better we become a society."