An Ottawa lawyer has filed a complaint with the Law Society of Upper Canada against a Toronto lawyer for advertising in a publication that has been criticized for being overtly racist, misogynistic and homophobic.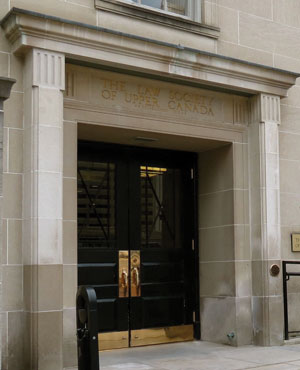 Ottawa human rights lawyer Richard Warman submitted the complaint against David Faed after he allegedly placed repeated advertisements in Your Ward News, a Toronto-based newsletter that publishes content described as anti-Semitic.
Warman filed the complaint in March, seeking an investigation.
Canada Post stopped circulating the newsletter this summer following an order by Public Services and Procurement Minister Judy Foote.
The Toronto Police Service is also conducting an investigation into the newsletter concerning hate propaganda offences.
Warman says he did not believe it when he was first told a lawyer was advertising in Your Ward News.
"My main impression was that hopefully the member wasn't aware of the type of publication he was advertising in," he says.
"But when I spoke with Mr. Faed directly, it became clear that wasn't in fact the case."
Warman says Faed continued to advertise in the publication after Warman contacted him to voice his concerns in 2015.
Warman then filed his complaint after he says it became apparent Faed had no intention of pulling his ads from the publication.
In a statement to Law Times, Faed said, "This is libellous trash falsely attributed to me. I warn you to reconsider this."
Warman's complaint lists a number of sections in the law society's Rules of Professional Conduct, which he says Faed's advertisements have broken.
One is s. 2.1-1, which requires that lawyers have a duty to carry out their responsibilities "honourably and with integrity."
Section 6.3.1-1 of the rules requires lawyers have a "special responsibility to respect the requirements of human rights laws" and to "honour the obligation not to discriminate."
Warman says financially supporting a publication such as Your Ward News through advertising is a breach of those rules and constitutes unprofessional conduct.
"It's incumbent on every member of the profession to uphold the equality of all human beings — not just from a human rights perspective but also from a professional practice perspective as well," Warman says.
Warman adds that the ads break law society rules on advertising, marketing and sexual harassment.
Speaking generally, LSUC Bencher Malcolm Mercer says the law society's rules require that any advertisements lawyers use have to meet certain standards of professionalism.
"It's important that the public, society generally, continues to have confidence in the administration of justice and for that purpose has confidence in the legal profession," he says.
"And so if advertising or marketing brought the administration of justice into disrepute, that would be corrosive of the system generally."
Mercer could not speak about the specifics of the complaint, as benchers can be called to serve as adjudicators in discipline cases.
Faed's ad cites his website and phone number, but it does not identify his name.
A disclaimer at the bottom of the ad distances Faed from the New Constitution Party of Canada — the neo-Nazi political party of James Sears, the newsletter's editor.
The disclaimer says, "INDEPENDENT. I AM NOT INVOLVED WITH THE NEW CONSTITUTION PARTY OF CANADA."
Warman says this disclaimer suggests that Faed was aware of the paper's "repeated publication of discriminatory material" before he contacted him.
Based in eastern Toronto, the controversial free newsletter claimed it had a circulation of 300,000 before Canada Post stopped delivering it.
Warman says the publication openly advocates Nazism and engages in Holocaust denial.
Detective Constable Kiran Bisla, of the Toronto Police Services Hate Crimes Unit, says the police started an investigation into the newsletter after receiving complaints by residents. She declined to comment on specifics of the investigation, but she said it is ongoing.
"We are aware of the publication and it's currently under investigation," she says.
Under the Criminal Code, hate propaganda is defined as "the public promotion or incitement of hatred against an identifiable group."
Anti-racism activists had requested Canada Post stop distributing the newspaper, but it was not until Warman filed a complaint to the Canadian Human Rights Commission against Canada Post and the federal government in the spring that the order was made to stop circulating it.
Warman says that in addition to the discriminatory content of the newsletter, it also advocates some troubling views concerning the justice system.
In the fall 2016 edition of the publication, one piece advocates "Jury Nullification," which it describes as "when a Jury ignores the 'law' and the 'FACTS' AS PRESENTED TO THEM," and instead rules "based on what they feel is MORALLY RIGHT."
The piece goes on to list a number of principles juries should follow that include a demand that men who are accused of "non-violent sexual assault and rape" must be acquitted.
"To be involved with a publication that openly advocates obstruction of justice takes it to a whole new level. I would hope that Mr. Faed would then reconsider his position," says Warman.
A spokeswoman for the law society would not confirm whether the regulator was investigating Faed, but Warman says the law society confirmed an investigation was ongoing in late November.
"This will permanently damage my reputation as a 45-year defender of criminal cases and will lead to prejudice in court against the falsely accused," Faed said in his statement to Law Times.