Ontario provincial, superior, and appeal court judges discussed the challenges in improving EDI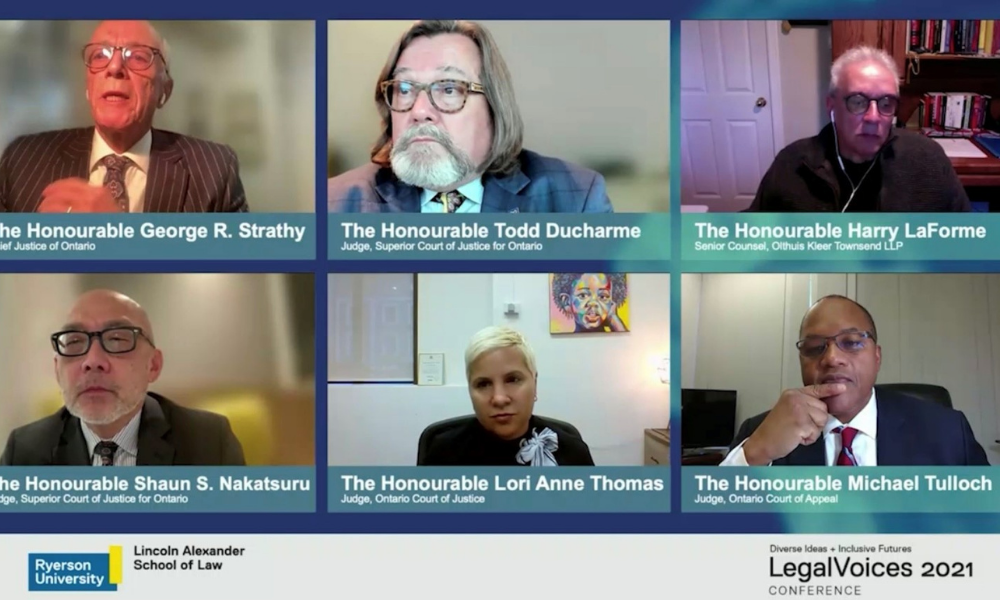 A panel of judges gave insights on the importance of cultural representation on the bench and discussed challenges and advancements of equity, diversity, and inclusion in Canada's judiciary at the Lincoln Alexander School of Law Legal Voices Conference. In his keynote speech, the newest member of the Supreme Court of Canada, Justice Mahmoud Jamal, said the legal community must keep making the case until the judiciary and profession appropriately reflect the diversity of the Canadians they serve.
Justice Jamal said Supreme Court judges have supported greater diversity in the judiciary for over 30 years and sometimes stoked controversy referring to Justice Betha Wilson's 1990 speech, "Will women Judges really make a difference?"
Drawing on published reflections from female Supreme Court Justices Bertha Wilson, Claire L'Heureux- Dube, Beverly McLachlin, and other justices who call for judicial diversity, Justice Jamal explored three reasons for diversity in the Canadian judiciary. He said judicial diversity enhances the judiciary's institutional legitimacy, improves the quality of decision-making, and is important because public institutions must be open to all Canadians, especially to young Canadians.
A diverse judiciary is essential, and these claims have implications for the relationship between judicial diversity and merit, Justice Jamal says. "Merit is not evaluated first and separate from traditional diversity, with diversity coming into traditional selection once there is a shortlist of people merit. Rather, diversity in all its forms is itself a component of merit."
The judiciary, lawyers, and legal academics discussed advancing EDI in the legal industry at the Legal Voices, Diverse Ideas, and Inclusive Futures conference hosted by the Lincoln Alexander School of Law at Ryerson University. The conference provided a space for insightful dialogue, reflection, and action on EDI in legal education and practice.
The "Balancing the Bench" panel moderated by Ontario Chief Justice George Strathy included Ontario provincial, superior, and appeal court judges discussing the importance of increasing judicial diversity and the profession's challenges in improving EDI.
Former Court of Appeal Justice Harry LaForme says he encourages young lawyers and law students to think about the judiciary as part of their aspirations because it is crucial. He says lawyers and academics who are Indigenous, or members of a visible race interested in judicial service should expect that they will be scrutinized differently and more harshly than other colleagues, and it may be mainly from their communities.
When he began his legal career, Justice LaForme said people in his community did not think he was a real lawyer. "They thought it was the system making allowance and I was a token person."
Superior Court Justice Shaun Nakatsuru says judging requires a common-sense assessment of evidence that comes from lived experiences; thus, a monochromatic lived experience creates room for misunderstanding and mistakes when assessing evidence and makes the law predictable and rigid.
A diverse bench reflects the people who appear before it, and Justice Nakatsuru said having a diverse bar is equally essential because appointed judges are from the bar. "The deeper the pool, the greater the opportunity for diverse judges on the bench," he said.
Many people before the court experience homelessness, addiction issues, mental health concerns, abuse, and systemic racism and Ontario Court Justice Lori Anne Thomas said that while it may seem like they would have nothing in common with the judiciary, their experiences are not so different from hers.
"It's essential that counsel familiarize themselves with the client's cultural background," she said. "It will be relevant in bringing up evidence to explain a person's background and allow the courts understand the fulsome picture of the person."
Justice Thomas said her socio-economic background allows her to understand the public, serve with judicial empathy and give her the freedom to make sensitive but essential inquiries about issues affecting people such as race, mental health, housing, and addiction.
She says lawyers should be cautious about being paternalistic and taking on the white knight to save a poor person in a difficult situation but instead focus on providing the court with real information about the person. "Whether you share their cultural background or not and particularly if you share the same cultural background, be careful about making evidentiary shortcuts without a direction from the judge."
Superior Court Justice Todd Ducharme said widespread bias and racism have translated into systemic discrimination and over-representation of the prison population and that the justice system has a devastating impact on Aboriginal people. He said the points raised in the famous Gladue case that addressed sentencing and Indigenous people over-incarceration remain today.
Gladue considered the systemic factors in bringing an offender before the court, and the courts held to reduce the incarceration of an Aboriginal person and explore reasonable alternatives in the case of all Aboriginal offenders.
Lawyers often cite Gladue's case arguing that some offenders' separation, denunciation, and deterrence are fundamentally relevant, and Justice Ducharme said if this continues, over-incarceration of Indigenous people will never reduce.
The rate for incarcerated Indigenous males is eight times higher than non-Indigenous and 12 and a half times for females, and Justice Ducharme said the gap is because judges have not paid enough time and focus on the circumstances of Indigenous people in demanding a tight nexus between their background and involvement in the crime.
Lawyers and judges have a professional obligation and responsibility to ensure that they are culturally competent and educate themselves to understand changing social and cultural dynamics and values that are not a part of foundational legal education, Superior Court Justice Michael Tulloch said. "Failing to do so will impact the public's confidence in the administration of justice."
Ontario Chief Justice George Strathy said the legal community must advocate for lawyers with disabilities and encourage them to apply to the bench but must also do a better job in making courthouses accessible to those with all disabilities. "Only now is the Court of Appeal for Ontario, the provinces highest court acquiring a fully accessible courtroom for the public and for the judiciary."