Benchers will vote on the winner in an election ending June 26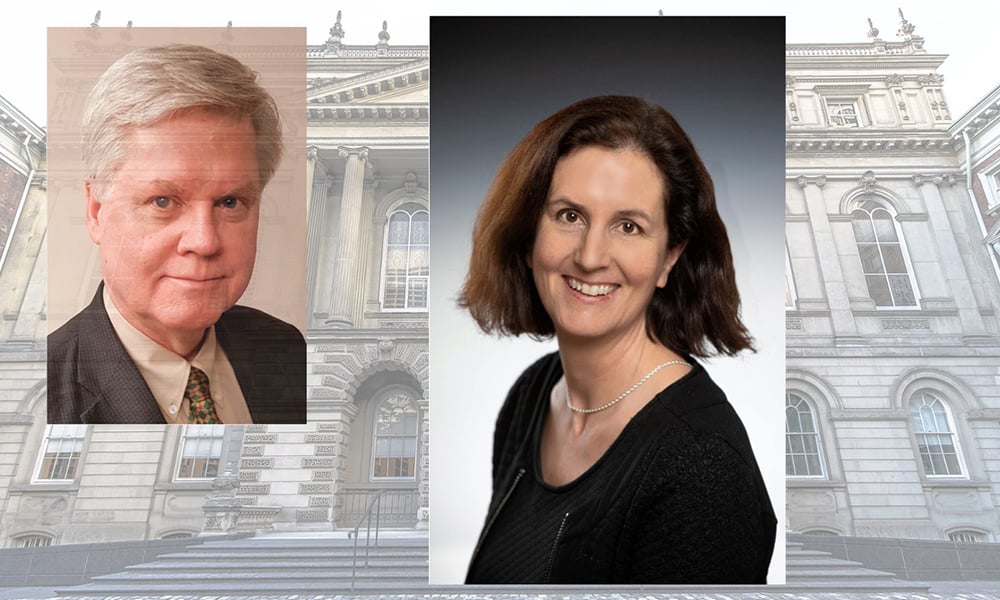 Law Times asked candidates for treasurer of the Law Society of Ontario to answer a series of six personalized questions. Candidates were given a word limit of 200 words per question and answers have been edited for style. Benchers will vote on the winner in an election ending June 26. To read the opponent's Q&A, visit lawtimesnews.com.
LAW TIMES, QUESTION 1: TURNOUT DURING THE LAST BENCHER ELECTION WAS DOWN. WHAT IS YOUR PLAN TO MAKE THE LAW SOCIETY MORE RELEVANT AND STRENGTHEN THE RELATIONSHIP WITH LICENSEES?
TERESA DONNELLY, ANSWER 1: It will be a priority for me to reach out to members in their own communities and through the many legal organizations including FOLA, OBA, OPA, WLAO, and RODA. I want to ensure that our relationship is strong. Over the years, I have had the opportunity to meet with many practitioners in different geographical and practice areas. I am looking forward to continuing that outreach. Having the good fortune to grow up in a legal family has instilled in me the importance of and commitment to professionalism, collegiality and independence of the bar. I will take all of that with me as Treasurer.
LAW TIMES, Q2: WILL YOUR ROLE AS A CROWN PREVENT YOU FROM SPEAKING PUBLICLY ON ISSUES FACING LAWYERS OR ADVOCATING FOR LEGAL REFORM?
DONNELLY, A2: My intention is to fulfil the role of treasurer by taking a leave of absence from my work as a prosecutor. I will be able to advance meaningfully the agenda of the law society with government, the profession and the public always mindful of the Law Society's duty to regulate in the public interest.
LT, Q3: THE COVID-19 PANDEMIC HAS SPURRED A PROLONGED ECONOMIC DOWNTURN WHICH IS IMPACTING MANY LAWYERS' BOTTOM LINE. AS A GOVERNMENT EMPLOYEE, WHAT STEPS HAVE YOU TAKEN/WILL YOU TAKE TO HELP UNDERSTAND THE PLIGHT OF LAWYERS IN PRIVATE PRACTICE?
TD, A3: The closure of courts and tribunals has had a significant impact on many licensees – both lawyers and paralegals. I have seen that impact in my immediate family, my extended family, members of the legal community of which I am a member and through extensive outreach. Reaching out, listening and understanding are key in continuing to appreciate the full impact of the pandemic on all licensees. I am pleased with the work that the Law Society is doing to assist licensees in this difficult time. That work includes pressing the federal government to enhance its assistance to ensure more licensees are covered; providing FAQs on the website to assist in dealing with real-time practice issues and adjusting licensee obligations to offset the hardships many are facing. In addition, the Law Society is continuing to encourage the use of the Member Assistance Programme to assist with mental health supports
Q4: WITH LAW SOCIETY FEES COSTING LAWYERS THOUSANDS EACH YEAR, A CRITIC MIGHT SAY THAT MANY RESOURCES GO TOWARD DRAFTING STATEMENTS, REPORTS, AND DISCUSSIONS, RATHER THAN TAKING ACTIONS. WHAT ARE YOUR TOP PRIORITIES FOR USING THE MONEY THE LAW SOCIETY GETS FROM FEES?
A: As chair of the program review task force, I have led a consideration of whether different programs continue to have valid objectives and whether they are efficient. As chair of the audit and finance committee, I have already begun looking at the budget and implications of the pandemic. As treasurer, I will continue to take a hard look at our approaches to regulating licensees with a view to making changes that anticipate and prepare for the immediate and longer-term financial, social and other consequences of the pandemic while protecting the public interest and positioning the Law Society for the future. I will support implementation of the strategic plan developed to guide this bencher term:
(a) advancing risk based proportionate regulation which focuses on applying limited resources where they are most needed and avoiding over-regulation.
(b) ensuring lifelong competence and quality of service.
(c) determining the appropriate scope of regulation.
(d) facilitating access to justice.
In addition, in furtherance of the society's conduct mandate, we need to focus on policy decisions that directly impact the operation of complaints, investigations and discipline to support staff in reducing delays, increasing efficiencies and allocating resources based on regulatory risk.
Q5: THE ECONOMIC DOWNTURN COULD EXACERBATE THE "ARTICLING CRISIS." HAS THE LAW SOCIETY DONE ENOUGH TO ENSURE LAW SCHOOL GRADUATES ARE ENTERING A BETTER SYSTEM THAN DURING THE LAST RECESSION?
A: The Law Society has responded swiftly to the challenges facing licensing candidates brought about by the pandemic by working closely with law students, law faculties and legal employers. These issues also face paralegal candidates and the Law Society is working through the Paralegal Standing Committee and stakeholders to address the challenges. As Treasurer, I will be mindful of pandemic impacts on all licensees and on candidates in the licensing process.
Q6: YOU'RE A LONG-TIME BENCHER. IS A VOTE FOR YOU JUST A VOTE FOR THE STATUS QUO?
A: I have been a bencher for five years and in this election, five years is the optimal amount of experience. Treasurers have typically been elected after eight years or more. The law society is a complex, important organization and I have taken the time to learn about it. That experience and knowledge will be a benefit as treasurer.
I have chaired significant committees, been a member of a number of different committees and had the opportunity to develop a clear understanding of the work of the law society. I am not the status quo. I have already been involved in looking at expenses and law society programs with a view to streamlining, creating efficiencies and reducing costs. My law society experience, strong communication skills, background in government, and existing relationships will allow me to work closely and effectively with management, benchers and stakeholders. I have the background, skills and ideas to build consensus, to manage differences and to implement changes necessary to allow the law society to confront ongoing challenges and implement changes necessary to address the pandemic and govern in the public interest.