McLeod is facing second OJC complaint stemming from involvement with Federation of Black Canadians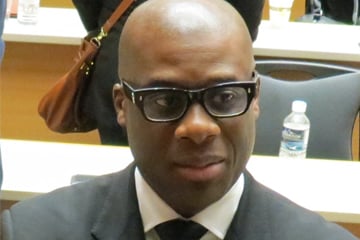 The Ontario Judicial Council disciplinary hearings into perjury allegations against Justice Donald McLeod began Tuesday, via Zoom.
McLeod is accused of lying during a previous OJC hearing. In Dec. 2018, he was dismissed of misconduct allegations which arose from his involvement in the Federation of Black Canadians. During McLeod's 2018 hearing, he agreed to a statement of facts stating he was no longer involved with the Federation's advocacy for Abdoulkader Abdi, a refugee who was facing deportation. The OJC complaint alleges this agreed statement of facts is untrue, that McLeod had met with, or arranged for the Federation to meet with, Ahmed Hussen, who was then Minister of Immigration, Refugees and Citizenship
The complaint alleges McLeod misled the hearing panel about his disengagement from the Federation, that after his dismissal he resumed a leadership position and engaged in activity that "could be perceived as impermissible advocacy and lobbying by a sitting judge." The complaint also alleges McLeod advised two people not to speak publicly about an alleged racist incident that happened at the National Black Summit, which "was or could be perceived as providing legal advice and/or furthering the advocacy" of the Federation.
Among the possible outcomes is a recommendation from the hearing panel to the Attorney General that McLeod be removed from office. The hearings are proceeding through the remainder of this week, will continue from the 14-18, and the 22-23.
"It's a very serious and troubling case," said Sheila Block, a counsel for McLeod, on Tuesday. "Serious because on the line is the career and life and community reputation of Donald MacLeod, facing ruinous allegations. Troubling, because the central charge the one that is, as I say, a capital crime for a judge, perjury, has descended on Donald McLeod like a shroud. It has kept him, the only Black judge on this court in Peel Region, off the court for a year and a half."
"On top of that, it may be that you're going to be asked to doubt his testimony, to question his honesty," said Block. "For those of us for whom integrity and honesty are essential qualities that we must have, and we covet for our professional and personal standing, you may be asked to make that judgment on a man you cannot even share a room with."
McLeod's defence will try to show the panel that the complaint is "misconceived from beginning to end," said Block. She continued that the complaint originated in allegations by a person who has "a vendetta" against McLeod.
"Now the community has stood with him," said Block. "… We hope to show this panel that this is an honest man, a man of integrity and an asset to this court."
After a two-person complaint subcommittee consisting of a judge and community member investigated the complaint, they recommended that McLeod be suspended with pay pending conclusion of the matter.
The Federation of Black Canadians is a non-profit aimed at advancing the social, economic, political and cultural interests of Canadians of African descent, according to its website. McLeod and others founded the Federation after a 33-year-old pregnant Black mother, Candice Bobb, was shot and killed in 2016, in Etobicoke.
The initial disciplinary hearing came out of the allegations McLeod had met with politicians on behalf of the Federation. The complaint alleged this compromised the integrity, impartiality and independence of the judiciary and lent the prestige of judicial office to fundraising and advancing the Federation's interests.
Representing McLeod are Block, who is partner at Torys LLP, Frank Addario of Addario Law Group LLP, Anthony Morgan, racial justice lawyer, and Faisal Mirza, partner at Mirza Kwok. The presenting counsel are Guy Pratte, Nadia Effendi and Christine Muir, of Borden Ladner Gervais LLP.