Law Times spoke with several unaffiliated Bencher election candidates about their campaigns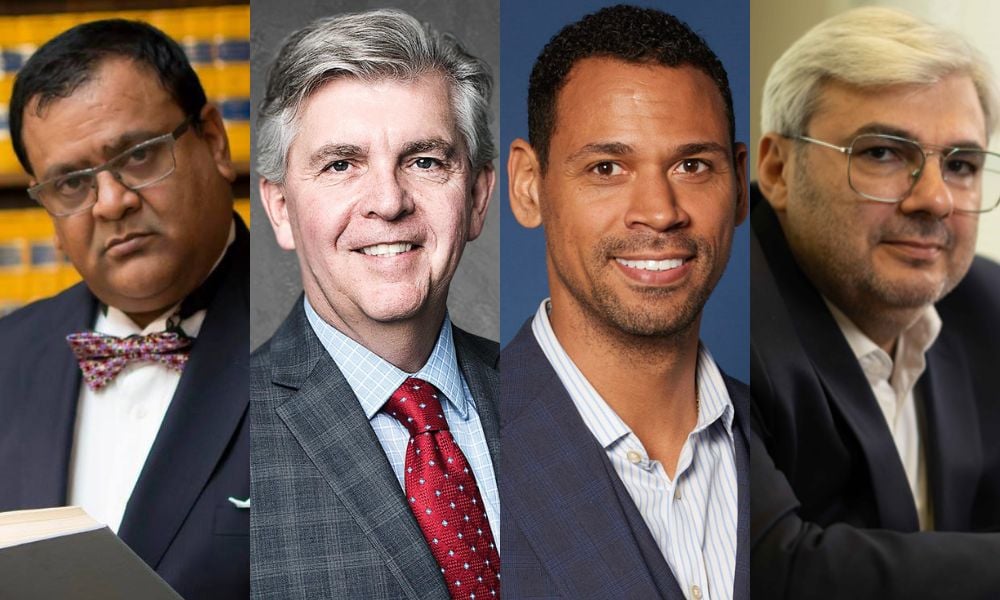 While two factions dominate the 2023 Law Society of Ontario bencher elections, the issues motivating independent candidates are varied, and include the threat of law society partisanship, the impact of AI and innovative legal service providers on the profession, climate action, and the mental-health of members, to name a few.
There are 123 lawyers and paralegals in the race. Between the 45 running in the Good Governance Coalition, and the 36 running in the FullStop slate, about 66 percent of the electoral field is divided into these rival camps. But slightly over one-third of all candidates are unaffiliated, and Law Times spoke with several in this group to find out what they think are the most significant issues facing the law society and Ontario's justice system.
Ontario lawyers will vote from April 19 to 28. The LSO will announce the results on May 1. The first Convocation of the new term will meet May 25.
For two of the candidates, the emergence of the two factions at Convocation is a problem that independent candidates can help address with their presence.
"It has become quite clear that it is very important that as many independent candidates as possible be elected in order to help restore order to the governance to the Law Society of Ontario," says Mark Persaud, a bencher candidate and former federal prosecutor and legal counsel to the RCMP who now practises criminal and civil litigation at his own firm in Toronto. "The dysfunction that we have observed will only be exacerbated by two slates continuing to vehemently oppose each while the business of the law society suffers."
"Indeed, we are in dire need of independent benchers of goodwill who are not wedded to ideological positions and who can work constructively with our colleagues on both sides of the divide to try to make Convocation functional again," he says.
The emergent "partisan approach to governance" and potentially resulting "dictatorship of the majority" is a threat to the 225-year history of the legal-profession regulator, says Vladimir Reznik, a paralegal, notary public, and bencher candidate from Toronto. While he recognizes governance has not always been easy, Reznik says that the system, "grounded in principles that promoted camaraderie and sound judgment," is being disintegrated by a "clash between the Bay Street establishment and small-firm and sole-practitioner lawyers."
"I don't think the legal professions can be governed from a partisan perspective," says Reznik. "The law society is essentially a corporation – a public-interest corporation, which, by its mandate, needs to address the needs of the entire society, not the will of the majority group that the winning political party represents."
A key priority for Reznik's campaign is a remodelling of paralegal education, which he says is outdated and leading to a retention crisis.
Both the FullStop slate and Good Governance Coalition have said their members are independent and they do not intend to vote as a bloc. The Good Governance Coalition has also said it supports establishing an LSO working group to determine whether electoral reform is necessary to prevent the running of slates in future bencher elections.
"The manner in which the law society is being governed has become the main issue in this election," says Jeremy Glick, president of the Association of Law Officers of the Crown. "I also think that issues relating to innovation, ownership of law firms, the length of articling terms and support for members both in relation to their practices and personal issues which affect their practice are all key."
"There are always going to be issues that arise that are unexpected," he says. "What we need are people we trust to deal with those issues reasonably and with good judgement, and that's why I'm running."
Further polarization of Convocation is unfortunate, but it is a reality with which the professions now must deal, says bencher candidate Michael Cochrane.
"The fat's in the fire," he says.
Cochrane is counsel to Brauti Thorning LLP, where his legal expertise includes family and estates law, civil litigation, dispute resolution, and public policy. He is coming up to 43 years at the bar and is also an author of several works of fiction and non-fiction.
Having chaired advisory committees on mediation in family law and class action reform under former Attorney General Ian Scott, and having chaired the task force on the environmental Bill of Rights, Cochrane says he has the appropriate skill-set to manage a more acrimonious convocation as a neutral participant.
Rather than discussing the sniping between the coalition and the slate, Cochrane says Convocation should be focused on budget deficits, as well as the impact of artificial intelligence on the legal profession.
"This could be either a catastrophe for small firms, or could be the great equalizer," he says. "This is going to be a part of the delivery of legal services. It's something that the law society needs to get its head wrapped around and something that should be talked about, instead of who's woke and who's not."
While he has no affiliations to either side nor inclinations in either direction, Jonathan Odumeru says he understands why the Good Governance Coalition formed in response to the "unfortunate tactics" used by the FullStop slate. The slate's "Stop Woke" campaign slogan is "a tactic to score cheap political points by weaponizing people's understandable anxieties about how quickly our society has evolved, and our profession with it," he says.
It does nothing to address those anxieties, but merely diminishes the experiences of licensees, like himself, who come from traditionally marginalized groups, says Odumeru.
"For me, diversity, equity and inclusion initiatives – they're not social engineering, whatever FullStop thinks that means. They are a means to reveal the diverse experiences of licensees to ensure that we're all treated with respect."
A member of the LGBTQ+ community, racialized minority of African descent, as well as a first-generation lawyer, Odumeru is also an in-house counsel, which he says is underrepresented at Convocation. He is litigation and investigations counsel at TD Bank and has been practising for ten years.
Climate action is a primary focus for Odumeru's campaign, and he says there are several "concrete actions" that the LSO can take to be a positive force on the issue.
These include supporting the development of climate-change-related continuing-professional-development content, promoting organizational net-zero strategies, and encouraging volunteer work among licensees – for example, allowing lawyers to receive CPD credit for pro bono or volunteer work aimed at reducing carbon emissions.
Odumeru wants Convocation to establish a climate change committee, so a smaller group of benchers can develop these initiatives and report back to Convocation on further actions that will enhance the law society's climate change acumen and take stock of its progress.
Glick has been a civil litigator at the Ministry of the Attorney General since 2008. He says he wants to bring a public-sector perspective to Convocation. As president of the Association of law Officers to the Crown, he works closely with the Ontario Crown Attorneys Association; the Association of Justice Counsel, the bargaining agent for lawyers employed by the Government of Canada; and the Society of United Professionals, which represents legal aid lawyers. These collaborative working relationships have given him insight into the issues facing public sector lawyers, he says.
In the "not-so-post-pandemic era," members are struggling, says Glick. "Mental health is a massive issue that needs to be addressed on a systemic basis."
"Innovation is an issue that the law society is going to have to address as well," he says. "Particularly, as we start seeing new legal companies coming forward, offering new, innovative solutions to legal services. We also need to continue to make sure that we have an inclusive and representative profession."