Heather Douglas feels the legal profession is in flux and she expects it to continue evolving. As a young lawyer establishing her practice at a Toronto firm, she's unsure what to expect.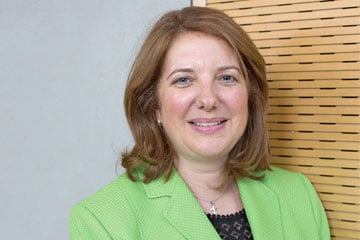 Heather Douglas feels the legal profession is in flux and she expects it to continue evolving.
As a young lawyer establishing her practice at a Toronto firm, she's unsure what to expect.
She sees that there continues to be an emphasis in law school and in the legal industry to follow the partner track.
And some are committed to that approach, enjoying working hard and putting in the long hours.
But she sees more of the younger lawyers veering away from that traditional approach.
"I think my generation of lawyers will see more change in the industry than the previous generation of lawyers," says Douglas.
"I don't think anyone can be confident that the way we're practising law today is the way it will look even in 10 years."
After getting her law degree, she went back to school to obtain her master of laws and has been practising at AMR LLP since 2015.
And she's certain that connecting with others, both in and out of the profession, is crucial. She serves on the executive of the Ontario Bar Association's young lawyers division and she blogs regularly as a way to keep in touch with professors, former classmates and others she's met along the way.
She advises other young lawyers to find a community outside of their firm or company in which to become involved and as a way to connect with others and build a network.
"Having those connections helps bring more meaning to what you're doing and also helps you build a network," Douglas says.
Gina Alexandris, director of Ryerson University's Law Practice Program, says there is still an assumption at law school that success still means landing a job with a downtown law firm and focusing on the partner track. But she sees graduates heading in many more directions than they once did.
And there's not so much of a need to be rooted into one thing and one place.
Instead, she says, there is a desire for more flexibility and having the ability to do and learn more things along the way.
"There's so much more that people can be doing and that they are doing," says Alexandris.
"They're thinking more entrepreneurially, more innovatively, more creatively. We do some programing here at the LPP that really gets people thinking about that and, for some, they haven't thought about those issues through law school."
In fact, Alexandris' own career has been something other than straightforward and ordinary.
Like others, she chose law because of her immigrant parents' experience with a legal issue that arose in their business and her conclusion that they could have been better served. After working in family law for four years with a small Toronto firm, she switched gears.
Although she enjoyed practising law, she found that she didn't like the business side of law as much — something to which she had had little previous exposure.
So she became involved with starting the new career development office at Osgoode Hall Law School, becoming dean of students overseeing four departments.
She then went to the University of Toronto's bridge program for internationally trained lawyers, which focused largely on skills development, followed by a short stint with the Ontario Ministry of the Attorney General to work on continuing education programs for civil lawyers.
Four years ago, she became involved in launching the LPP, which helps law school graduates develop skills currently relevant to law.
The focus for these new lawyers is to work on their emotional, cultural and technological intelligence, which Alexandris believes is now important for future lawyers to grasp.
And, she says, they also get exposure to the Legal Innovation Zone, an incubator for legal businesses also based at Ryerson.
"I've been able to juggle the things that I love to do and prioritize what I believe in," says Alexandris, who is director of the program.
"I was able to find a way to marry the things that I love and do great work and be with really interesting people and keep growing."
Soft skills and interpersonal interaction with others are traits that are serving first-year associates and young lawyers entering the market well, says Marisa Ellis, regional manager for Robert Half Legal, a company that assists firms and companies with lawyer recruitment.
"We're seeing employers that are looking a little bit more toward the future instead of what's going to benefit the business or their firm now," she says. "They're opening their eyes a little bit more to candidates that can be a long-term fit for the firm and could grow with the firm."