A proposed software program for partners to delegate tasks to associates as a way to better retain young lawyers has caught the attention of Osler Hoskin & Harcourt LLP.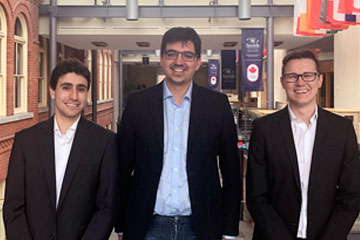 A proposed software program for partners to delegate tasks to associates as a way to better retain young lawyers has caught the attention of Osler Hoskin & Harcourt LLP. Partners would "post" a new case on the app and associates and students would apply to work on it, a method that would prevent burnout by displaying each lawyer's workload before they were assigned a new task, the creators say.
The app was proposed by combined law and MBA students at Queen's University as part of the first-ever Osler Future Innovators Award contest. The goal of the contest was to "transform the way the lawyers of tomorrow deliver legal services."
Winners Ben Fickling, Alex Karlsen, Shane Liquornik and Reid Berman will be invited to speak at Osler about the implementation of the tool, in addition to a $1,500 cash prize, according to the university's May 15 announcement. They said the technology would allow firms to better match tasks to each lawyer's interests and was inspired by work Osler is already doing in making its firm more efficient.
"People are looking for efficiency. You see it in a variety of industries, but efficiency tends to come with tech. But there are other portions of efficiency as well. With human capital, it's not having to hire new — and spend the money there — or retrain — and spend money there," says Liquornik. "By properly allocating the work, the motivation would increase. . . . Finances aren't the only motivator. They're not even always the top. It's how ownership over work — knowing how you're contributing."
The students' project, which centres on a fictional "Mike the Millennial lawyer," squares with other data, such as a 2017 survey by legal staffing firm Robert Half Legal, which said that "challenging work or variety of assignments" is the top non-monetary incentive to retain legal professionals.
Fickling tells Law Times that firms that think about the future of law will have the competitive edge for hiring millennials.
"Some of the research I had done is that [millennials] are driven not just by money but by meaning, and they want to be part of the process," says Fickling. "We want an employer who is invested and interested in our professional development, and this is one tool, from our perspective, that you can potentially organize around."
LawPRO recently touched on the importance of the delegation process for young lawyers. The insurer suggests that students ask how much time they should spend on each task, what the budget for the task is, how often they should check in and when and how the work should be turned in.
Berman says their proposal was inspired by envisioning the large volume of different cases and files that would come through a big firm.
"Students have really been thrown into the fire in the past. I've some heard horror stories of individuals being way overworked and being in over their heads coming in. I would assume a big part of that is that the work is not necessarily evenly distributed between everybody. You'd have to know exactly what files every single associate or student is working on at any time. It would be great if there was a way to track that data and know who has some time in their day," says Berman.
The Queen's students aren't the only ones starting a conversation about how law firms can find a better way to train new lawyers, after a Law Society of Ontario report found that articling students had complained of discrimination and harassment, including 100-hour work weeks.
Justice Donald McLeod made comments that sparked online discussion earlier this month when the Canadian Bar Association shared his advice to junior lawyers: "1st work hard — arrive first, leave last and outhink everyone. As a lawyer there's an expectation that you're good — most aren't. . . . 2nd, sometimes you have to push your way in — don't wait to be asked," the CBA tweeted.
A flurry of responses criticized McLeod's advice for not acknowledging the demands on young lawyers, and the CBA asked followers to weigh in on how to "change the culture" in law firms.
In December, the CBA studied the reasons why law firms fail at retaining new calls and found that both law firm leaders and law firm associates felt that a traditional law firm is not "the ideal work environment for millennials," and that large law firms could not provide enough motivation to sustain a young lawyer through their career.
"There's a lot of hiring, but then three or four years down the line, people start to leave. Sometimes, it's for lifestyle changes, but other times it's because people are generally unhappy," Fickling said in the university's announcement. "When you're starting out as an articling student or an associate, you're not necessarily getting to see that high level. That's why developing a software that enables young lawyers to feel like they're opting into things and being able to track their professional development was important to us."