'I wanted to be part of a company that had the potential to change something massively'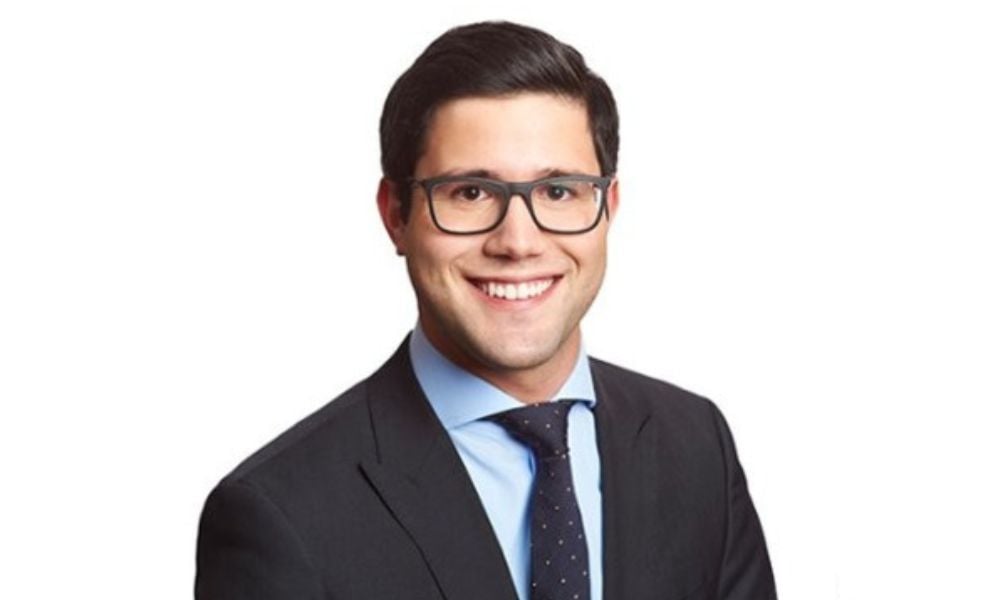 Avi Weiss wants more young lawyers and law students to have access to the example set by people like his manager and general counsel at Coinsquare, Katrina Prokopy.
Weiss says his boss knows how to mobilize the unique skillset in each team member and set the stage for their application and the team's success. The legal department of the Canadian cryptocurrency exchange company is currently hitting its stride, he says, with their communication and chemistry allowing for "meaningful progress."
While a knack for optimizing teamwork makes for exceptional leadership in any field, running a corporate legal department was not a part of the archetypal success arc presented to Weiss when he began charting a path into the legal profession.
"This idea is drilled in as early as law school," he says, "that the pinnacle of success in the legal community is being a Bay Street partner at a top firm. That's where all the awards are. All the accolades and the recognition and prestige all go there."
The misconception that in-house counsel gigs tend to be an easier, softer way for those who couldn't cut it at a law firm will fade with time, says Weiss. But he's trying to accelerate the perception shift by spotlighting in-house lawyers, facilitating networking and events, and developing training. He founded Counselwell, a membership for in-house lawyers at all career stages.
Working close to the business, advising on business issues, and participating in the company wins all attracted Weiss to the in-house route. He summered and articled at Gardiner Roberts and worked for a year-and-a-half at Blakes but recognized early he was not interested in that side of the legal profession.
"I knew I wanted to work in the tech industry because I wanted to be part of a company that had the potential to change something massively, to create a new industry or change an existing industry. And crypto was a great example of a technology that could really change the way we do financial services."
"When I finally went in-house, I realized I had an epiphany of 'Oh, this is where it's at for me.'" He knew others felt the same way, and he wanted to build connections around that. "My most important objective at Counselwell is creating that sense of community with the in-house-lawyer base."
Counselwell began with online courses and, in September 2022, launched a membership like other legal associations, where members pay annual fees and get access to discounts on legal tech software. With 50 members now, Weiss's target is 200 for this time next year. Counselwell hosts social events presents webinars, and has a yearly conference.
He joined Coinsquare in 2018, right after Crypto's last major bull run, when Bitcoin became a household name. As are many in-house counsel, he is a generalist – doing some corporate work, transactional work, contract work, employment law, and consumer protection law, as well as assisting with marketing and helping deal with privacy incidents when they occur. "Really the whole gamut of substantive law that you would expect at any regular tech company, especially a direct-to-consumer company."
He is currently engaged in the implementation of a contract management solution, "which is probably one of the most painful things an in-house lawyer or a legal ops person can go through," but will ultimately augment efficiency and allow for managing the contract life cycle "in a more painless way."
There has been a proliferation of crypto trading platforms since he began at Coinsquare and a couple of major scandals in the industry with Quadriga and FTX. But since he joined in 2018, Weiss says Coinsquare believed the best way to succeed in the business was to "embrace regulation," and has been working with regulators since then.
As of October 2022, they are registered throughout Canada by the Canadian Securities Administrators' jurisdictions as an investment dealer and as a dealer and marketplace member of the Investment Industry Regulatory Organization of Canada. Coinsquare is regulated as an alternative trading system – or an exempt exchange in certain jurisdictions – by the CSA, with the Ontario Securities Commission as its primary regulator.
To "stay true to ourselves," they also have stuck with offering a trading platform for the purchase and sale of digital assets such as Bitcoin, Etherium, Litecoin and others, and stayed away from offering initial coin offerings, NFT, and NFT trading.
Weiss enjoys the excitement of being part of a burgeoning industry, and he recommends young lawyers and law students interested in going in-house to align their career path with what they do in their free time, what they watch on TV and browse on the internet.
"That will determine for you what your interests are, and I highly recommend joining a business that is in the same industry as your interests."
"If you find yourself playing a lot of video games, then look at the gaming companies. If you are interested in crypto, then look at a crypto company. Try to find a company that aligns with your values and your interests. That's very important. You don't want to be in a business that you find personally boring. Because even if you like the work, it might be a little bit difficult to just grind, day in, day out, when you don't even love what the company does."