Trial by Zoom also provides learning opportunity for lawyers seeking trial experience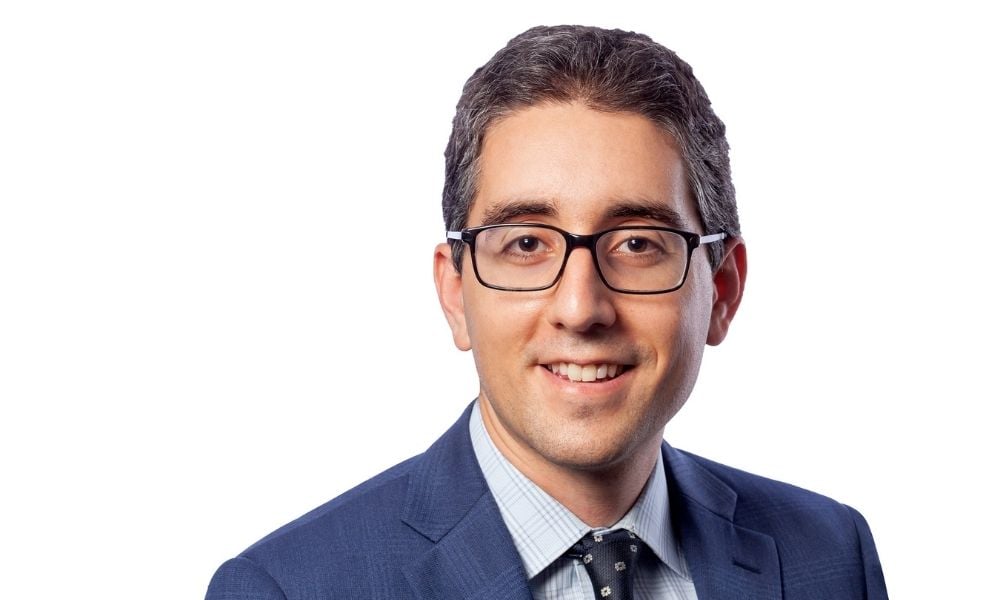 This article was produced in partnership with Thomson Rogers Lawyers.
Mallory Hendry of Law Times sat down with Daniel Klein, personal injury associate at Thomson Rogers Lawyers, to discuss his experience with his first virtual trial.
Daniel Klein, personal injury associate at Thomson Rogers Lawyers, recently took part in his first virtual trial at the firm and believes that going forward, virtual and/or hybrid trials "have to be considered, even in the future when things go back to normal."
"Once you do one virtual trial, you realize it's actually the preferred way of doing things," Klein says. "What people worry about doesn't come into play — there's not much lost by doing it virtually, and I was impressed by the tremendous efficiencies. I think virtual trials should remain an option, and many other lawyers think so too."
Klein was second chair for the trial, which was set up in the Thomson Rogers boardroom using Zoom and Caselines, an evidence management system, which "was smooth once everything was going," Klein notes. He was joined by the first chair and an articling student, as well as by a witness that they asked to attend in the same room with them for certain parts of the trial, though on their own computer. As with any trial there was a lot of prep work involved, including some extra preparation for digital document organization, but "when it comes down to it, you feel more comfortable because you have home-court advantage," Klein says.
Lawyers can join from their office, board room or other familiar environment where everything is already set up and that translates to less pressure for the lawyers as well as for their clients and witnesses. Not only does it save travel time for everyone, it's much less intimidating for witnesses to be in front of a computer versus travelling to the courthouse, and preparing them by Zoom simulates the virtual trial environment in advance. There's also less downtime — for example, if there's a discussion that can only be had with the lawyers and the judge, it takes a few moments to put the witness in the virtual waiting room versus the process in person, where everyone would wait while the witness was escorted in and out of the courtroom. Also, as another example, with a non-key witness who may only need 30 minutes of court time, that witness can easily log in and out of a virtual trial, whereas before they may have needed to take a day off work and travel to and from the courthouse waiting to be called upon.
Another major advantage is the ease with which people can observe the proceedings. In Klein's case specifically, once the client was no longer a witness, she was able to watch the whole trial from home along with her entire family. They were easily able to access the trial via the Zoom link she shared, and provided support for her throughout. Klein also noticed there were also always a number of virtual observers in the trial, and that's beneficial for lawyers who've never done a trial. They can see what it's like, or observe a colleague and ask questions after about why they did certain things or didn't do others.
"At any given time, there were about 30 participants online, with 20-25 of those observers, whereas in a courtroom in a normal trial you may have only had 0-5 people in the audience," Klein says. "Watching trials virtually is so easy and something lawyers should be doing if they're looking to get trial experience."
While leveraging video conferencing platforms in any manner cuts down on inefficiencies in the trial process, Klein says it also opens the door for unique and creative approaches. Though he can't go into details of the case because the decision hasn't come out yet, in terms of process overall they had witnesses doing physical demonstrations — "We'd say stand up and do X, Y and Z," Klein says — and they video recorded it through Zoom, with the judge's permission. They took clips of 10 or 15 seconds and made them an exhibit that they could refer to in their closing arguments and the judge could refer to even after the case was over.
"We also did screen shots — if there was a specific point in time we wanted to share and make evidence in the trial, we were able to do that without any problem whatsoever — and we could screen share, pull up a document and highlight it on the spot," Klein says. "If you were doing it in person, you'd have to get a paper copy, give it to the registrar, the registrar would have to give it to the judge, you'd have to get enough copies for everybody — it's a whole process and procedure. With Zoom, it does require specific preparation but was very efficient in the moment."
Although most lawyers by now have experience with the tech side of things — virtual examinations for discovery, for example — to lean on, there are some extra trial management considerations, Klein notes. One tip he has for lawyers considering a virtual trial is to think about their strategy in advance of the trial and ideally in advance of the pre-trial conference. What are the pros and cons of proceeding virtually in terms of witnesses and availability, equipment and cost? If you decide on a virtual trial, the hope is you can do it on consent. But if the other side opposes your request, "there is caselaw now that speaks to issues regarding doing things virtually or not, and you can bring those cases to their attention," Klein says, adding those cases now say judges can address credibility and body language head-on and close-up in a Zoom trial in a way that wasn't available in a normal trial in a courtroom. The court can also consider whether a party unreasonably objects to proceeding virtually as a factor in exercising its discretion to award costs.
Also think about hiring a third party company to do some of the virtual case management — it's usually a cost that can be split amongst the parties and a disbursement that can be paid at the end of the case — and some of the more technical things like getting an order to do an audio recording of the Zoom so it can be played back after, for instance.
"Given that my firm has now done a number of virtual and hybrid trials and hearings, we're open to being consulted about it," Klein says. "I'm happy to speak with anyone, whether to answer questions or to share practice tips."
Daniel Klein's practice is devoted to personal injury cases and revolves around understanding the personal needs of his clients and diligently advocating on their behalf. He has appeared before the Superior Court of Justice, the Ontario Court of Justice, the License Appeal Tribunal and other tribunals.